Debbie Reynolds - the award-winning actress, recording artist, TV star, Broadway performer and hotel casino owner, passed away Wednesday, Dec. 28, 2016. In May 2007, she earned an honorary Doctor of Humane Letters from the film-studies program at the University of Nevada, Reno during the spring commencement ceremony held on the University's historic Quad.
In 2007, Art Professor Howard Rosenberg, a close friend of Reynolds', said Reynolds helped him create the University's film studies program - at that time - nearly 40 years ago.
Rosenberg introduced her at the 2007 ceremony and conferred the Honorary Degree on her.
"With her help, 12,000 students received what I hope is a first-rate education," Rosenberg said. "She created the celebrity dialogue series as well as funded many classroom needs."
Reynolds accepted the degree with grace and appreciation.
"I received a wonderful award and I am very honored," Reynolds said.
Reynolds was perhaps best known for her starring role in Singin' in the Rain, though her personal favorite was The Unsinkable Molly Brown, for which she received an Academy Award nomination for best actress.
Upon news of Reynolds death, Patricia Richard, chief of staff and assistance vice president of constituent relations, fondly recalled the ceremony with late President Milt Glick and Reynolds.
"The University smiled this morning as we thought of the reception where Dr. Glick introduced Ms. Reynolds and she had an opportunity to say a few words," Richard said. "Ms. Reynolds was so happy with her honorary degree that she kept not only the honorary hood, but the entire gown that the University had rented for her. I still remember her saying thank you to President Glick for the kind introduction and the honorary degree and then adding, 'your president is just adorable. He's so cute.' President Glick said he had never been referred to as adorable."
Shannon Ellis, vice president of Student Services, said, "the story is that she wore her commencement regalia through the Reno airport and on her flight back to L.A.; she was so proud, it was a fun time for all."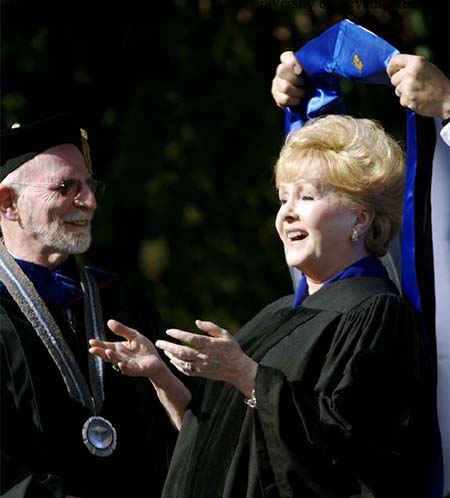 Photo from UNR Special Collections and University Archives.