Four paddles hover over the water. Light wind rocks the canoe. Paddlers wait with baited breath.
Coach Jon Lau shouts, "Go!" and the coed concrete canoe team takes off, racing across the waters at Sparks Marina.
The University of Nevada, Reno's College of Engineering concrete canoe team has been training every Saturday and Sunday for months in preparation for the Mid-Pacific Conference in Fresno, Calif. The three-day event takes place this year, April 3-5, with the regional canoe competition being held on the last day. The University is also sending teams for the Steel Bridge and Water Competitions.
"I feel good about this year's team," said Austin Martin, senior engineering student at the University and co-project manager of the 16-person concrete canoe team. "We didn't have a lot of people returning from last year, but we spent time speaking to students to keep the program going."
Teams compete for the highest score, a composite of three races, canoe aesthetics, a technical paper and an oral presentation. The paper and oral presentation are compiled and delivered by Martin and fellow project manager Kristin Kramer.
"I'm excited about this year," Kramer said. "Every year changes, and the team this year is very cohesive thanks to our dedication and outside bonding. Our success is really from the dedication level of the team and the support from alumni and the University."
As project managers, Martin and Kramer are also responsible for overseeing the concrete mixing and canoe construction. The final product will be judged prior to racing for its structural soundness and appearance.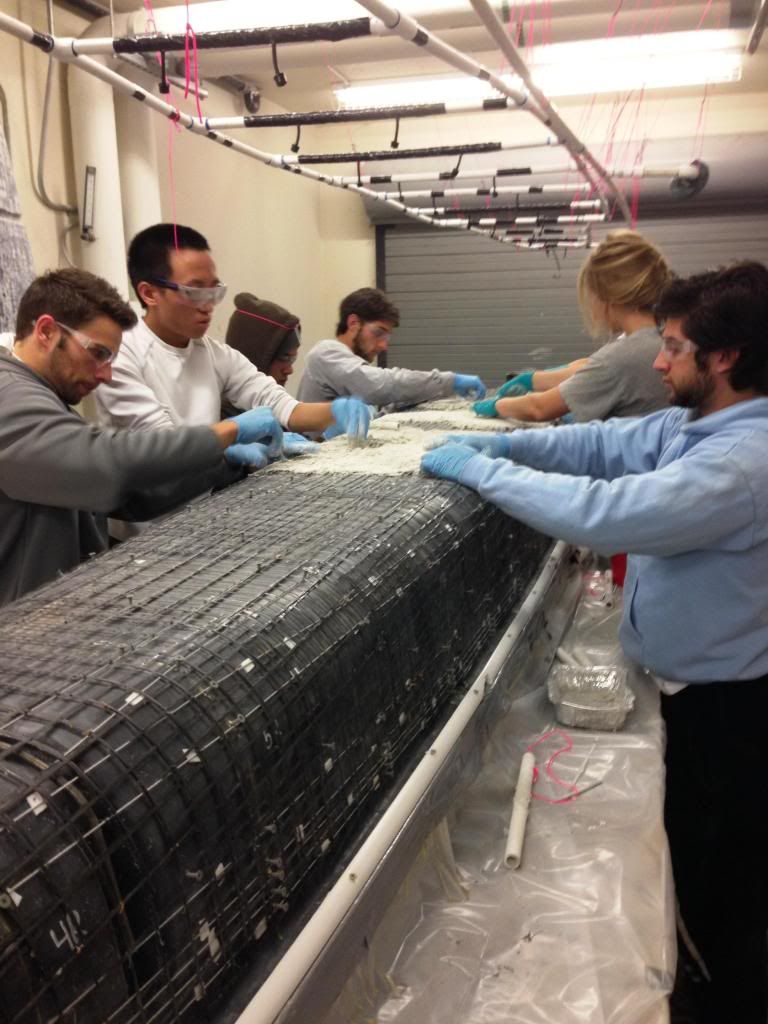 This year's concrete canoe weighs approximately 140 pounds and was assembled by the canoe and construction team. Photo courtesy of Nevada Canoe.
Devin Larson is one of the team members responsible for making the concrete canoe.
"We start with research," Larson said. "Once we find the right mix of concrete, we run a trial batch and experiment with its workability. If that works, we can make the canoe by filling a fiberglass mold."
This year's canoe weighs approximately 140 pounds and is slightly less dense than water at 55 pounds per cubic foot.
"Lots of chemistry is involved," Larson said. "But once it's together, it is up to the paddlers to win the race."
Three races are held during the competition: the 600-meter endurance, the 200-meter sprint and the 400-meter coed race. The endurance and sprint races have two heats each, one for women, one for men.
"We are the primary competition in our region against Sacramento State, Davis and Berkeley," Kramer said. "Our practices set us apart."
Practices vary day to day for the Nevada team. Their first practice sessions focused on building endurance by paddling nonstop for 15 minutes. To develop a racing pace, the teams rowed for 12 sets of four minute increments. Other practices have included outreach with Sacramento State and the University of Nevada, Las Vegas, in which college teams travel to Sparks Marina and train with the University of Nevada, Reno's team.
"Practice is essential," Kramer said. "Technique can vary drastically with two people in the boat versus four."
As Kramer said, a two-man team requires good straight line speed and power. A four-man team requires more balance and stamina while maintaining a straight line for 200 meters. Both teams utilize communication and synchronized paddling.
"Our secret weapon is the flick stroke," Kramer said. "It's a sharp, fast stroke with the paddle that gets our canoes going quickly."
With a cohesive team, perfected technique and a concrete canoe, the Nevada team hopes to paddle into the national competitions for the seventh year in a row.
University of Nevada, Reno Concrete Canoe Teams
Endurance Teams
Women: Aly Decoux and Kristin Kramer
Men: Wes Munson and Brian Echevarria
Sprint Teams
Women: Alia Parker and Jessica Guantore
Men: Justin Chavez and Vince Caoilleri
Coed Team
Alia Parker, Wes Munson, Austin Martin and Anabel Hernandez
"Nevada's concrete canoe teams have been top-five finishers at regionals for the last three years," Kramer said. "We've been going to Nationals since 2008. It's a lot of pressure to continue the legacy."
The University's concrete canoe team started in 2005 with a fifth place at regional competition. Since, the team has placed first at regionals in 2007, 2008, and from 2010 to 2013. The team has also been an annual contender at national competitions since 2006, finishing in first place in 2008 with the Argentum team. If the team places in the Mid-Pacific Conference this year, they will advance to Nationals for the ninth year in a row, which will be held at the University of Pittsburgh in Johnstown, Penn., June 19-21.
The Mid-Pacific Conference has hosted civil engineering competitions since the 1940s. Fifteen northwestern colleges and universities compete each year in concrete canoe, steel bridge, transportation, water research and treatment, and geo-wall competitions. The University of Nevada, Reno is also sending teams to compete in the Steel Bridge and Water Treatment competitions.