One day a week students at Archie Clayton Pre-AP Academy get reprieve from wearing their school uniforms. Known as College Day, students are encouraged to envision themselves attending college by supporting the university of their choice and wearing that school's logoed clothing item. The University of Nevada, Reno cloaked Clayton middle school students in blue and white Thursday, Oct. 24 to help get them excited about going to college at a special College Day pep rally.

"Our counselors have been talking to students all year about the importance of preparing for college and the value of a higher education degree," Clayton Principal and University Alumnus Bruce Meissner said. "We love seeing our students have fun and get excited about the Tier 1 university right here in town."
College day at Clayton Middle School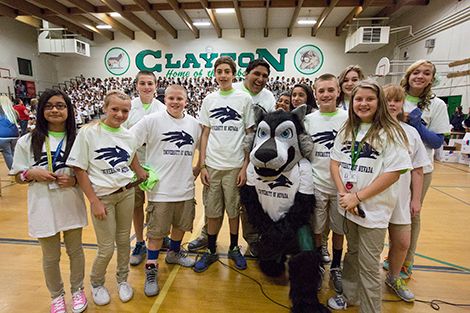 In its third year, Clayton middle school's "College Day" is supported by the University with free Wolf Pack T-shirts and by participation in a special assembly that gets students excited about attending college.
More than 700 6th through 8th-grade students received a Nevada T-shirt presented by the Nevada Wolf Shop, which is owned by the Associated Students of the University of Nevada (ASUN).
At the special pep-rally-style assembly Clayton Principal Bruce Meissner welcomed Nevada women's basketball coach Jane Albright; Marcelo Vazquez, associate dean of students and interim director for the Center for Student Cultural Diversity at the University; and ASUN Student Body President Ziad Rashdan who all encouraged students to plan for college.
"The 6th-grade and middle-school years are the ideal time to reach out and help young scholars prepare themselves for higher education," Vazquez said. "It's during this time that students can work on good study habits, explore extracurricular activities of interest to them, and improve their academic strengths in time for high school."