From Side Hustle, to "Nevada's Young Entrepreneur of The Year"
These are journalism alumna Sadie Fienberg's secrets to unlocking success in business
For as long as I can remember, entrepreneurship has intrigued me. From babysitting to selling homemade jewelry, I was a Jane of all trades. I even created a logo and business card for my babysitting business! I chose graphic design as my main niche because, well, it's fun! My passion for graphic design is rooted in a life-long love of creativity, from traditional art classes to exploring technology. Doing something you enjoy for work is imperative, but so is hard work. Now, here I am today - the owner of Butterfly Creative Projects and Nevada's "Young Entrepreneur of the Year."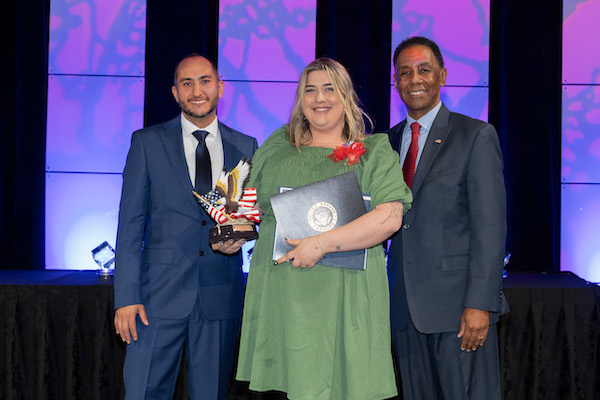 So how did I get here? My time at the University of Nevada, Reno and internship with the Nevada Small Business Development Center on campus was a pivotal start. The people I met and the resources I was able to tap into then, still serve me to this day. From participating in group projects, to leadership opportunities like being elected Senator of the Reynolds School of Journalism (if you are reading this, Hi Dean Al!). My experience at the University was invaluable. Years later, I even returned to the campus to use the center's professional services to start and develop Butterfly Creative Projects.
One thing I learned early on was to believe in myself. You truly can't take action on any idea until you have the confidence to make it a reality. My current company didn't even have a name to it when I started it, but I knew I couldn't fail. I worked a full-time job while running my then side hustle, taking on projects 7-days a week and sacrificing a lot of time with friends and family to build my dream business. Today, I run Butterfly Creative Projects full time and am proud to say it all paid off.
Also, never be afraid to put yourself out there. I used to eat lunch every week at a small restaurant up the street from my office. I remember thinking, "how cool would it be to land this place as a client someday?" I quickly made friends with the owners and eventually signed them on for a website deal! Five years later, they opened a second shop and asked me to run their social media accounts, design their weekly specials, menus and graphics... all because I went for it!
You never know when you're going to find your next client or business opportunity.
Tips to Scale Your Business
Invest in systems that help automate your process. Technology is an entrepreneur's best friend - I have a system called HoneyBooks, that I use to collect new client info, prepare contracts, send invoices, automate emails, and see important analytics.
Practice giving and receiving feedback. You don't have to agree with the advice you're given, but be grateful for it.
Don't try to figure everything out all at once. Stay hungry and you'll eventually learn the keys to success.
Depend on stakeholders with your best business interest in mind.
Partner with a power team. Find experts in different fields, for example my team consists of a writer, a publicist, and an apparel/print team. Always surround yourself with the best!
Be authentic. The right people will gravitate towards you and your brand.
My last piece of advice, which you may have heard before, don't give up. Learn to fail fast and avoid the same mistakes in the future. If you need anything, especially graphic design work, reach out, I'm your girl!
At the end of the day, find what makes you real, put it out there, and run with it. You are the groundwork for your business.
---
About the author
Sadie Fienberg is the owner of Butterfly Creative Projects, a graphic design business specializing in professional service industries. She is also the face behind a popular local food blog, Snack on That @snackonthat, and University of Nevada, Reno Reynolds School of Journalism alum.
You can connect with Sadie:
Visit Butterfly Creative Projects
Connect with Sadie on LinkedIn