Student researcher Lalise Gizaw joined the Wonders of the Mekong team for two weeks in Cambodia
Lalise Gizaw shares her experience in Cambodia as part of the Nevada Young Explorers program
Honors College student reseacher Lalise Gizaw recently assisted with research in Cambodia for the Wonders of the Mekong team as part of the Nevada Young Explorers program. Here, Lalise tells her story.
---
As the plane flew towards Cambodia, I couldn't stop thinking about what lay ahead. I was afraid of entering this new and unknown world, but I was determined to embrace this experience with an open heart. After a long 22-hour flight, we finally landed in Cambodia. As I rode through the busy streets of Phnom Penh in a tuk-tuk, I was surprised by a sudden feeling of belonging. Cambodia's rich culture and traditions reminded me of those in my home country, Ethiopia. This connection eased my initial fears.
The next day was memorable as we gathered at the Royal University of Agriculture in Phnom Penh to meet the rest of Wonders of the Mekong team. Working alongside local students was a privilege and gave me a deeper understanding of Cambodia's education system. It provided me with valuable insights into their academic pursuits.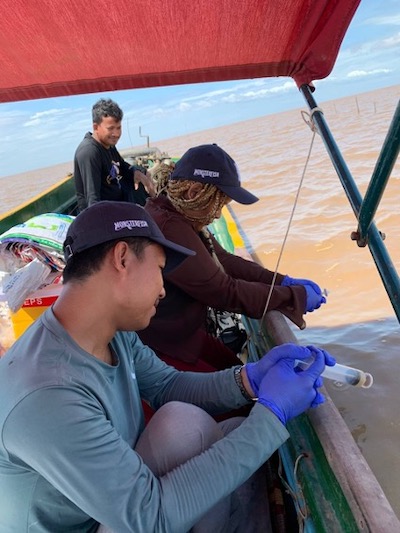 The following week, we traveled to Siem Reap, where our adventures continued. One day, we embarked on a boat journey along the Mekong River, exploring arrow traps and collecting fishes while also obtaining eDNA samples. It was on this day that we encountered a snake in our first trap, which was quite a frightening experience for me, although the team swiftly handled it, assuring us it wasn't harmful. Afterwards, we engaged in the task of sorting the fishes, a process that was a bit slower for me as I was reading a book to identify them, while the team was quick due to their prior knowledge. The next day, I teamed up with Elizabeth Everest, UNR graduate student, and Chhut Chheana, Communication Coordinator of Wonders of Mekong, to capture drone photographs, focusing on the arrow traps as our subjects.
At first, I hesitated to apply for this program, doubting its relevance to my major. However, with the support and guidance from my mentor, I took a leap of faith and secured my spot. My original research plans focused on the outreach team of Wonders of the Mekong. But, due to time constraints and unexpected events, I was not able to do that. However, my mentor was flexible and we still had a chance to come up with different projects that relate to my major.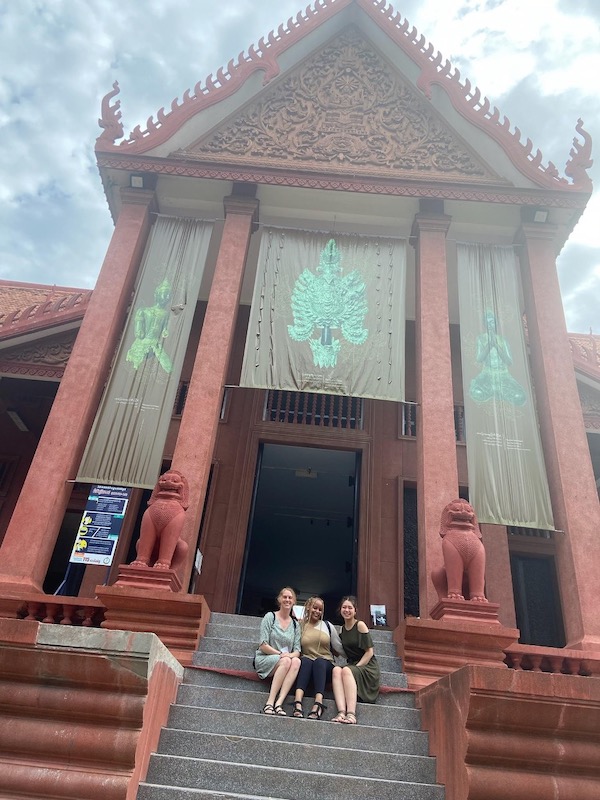 Amidst our research work, I had the chance to immerse myself in Cambodia's vibrant culture. I had the chance to visit Angkor Wat Temple, Tomb Raider Temple, National Museum in Phnom Penh, and the Royal Palace of Cambodia. I was captivated by the beautiful temples that adorned the landscape, each a symbol of the country's rich history.

Of course, no exploration of a new culture would be complete without indulging in its delicious cuisine. Cambodian food surprised and delighted me at every turn. The flavors and scents of local dishes were amazing, and I savored every bite, from street-side snacks to lavish meals at local restaurants. I also had an opportunity to visit an Ethiopian restaurant alongside the Wonders of the Mekong team, creating a beautiful moment that allowed me to immerse myself in Cambodian culture while also offering my team a glimpse into my own rich cultural heritage.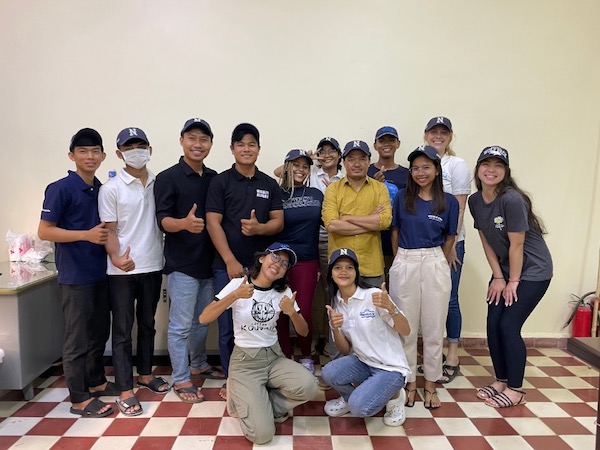 This trip was a transformative experience that pushed me out of my comfort zone, allowed me to connect with a different culture, and introduced me to remarkable individuals at the Royal University of Agriculture and Wonders of the Mekong team. It gave me the opportunity to learn other people's culture and history. This trip has helped me realize that college is just more than taking class; it also sparked my desire to do more international research in the future.
---
About the author
Lalise Gizaw is an undergraduate student and researcher, dual majoring in Mathematics and Computer Science. She is part of the Nevada Young Explorers program.