Rejoicing and remembering: Reno's presence in LGBTQ+ cinema
Library instructor Helen Bansen reflects on the "Desert of the Heart" film
June is Pride Month, which means it is time to reflect and remember the incredible LGBTQ+ history that brought us to where we are. From Compton's Cafeteria to the Stonewall Uprising, there are so many extraordinary moments that have transformed history in enormous ways. The LGBTQ+ community is a group of survivors, individuals who have surmounted extraordinary odds to be seen, respected and loved. We have fought all our lives, and the fight is nowhere near over. However, we are also able to pause and revel in the things that have been created by and for our community, particularly film. This month, I want to talk about a wonderful piece of LGBTQ+ cinema that came out of the unique culture of Reno, the 1985 film Desert Hearts, directed by Donna Dietch and written by Natalie Cooper and Jane Rule. Rule is also the author of the book the film is based off of, Desert of the Heart.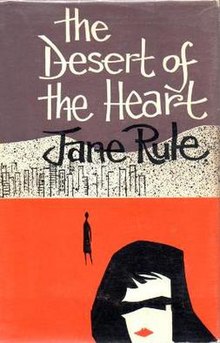 Rule wrote Desert of the Heart in 1961, following a visit to see her family, who lived in Reno. One summer, she worked in a casino and did research for the book, taking a break from her usual work as a lecturer at the University of British Columbia in Vancouver. It took her three years to get the book published, and she later reported that one publisher told her "If this book isn't pornographic, what's the point of printing it? ... if you can write in the dirty parts, we'll take it but otherwise no" (see the feature article on Jane Rule from a 1975 issue of The Body Politic: Gay Liberation Journal). When the book was finally published, Rule received letters from queer women thanking her for writing it, expressing how isolated and lonely they were and telling her how much the book meant to them.
When the book was made into a film in 1985, it was filmed onsite in Reno. There are several scenes where you can catch iconic historical landmarks, such as the downtown train station and beautiful shots of Pyramid Lake. It's an endearing film that is incredibly unique for the era in that it does not end with the "Bury Your Gays" trope (for more information on the Bury Your Gays trope, check this TV Tropes article out). In Desert Hearts, neither character dies or is stuck in an unfulfilling heterosexual relationship at the end of either the book or the film, which was a groundbreaking decision both when the book was published and when the film was released. The ending was likely why so many queer women wrote to Rule to express their thanks. Just like now, they were seeking characters like themselves, people who led full lives and were not doomed to die to satisfy a morality-obsessed public. The story ends on a hopeful note and suggests potential--the characters have choices and are not trapped in their lives as narrowly defined for them by society.
There are many ways to celebrate pride, and one of my personal favorites is to reflect on the things that were meaningful to LGBTQ+ people who have come before me, and films are one of the best ways to do that.
You can watch Desert Hearts for free by requesting it from the University Libraries, or if you are interested in other LGBTQ+ films, visit any of the film databases available through the University Libraries website or browse the Libraries' LGBT Studies in Video collection. You can also explore unique primary sources related to LGBTQ+ history through library databases such as Archives of Sexuality & Gender: LGBTQ History and Culture since 1940 and LGBT Thought and Culture.