MFA-IA Faculty Member Nina Elder
New Mexico-based artist and researcher Nina Elder joined the faculty of the MFA-IA program this January just in time to teach at her first residency. While New Mexico is in her roots, Elder's projects take her all over the United States connecting with people, place, and environment.
The Score (2018-2020) amplifies the need to fracture consolidated power and will be installed at the Indianapolis Judicial Center, those are the most salient attributes of this massive, multi-layered project comprises drawings, community engagement, activism, an exhibition, and a large site-specific public sculpture. The project iterates Elder's ongoing research into mining and embodies the intentional mark-making that underscores much of her practice. Much more than just a static, permanent object, the project involved shifting limestone into something that will change over time, something that holds deep meaning to many who walk past it, something that is not of one place or time. This is the beauty of her interdisciplinary approach to art-making.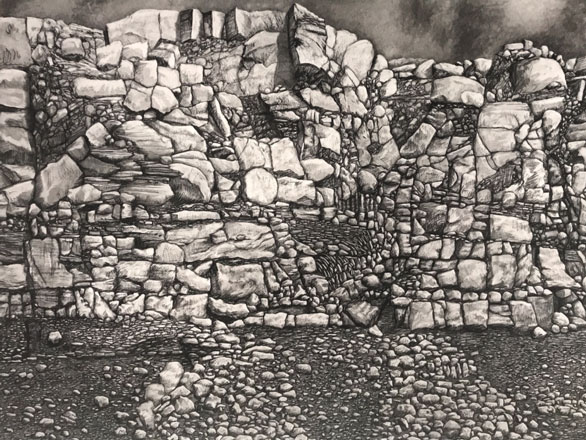 Elder develops lines of inquiry that are not linear investigations, but journeys that involve making connections between past and present, of caring deeply for our earth and its people. Her work is poetic, thoughtful, and complex-yet-tangible. Other recent explorations and works have been sited in Alaska, coastal Maine, southern Utah, or deep in the archives in Illinois. Read below for a bit of insight from the artist herself on what she is currently working on and what excited her about her first MFA-IA residency experience.
KQS: Can you describe your first MFA-IA residency experience as a faculty member in one sentence?
NE: My first MFA-IA residency felt like being welcomed into a robust family or a healthy ecosystem; there is a legacy, and living network, and a great sense of community and potential.
KQS: Besides teaching, what is one thing you are excited about right now?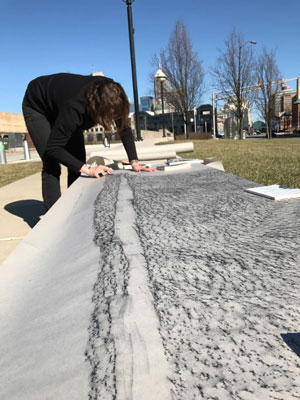 NE: I am excited to continue my research into the concepts and technologies of lifting. I am currently en route to Maine for a residency at the Ellis Beauregard Foundation by way of the National Building Arts Center in Saint Louis. Through research, performance, and drawing, I plan on expanding metaphors around what we carry and how, the relationship between strength and balance, and the invisibility of certain burdens. I am thinking about cranes, cradles, pulleys, hoists, outrigging, and ballast. I have a solo show at Waterfall Arts in Belfast, Maine that hosts the beginnings of this project.
---
About the Author: Kara Q. Smith is a Sacramento-based writer, curator, and arts advocate. She is currently Manager of Programs and Organizational Advancement with Californians for the Arts. She has more than 15 years of experience working for museums, galleries, and non-profit institutions. She has curated exhibitions, spoken at art fairs and symposiums, officiated workshops and lectures, and written for numerous publications. Kara also currently holds an adjunct faculty position in Sierra Nevada University's Interdisciplinary Arts MFA program.