Looking ahead: preparing the Quad for Commencement
Project Manager Cory Jares breaks down the process – which started in January – of getting the University's historic Quadrangle ready for its first ceremony in 4 years
As the spring semester draws to a close, excitement fills the air, summer plans are being made, senior pictures are being taken around campus and roughly 3,000 students will begin the next chapter in their lives. For most students, this is a time of reflection on what the past four years meant. For others, it is a time of celebration as a lifelong goal is being achieved. Families will travel from far around; some to watch the first member of their family graduate from college.
There is more to this day than celebrations and long speeches, for a group of roughly 40 individuals has planned this day for the past five months. Many dedicated employees wait to make this day one that won't soon be forgotten.

The planning begins in January when a group of administrators, faculty, production engineers, security, representatives from individual colleges, and Facilities Maintenance Services personnel come together to discuss this year's graduation.

For the first time in four years, commencement will be returning to The Quad! Starting April 4, The Quad will be closed to all foot traffic in preparation for the annual beautification and maintenance. The Grounds Services crew will rope off The Quad, treat it with organic material, over-seed it to enhance growth and color, and the grass will be mowed and irrigated. In early March, the Paint Shop starts repainting crosswalks, ADA parking signs, red curbs, light poles and handrails. The Carpentry Shop sets up the main stage and ramps, band stage, camera stage and all of the fencing. The electricians, movers, trash and recycle teams all have a hand in setting up commencement, keeping it clean and taking it down.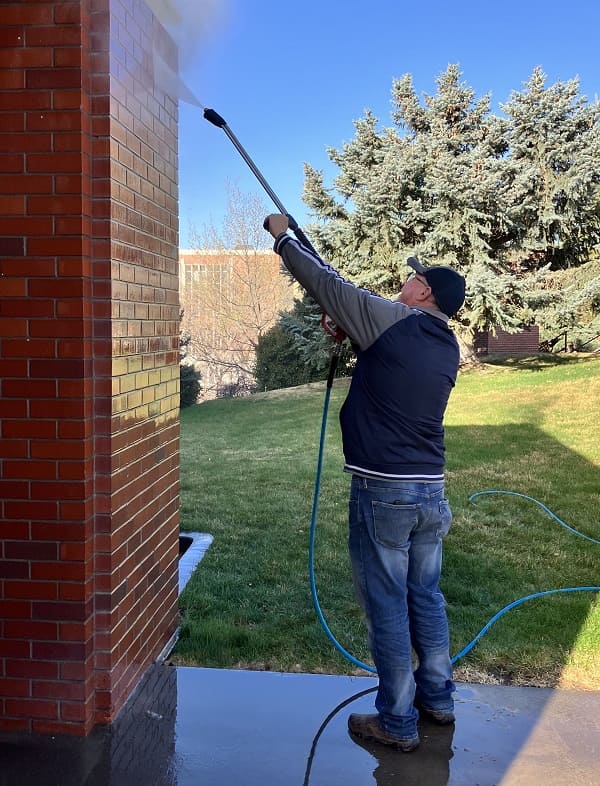 This year there will be three large TV screens set up to view the ceremonies as well as a new stage system. There will be six graduation ceremonies that take place over three days. All 13 of the University's colleges will be represented. The University will be presenting an estimated 3,000 degrees. Over 3,000 chairs will be brought in and set up in a specific pattern that requires a nine-person team working eight hours a day for two days to set up. Thirty-six portable restrooms and multiple hand wash stations will be brought in for use by an estimated 10,000 attendees.
This is a very exciting time of year for everybody and there are a lot of moving parts: months of preparation culminate into three exciting days, May 12, 13, and 14. Once it is all finished, everything is taken down and activities return to normal for a short period of time before discussions of next year begin again.