The new Faculty & Staff Lounge opens to all on November 1st
Graphic Design and Marketing Coordinator for Nevada Dining Lauryn Norris discusses the new lounge, meal plans and more
On October 13th and 20th, the University of Nevada, Reno's President, Brian Sandoval, hosted a special preview of the new Faculty and Staff Lounge. President Sandoval spoke of how there isn't a space for all of faculty and staff to go, enjoy good food, and be able to connect with those in other departments that typically don't intersect.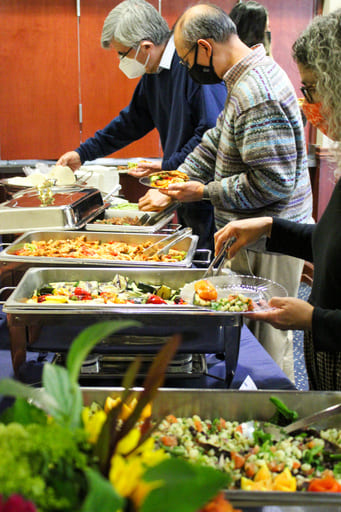 In response to feedback from the faculty and staff community, the University and Chartwells Higher Education have partnered to pilot a Faculty and Staff Lounge. The Lounge will be a welcoming space designed to provide fellowship opportunities and to interact over refreshments and food outside the busy campus environment. Located in the Leonard Room on the fourth floor of the Mathewson-IGT Knowledge Center, the Faculty and Staff Lounge overlooks the middle and South part of our beautiful campus.
The room is sophisticated, full of charm, and a great space to fuse community. The faculty and staff were invited to bring any of their own or their department's publishings to be placed on the bookshelves for any guest of the Lounge to view. The walls are fixed to hold artwork, the seating looks inviting, and the air holds earthy notes from the wood of the floor and shelving. The large windows in the main dining area can't help but make one imagine seeing all the seasons though them, all while enjoying a tasty meal and company of fellow colleagues.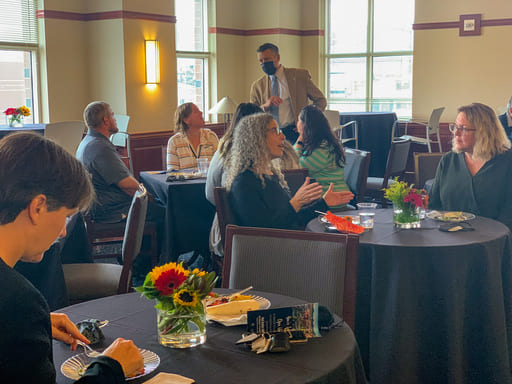 Meal plans have been created specifically for this space and intentionally priced to break even with the cost that keeps the space running. Starting November 1st, the Lounge will be open for all campus faculty and staff from 7:30 a.m. to 10:00 a.m. for continental breakfast and 11 a.m. to 1:30 p.m. for a specialty menu lunch Monday through Friday during the academic year.
Feedback and comments on what the faculty and staff community would like to see this space grow into are encouraged.