Class of 2018 we did it | University of Nevada, Reno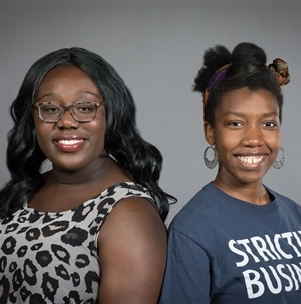 To the Class of 2018: Guess what? WE DID IT!
5/17/2018 | By Sylvia Asare & Ashley Sharp
Graduating Seniors, Class of 2018 Print
Out of nowhere it struck! While we studied, laughed and occasionally cried. After all the tests, while writing the papers and as the group projects past us by.
In the middle of getting our caps, gowns and announcements; Graduation arrived.
As two seniors here at the University, honestly, we have no clue where the time went. Since Winter of 2014, we have had the opportunity to see nearly 10,000 Nevada students cross that Commencement stage and receive their bachelor's degree; this week, it's our turn.
It feels like it was just yesterday when we first stepped foot on campus for orientation. It's hard to believe we will soon be crossing the stage on the beautiful Stanford White-designed Quad.
Looking back on the journey here, our college experience has been about opportunity. We both have had the opportunity to be supported by the amazing faulty and professional staff. We were able to explore a new environment so very different from our hometown. Lastly, we have had the opportunity to be surrounded by an interesting and diverse community of people.
With only a couple days left here on campus ahead of us, but so many more behind us, we just want to remind all the graduating seniors out there to just enjoy the time you have left, and not worry about the nerves of starting the newest chapter of our lives.
The jobs will come, grad and professional school will come, the corner office on the top floor will come!
People nowadays are quick to say, "Well, you don't need a college degree to do this or to do that." To those people we challenge you to find a person graduating this spring who didn't want the degree and all the experience and memories that come along with it.
To that end, to all those who are crossing that stage this week, take a moment to take a deep breath and celebrate making it to that day we have all been dreaming of for the last couple years, a good night's rest!
To those who doubted us, to those who had our backs the whole time, and to the class of 2018 WE DID IT!!
(Note: Sylvia Asare, left, from Las Vegas, is graduating this week with a degree in Biology; Ashley Sharp, right, from Las Vegas, is graduating this week with a degree in Finance.)
---
NSights offers viewpoints that do not necessarily reflect the official position of the University of Nevada, Reno.
Share:
Get Nevada Today in your Inbox!