EMBA Recent Cohort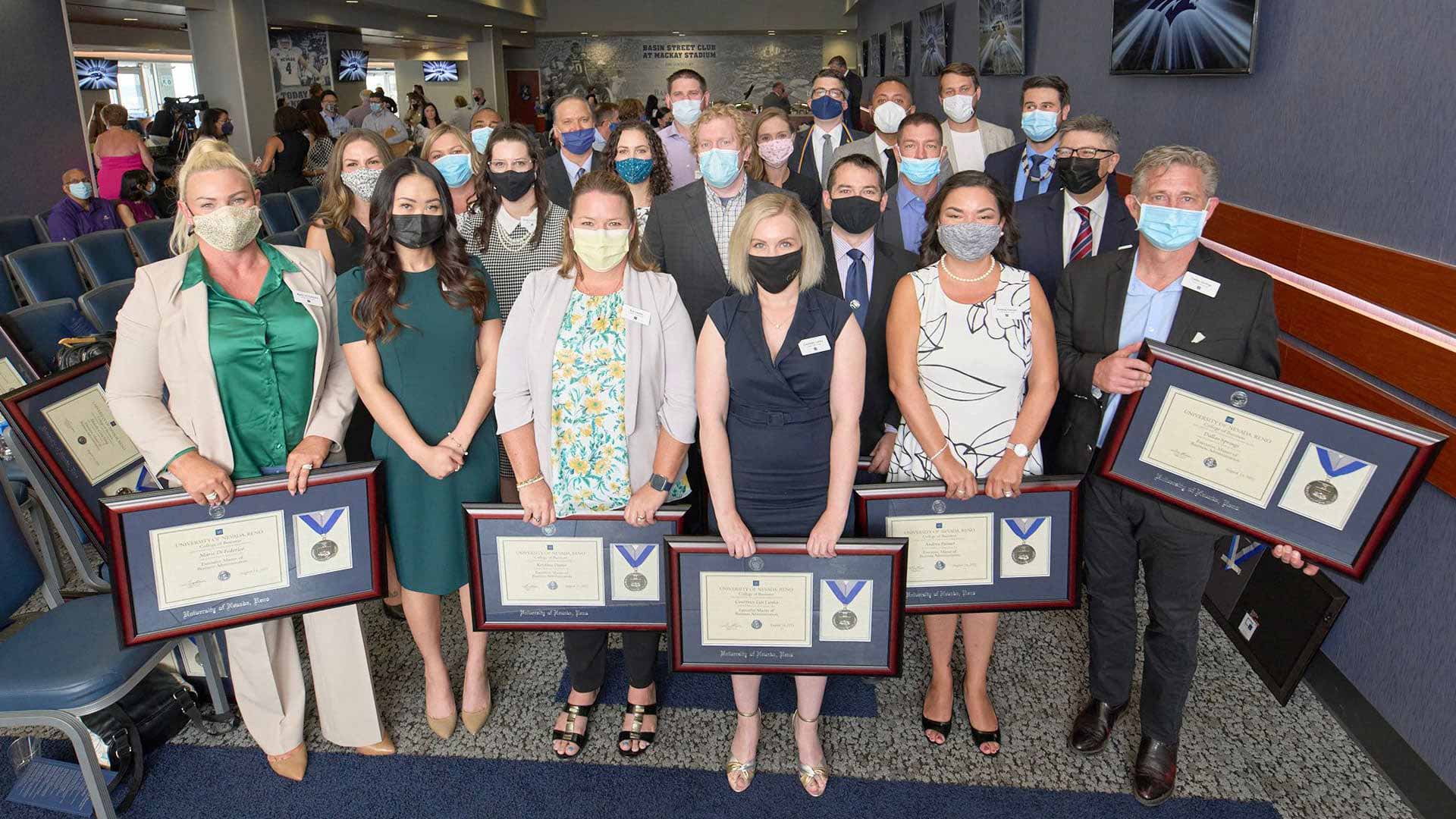 Congratulations to the 2021 Graduating Class of the University of Nevada, Reno Online Executive MBA Program
The commencement of the 2021 graduating class of the University of Nevada, Reno Online Executive MBA program was held at the Basin Street Club inside Mackay Stadium on August 14, 2021. This is the ninth graduating class and celebrated 35 graduates. The 2021 graduating class has impressive credentials that show the strong reputation, quality and diversity of the program:
The cohort included students from Arizona, California,

Illinois, Nevada, North Dakota, Pennsylvania, Texas, Utah

and Virginia

.
The cohort had an average of 1

2

years of work experience.

Nearly half

of the students started the program with Graduate or Professional Degrees, including

four medical doctors, a doctor of osteopathy, a doctor of optometry, a Ph.D. in electrical engineering, a master of physical therapy, a master of public health, masters of science degrees in economics, metallurgical engineering, biomedical sciences and engineering, one certified public accountant

and one paralegal certification.

Two

Veterans graduated with this group.

The graduates work for notable employers

,

such as

Bausch & Lomb, Bombardier Transportation, Boyd Gaming, Canon Medical Systems, Great Basin College, Las Vegas Convention and Visitors Authority, MGM Resorts, Panasonic Energy, Renown Health, United Health Group, U.S. Surgical

and the U.S. Government

.
This cohort wants you to know…
"If you are a busy professional looking for an outstanding MBA program, I can't imagine a better choice than the University of Nevada, Reno. There was so much professional experience in our cohort, which greatly added to the experience. It was a rich learning environment with mid-career professionals who were eager to learn and grow." Dr. Jay MacGregor, deputy chief of staff of the VA Eastern Colorado Health Care System
"While there are phenomenal tools and resources to set students up for success, it is the people that make the Executive MBA program top-notch. The program encompasses a group of dedicated professors and staff members that are committed to providing students with the tools and resources necessary to set them up for success." Melody Fong, financial analyst at Resorts World Las Vegas
"The Executive MBA is a truly unique educational experience with remarkable access to all the instructors. Communication was always fluid, and the friendly, easy-going demeanor of the professors encouraged questions and interaction throughout the program. I'm so pleased I chose this program." Krist Walicky, director of Corporate Development Projects at Boyd Gaming
Congratulations, EMBA Class of 2021!