The Northern Nevada Pride Parade is an event filled with love, celebration and acceptance and this year the University of Nevada, Reno is going to be more involved than ever before. On July 22, Orvis School of Nursing will have a float in the parade for the first time. The University has increasingly supported efforts around Pride over the years and the Nursing School have previously participated in the parade but has never before had a dedicated float. The Orvis Student Nursing Association is the driving force behind the creation and have worked diligently for the last year to create a plan and design a float for the parade, with help and funding from Orvis School of Nursing, the Diversity, Equality and Inclusion Committee, and the Associated Students of the University of Nevada (ASUN). Everyone involved in the project is happy to finally have this dream come to fruition.
Professor Jasen Brooks is the faculty advisor and a lecturer in the Orvis School of Nursing and has been supporting the Orvis Student Nursing Association to make this a reality. Everyone on campus has been incredibly supportive in making this project successful. Finding this type of support has not always been easy for Professor Brooks. He grew up during the AIDS epidemic and remembers that every source of media that he consumed told him he would get sick and die if he was gay. He had been told that he wouldn't be accepted and that he was an outcast. But now he has been out for 25 years and is amazed to see the generational change that is happening.
"It's amazing to see the way that generational change occurs and it's amazing to see that there are still humans who will support, and protect, and be advocates no matter what," Brooks said. "So, for me to organize this and be in a position of potentially helping others make change is so important to me. It's one of my passions in healthcare, it's one of my passions as a person."
With this float, Brooks says the most important thing is visibility and representation for students. Being visible in the community reinforces inclusivity within the nursing profession. Brooks sees this float as a great opportunity to be seen as nurses and as allies in the healthcare field. Brooks emphasizes in his classroom that everybody deserves to be cared for and in order to care for someone appropriately, we have to know where they are coming from. Having nurses with the float will give the community a sense of peace knowing that they were going to provide you healthcare, regardless of what legislature occurs and what regulations are in place. Brooks made it clear that if you need assistance, nurses are on your side.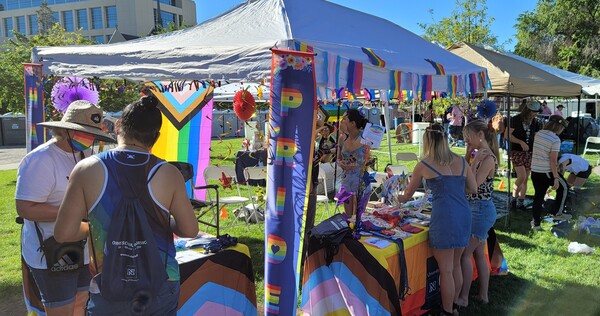 Brooks is also using this float to give nursing students experience with population research on the LGBTQ+ community. While nursing students will help decorate the float and will be there during the parade, he hopes they will interact with individuals attending Pride. Brooks wants his students to ask those attending questions about their healthcare needs and how they can better serve them as nurses. While the students did formal research on this topic last year and did presentations on the research about nursing care and LGBTQ+ health care outcomes, it just recently got accepted for publishing.
Brooks wants to continue to be involved in Pride celebrations for years to come. If the University doesn't have another float, he wants to show students that nurses are there for them in some other way. Brooks has spent the last 25 years combating the kind of learning and language he heard as a kid when talking about the LGBTQ+ community. Now, he sits in his classroom and lectures about LGBTQ+ healthcare and his students tell him that it doesn't matter what anyone is, they are going to take care of them.
"You have to be a good nurse, but you have to be a good human too. They are not mutually exclusive, you have to be both," Brooks said.
This year's Pride Parade is on July 22 starting at 10 a.m. You can attend the event to see the Orvis School of Nursing float as well as many other inspiring floats.