July 1, 2022, marked a symbolic anniversary for the Dean's Future Scholars program as executive director Mariluz Garcia celebrated her tenth year, and Manuel Ortiz, Dean's Future Scholars program alumni, celebrated his first year as assistant director.
William Sparkman, who founded the Dean's Future Scholars program in 2000 and Bob Edgington, who ran the program from 2005 to 2012, both embodied Dean's Future Scholars' culture of giving back by establishing endowments that generate annual funds for scholarships.
"As a way to celebrate my ten-year anniversary, I wanted to replicate the generosity of those who came before me by creating my own scholarship endowment," Garcia said.
In the span of 22 years, the Dean's Future Scholars program at the College of Education and Human Development has had a tremendous impact on first-generation, low-income students throughout Washoe County. To date, 1,552 students have participated in Dean's Future Scholars, which provides free mentoring and summer programming for a minimum of six years. For those students who continue onto the university, the Dean's Future Scholars program provides mentoring, scholarships, employment opportunities and support until they graduate from college and enter the workforce.
This grant-funded program has successfully increased upward social mobility for families. For example, 49% of the current Dean's Future Scholars parents have not earned a high school diploma, yet their children who participate in the Dean's Future Scholars program have averaged a 96% high school graduation rate for the past five years, which is 17 percentage points higher than their low-income peers in the school district. Over the past five years, 72% have graduated with advanced or honor's diplomas, which has better prepared students to access 2-year, 4-year, or trade school programs of their choice.
"We know that together we have built something very special, and the program is making a positive impact, but we need sustainable funding sources to carry this work forward."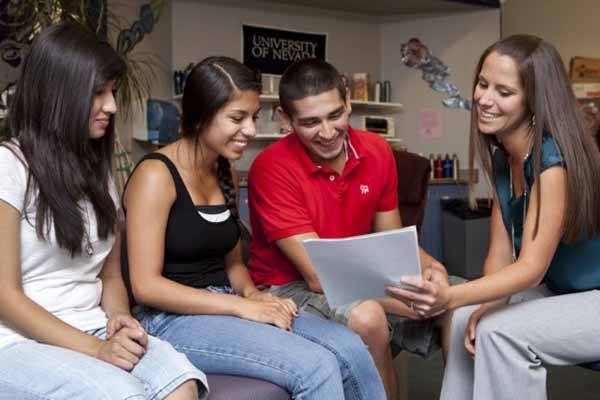 "Mariluz Garcia has been a major part of the efforts of Dean's Future Scholars over the past ten years. Her gentle spirit and desire to see students reach higher than they imagined have significantly impacted Reno and Nevada communities," said Donald Easton-Brooks, Dean of the College of Education and Human Development. "Manuel Ortiz, who started as a reluctant DFSer, has grown to be a teacher, a mentor, now the program director of Dean's Future Scholars, has earned his master's, and is enrolled in a doctoral program here at the University. He is the right person to lead Dean's Future Scholars as Dr. Garcia moves programming (Next Gen) across the state. His lived experience will continue to shape the young minds of Reno and Nevada."
Garcia first started working for the Dean's Future Scholars program in 2004 when she began her master's degree in school counseling. As a graduate assistant, Garcia helped create the first formal Dean's Future Scholars mentoring program, which today serves 408 students in grades 7 through 12 located at 38 different schools during the school year. She also helped coordinate the large-scale summer program on the university campus, which served 280 students during the 2022 summer program.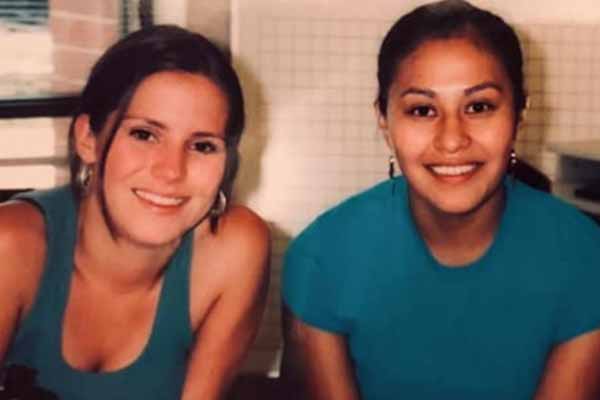 "Though 18 years have passed, Garcia clearly remembers meeting Ortiz for the first time when he was a tenth-grade student attending Hug High School.
"Even at a young age, Manny had this larger-than-life personality that allowed him to instantly connect with others. He was a natural leader that all of the Dean's Future Scholars students looked up to," Garcia said.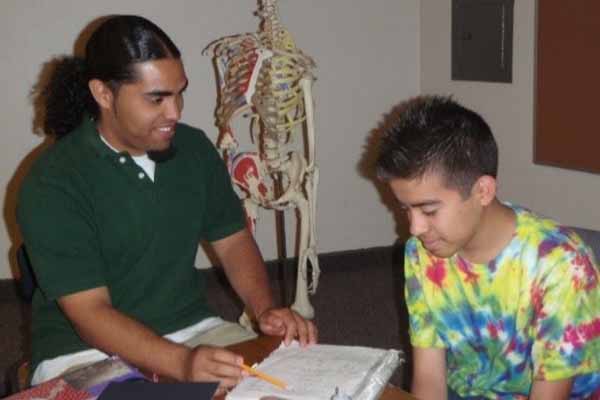 What makes Dean's Future Scholars different from other college pathway programs is that every student recommended during their sixth-grade year is welcomed with open arms regardless of their background, academic performance, or family history. At no point are program participants screened based on their test scores or exited from the program due to grades, attendance, or behavior.
Manuel Ortiz's first introduction to the Dean's Future Scholars program was when he was attending Glenn Duncan Elementary. He was approached with the opportunity to join, but the idea of going to college did not take off without some convincing. Once Ortiz realized that this chance to enhance his potential in education could not go unnoticed, he soon accepted the step that would change his life for the better.
Similar to other first-generation college students from low-income backgrounds, Ortiz needed to balance working full-time while taking college classes. He showed resiliency and dedication during the ten years it took for him to complete his bachelor's degree and while completing his master's degree during the pandemic.
"Having Manuel officially come on as the Dean's Future Scholars assistant director last year was a dream come true for me," Mariluz Garcia said. "For almost two decades, we have gone through the ups and downs of life together. This isn't just a job for us…this is our family."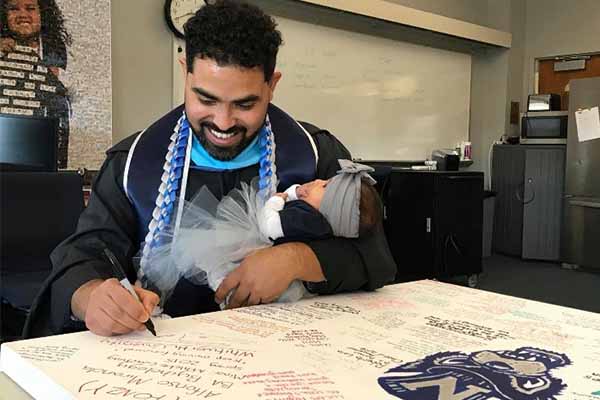 Since 2004, the Dean's Future Scholars program has actively grown its own mentoring staff and empowered them to give back to the community. Today, 50% of the leadership team and 86% of the mentoring team grew up in the Dean's Future Scholars program. This home-grown approach has created a pathway for advancement through the organization, which gives program participants the opportunity to pay it forward and contribute in their own unique ways.
Since the sixth grade, Manuel Ortiz has seen a variety of Dean's Future Scholars mentors, College of Education and Human Development faculty, and community stakeholders who have stepped up and invested in his education.
"Dr. Sparkman, Bob, and Mariluz have always believed in my potential…long before I was able to recognize it in myself," Ortiz said. "Now, it is my duty and privilege to carry their legacy forward by helping Dean's Future Scholars students achieve their educational goals and improve the quality of life for their families."