The University of Nevada, Reno has measures in place to help prospective students navigate the many potential obstacles they are facing from the COVID-19 pandemic.
While prospective students are not able to visit campus in person, the University is creating personal connections with these students in other ways. By going to the new Visit page, incoming students and parents can "walk through" the campus with new "virtual" tours and interact directly with admissions staff. Additionally, like many universities across the country, the University has adjusted deadlines to better meet student needs during this challenging and unprecedented time.
"High school seniors have been hit with a number of challenges as a result of the COVID-19 pandemic – from key events being cancelled, to schools and classes now offered online, and delayed SAT or ACT testing – we realize how these changes have impacted prospective students," Steve Maples, University Director of Admissions, said. "Our goal is to help temporarily remove barriers as the result of this outbreak and help students and their parents get their specific questions answered in every way we can."
Virtual campus
During a typical month of April, between 3,000 and 4,000 students and their parents would be visiting campus for Nevada Bound tours. These tours, led by current University students, have been recognized as one of the best ways for the University to provide prospective students insight into campus life. With all tours cancelled during the COVID-19 campus closure, the University worked to replace the in-person tours with a virtual experience. Two student ambassadors and one recruiter host the University's new live virtual tours. Students and parents on the tour can ask questions and get answers in real-time using an interactive online interface, much like during a webinar.
In addition to real-time virtual tours, online campus photo galleries and video tours are also available for students and their parents to scroll through.
"This process is ever-evolving and we're doing everything we can to connect with students and their parents," Maples said.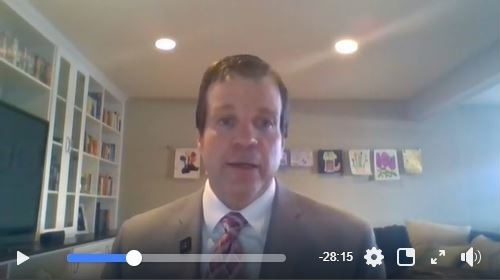 Another way Maples and his team are connecting with students and their parents in real-time is through weekly Facebook Live or Instagram Live chats, on the Nevada Admissions social media accounts. The University's Office of Residential Life & Housing has also joined the Live chats to answer questions parents and students are asking specific to housing.

The Nevada Admissions accounts are also doing daily giveaways through social media to help engage students and to foster a sense of community. Online communities have also been created in the form of parent- and student-specific groups.
One-on-one online advising
As newly-admitted students prepare to register for classes, they will receive one-on-one advising through Zoom, an online video communication platform. This will help ensure students can "meet" their advisor and ask any course-specific questions they have. Additionally, all new students have the opportunity to meet with a financial aid advisor one-on-one through Zoom. The University also offers advising appointments for Spanish-speaking families.
Deadlines and fee relief
"Many parents and students are finding themselves stressed about receiving the test scores needed to receive University financial aid," Maples said. "In response, the University is working with students to help them qualify and has moved admissions deadlines in an effort to help."
Maples said the University is also working with students and their parents who are concerned about the pass/fail grades many school districts have chosen to give students this semester. Additionally, the University is waiving the $250 advanced registration fee for those families who now find themselves in financial hardship as a result of the COVID-19 pandemic.
"As a father of an incoming Class of 2024 freshman myself, I understand the many questions and concerns a lot of parents and guardians may have about the college admissions process," Maples said. "We want this incoming class, as well as any existing University student, to know that this University is here for students from the start of the admissions process, through enrollment, and until the time they graduate. There are a number of student services and resources in place and we want to ensure they know about each of them."