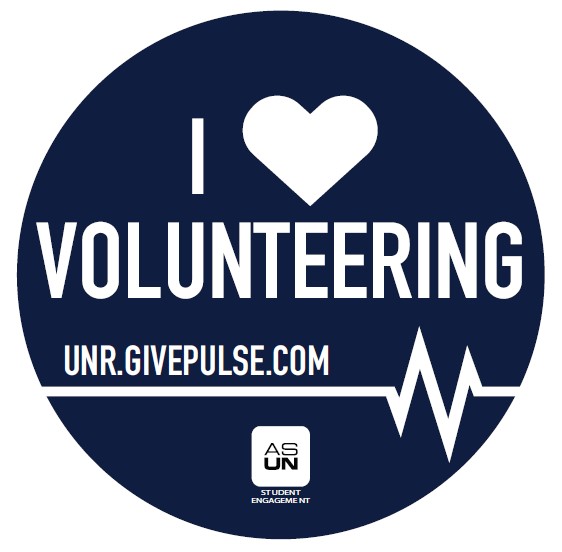 Undergraduate students at the University of Nevada, Reno volunteered 12,143 hours this academic year. That is approximately 3,891 Nevada football games, 10,569 hour and fifteen-minute classes or 104,082 seven-minute rides on Campus Escort. When given a dollar value, these hours equate to $308,793.18. (Or 103,275 cups of coffee from Bytes, 23,771 t-shirts from the Nevada Wolf Shop or 309 MacBooks for students.)
These 12,142 hours are tracked by the Center for Student Engagement (CSE) using software called GivePulse that allows students to browse various volunteer opportunities on campus and in the community, sign up for specific events or time slots that inspire and work for them, and enter their hours once the opportunity is complete. The Office of Service-Learning and Civic Engagement also uses the platform to track hours for service-learning courses.
Because of this software, CSE can pinpoint student volunteers who have shown outstanding civic engagement and honor them with awards like the 100-hour challenge, the 200-hour challenge, the Silver Paw Award and the Richard and Bonnie Bryan Public Service Award. Each of these student awardees – along with the community partners who make it all possible – are typically recognized at an end of the year breakfast hosted by CSE.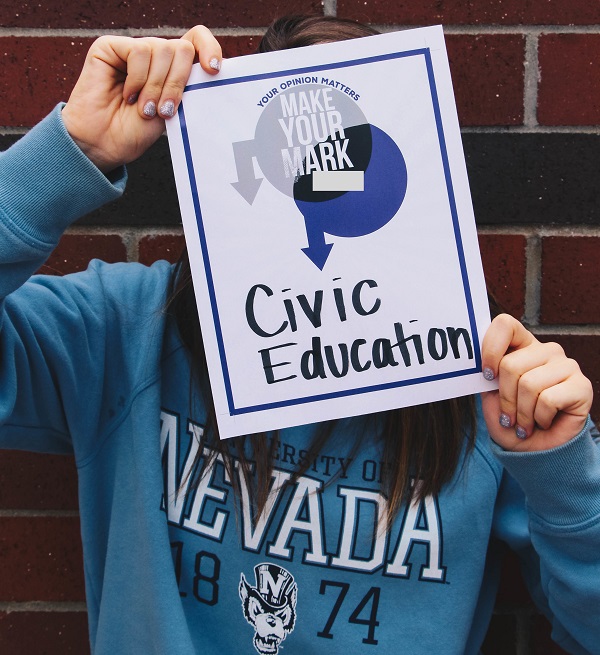 Due to remote learning operations, that breakfast cannot happen this year, but that doesn't mean these students don't deserve to be showcased. The volunteerism of the winners listed below is an extraordinary example of the type of civic engagement happening among our undergraduate students at the University. Moreover, and at the heart of the mission at CSE, these hours and these awardees show that the University is graduating successful student citizens who, using a combination of knowledge, skills, values, and motivation, are ready to make a positive impact on their community as Nevada alumni.
When asked what Civic Engagement means to her, Richard and Bonnie Bryan Public Service Award winner Kennedy Sparling said, "It is doing something that matters in another person's life. It can take on so many different forms, whether it's more formal like volunteering for a nonprofit in your community or as casual as opening a door for a stranger."
If you recognize a name below, or a community partner, we ask that you acknowledge them in whatever way you see fit. Because even though these students are not getting their celebratory breakfast, they still deserve a text, a call, a homemade loaf of banana bread. If baking isn't your thing, every awardee will be acknowledged on the @iLeadNevada social media; you can follow and show your support on social media.

Richard and Bonnie Bryan Award
Every year, the Richard & Bonnie Bryan Family Public Service Award recognizes one undergraduate student who has demonstrated outstanding civic engagement. Senator Bryan was president of ASUN during the 1958/59 school year. It was during that same year that he met his wife, Bonnie.
Silver Paw Award
The Silver Paw Award recognizes students who embody the ideals and spirit of an engaged student. Winners are students or groups of students who have made exemplary contributions to their community in civic engagement work.
Young Feminists
Jakeyla Hall
Mackenzie Kent
Wenei Philimon
Ivory Rok
Kennedy Sparling
Jared Tsuchiyama-Sando
Steffany Yang
200-hour Challenge
The following four students volunteered 200 hours in this past academic year, which equates to an economic value of $20,344. These students are honored with a certificate from the State of Nevada Governor.
Caitlin Bernmonti
Margaret Craddock
Jake Stringer
Steffany Yang
100-hour Challenge
The following fifteen students volunteered 1,500 hours this academic year, which equates to an economic value of $38,145. These students are honored with a certificate from the President of the University.
Patricia Ascano
Margaret Craddock
Catherine Disbrow
Paige Flippin
Ryan Hartley
Sophia He
Alexa Hoops
Sabrina Jaynes
Mackenzie Kent
Kelsey Kjer
Thomas Libang
Daniel Scruggs
Samantha Sipusic
Kennedy Sparling
Evan Tsuzaki
Community & University Partners
The Center for Student Engagement couldn't be successful without the hundreds of partnerships both on campus and off campus. Community engagement is a collaboration between institutions of higher education and their large communities at local, regional, state, national, and global levels. The mutual exchange of knowledge and resources between student volunteers and community partnerships is what makes this all possible. We honor our top partnerships below:
Top 5 Community Partners – 1,000 hours total; $25,430 in economic value

SPCA of Northern Nevada – 300; $7,629 in economic value
Food Bank of Northern Nevada – 293; $7,450.99 in economic value
Washoe CASA Foundation – 165; $4,195.95 in economic value
High Sierra AHEC Student Ambassadors – 123; $3,127.89 in economic value
Spread The Word – 119 hours; $3,026.17 in economic value
Top 5 Student Groups – 3,572 volunteer hours; $90,835.96

Honors Bonners Program – 1501 volunteer hours; $38,170.43 in economic value
MEDLIFE Nevada – 699 volunteer hours; $17,775.57 in economic value
Pack Provisions – 489 volunteer hours; $12,435.27 in economic value
Nevada Student Ambassadors – 451 volunteer hours; $11,468.93 in economic value
Kappa Delta Chi – 432 volunteer hours; $10,985.76 in economic value
Top 5 Campus Departments – 1,570 volunteer hours; $49,925.10 in economic value

Residential Life, Housing and Food Services - 736 volunteer hours; $18,716.48 in economic value
Student Health Center – 401 volunteer hours; $10,197.43 in economic value
Facilities Maintenance Services – 221 volunteer hours; $5,620.03 in economic value
Dean of Students – 106 volunteer hours; $2,695.58 in economic value
Office of International Student and Scholars – 106 volunteer hours; $2,695.58