For more than six decades, the Society of Women Engineers, or SWE, has given women engineers a unique place and voice within the engineering industry, and the organization is centered around a passion for members' success. Founded in 1950 with a goal of an inclusive work environment and gender equality in engineering and technology, SWE has 400 collegiate and professional sections and 40 affiliates across the country, including at the University.
Sima Aznavi is a Ph.D candidate in the electrical engineering department and served as the graduate student liaison for the chapter. She was also the interim chair of the University's IEEE IAS student branch chapter. Aznavi took part in the national SWE conference last year as an officer, and has won several awards like the Graduate Dean's Merit Scholarship, the 2019 Outstanding International Graduate Student and 2020 Outstanding Graduating Graduate Student at the University. She has also won several student support awards from IEEE because of her volunteer activities with Women in Engineering events. She got involved with SWE through one of her friends who was an officer for the club.
"I started taking part in club meetings and contributing to activities, because I did not have any female friends in my graduate courses at the Department of Electrical Engineering," she said. "The National SWE's aim to promote equality for women has been very inspiring to me, and being an active member and also the graduate liaison of the SWE chapter at University of Nevada Reno has been a great opportunity for my personal and professional development, networking and fun during the last two years."
Aznavi's favorite memories of the club include attending the annual SWE national conference (WE19) where being a Graduate Student Officer of the SWE chapter on campus provided her with an opportunity to attend career development sessions, tech talks and career fairs. The networking and technical events of WE19 enabled her to establish connections and form contacts which has been extremely helpful during her research career.
"My advice is to take part in volunteer activities, make connections, and take part in campus and student activities in societies, especially for international students," Aznavi said.
Indira Chatterjee, associate dean of the College of Engineering has been the faculty advisor for the University's chapter of SWE for 32 years. "It has been a very satisfying role in that I get to know the students who are involved in SWE especially as officers, and I still maintain close friendships with many of them," she said. "I mentor them whenever the opportunity arises and advise them on many of their activities."
Chatterjee notes that the lack of mentors in engineering is one of the factors known to contribute to the low number of women who choose to pursue careers or degrees in engineering.
"Role models can inspire young women to become engineers and follow a fulfilling career," said Chatterjee.
Darlene Merill is an officer in SWE and is going into her final year of chemical engineering. Currently interning with Nevada Gold Mines, she had the honor of both previously working in a lab setting and getting an internship with Aquametals, a lead refinery plant finding clean ways to purify lead. At Aquametals, Merill received mentorship from Josh Hufford, the Senior Process Engineer at the time.
"He showed me how to professionally ask someone for their time, he genuinely cared in the results I got and because of the plant being such a small start up, I was able to get experience in every field," she said.
One memorable example, Merill says, is when the team had been working at making purifying a less costly process, and in doing so, ran a line that poured solid lead ingots out. After adding different chemicals to pull unwanted ones out, Merill started her job by letting the lead run down a pipe to be poured, which she describes as a button pushing job. However, there was a time where the machine didn't stop properly and lead overflowed onto the floor, taking days to clean up. Josh sat down with her and let her know that she wasn't the first to make this mistake, as he had done it several times as well. He was able to put in more safety precautions and after that, similar incidents caused the company to invest in computer programs to stop the line instead. During this time, Merrill was lead engineer for pouring the lead, and notes that the accident helped her become aware of bad incidents that could happen.
"I feel grateful for getting to experience hands on engineering and leading through Aquametals," she said. "I not only learned firsthand how to handle projects, but how to see them through from start, testing small scale changes in a lab, to finish, putting the idea into use in the actual plant. Since working there, I have a great respect for small startups and am interested to see how a large company like Nevada Gold Mines will compare."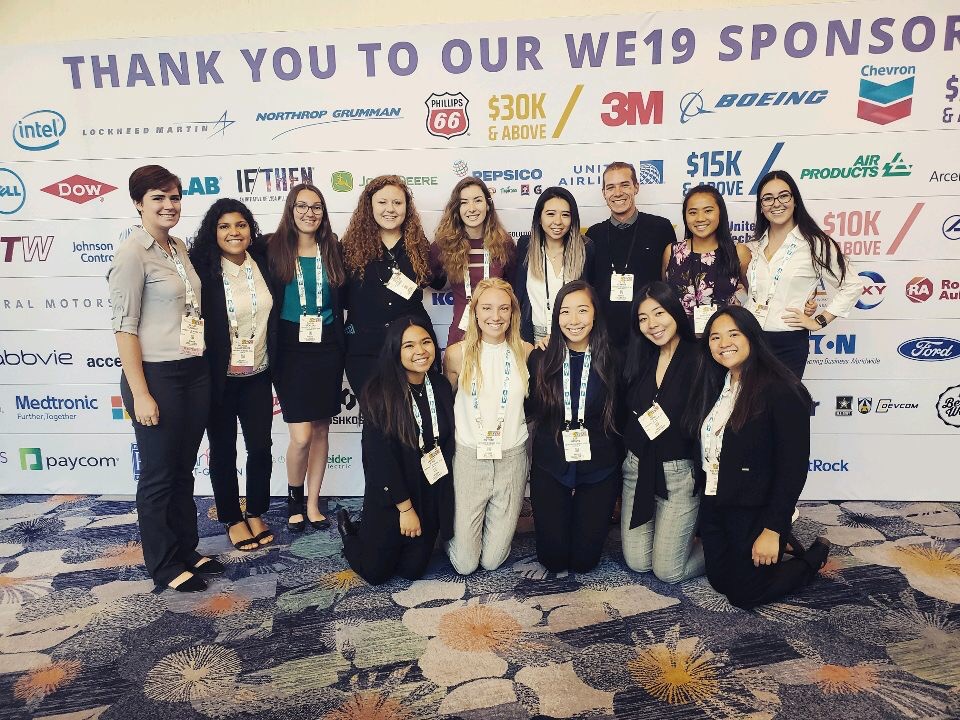 As one of the club officers, Merill participated in the SWE national conference in Anaheim, California last year and was able to network and connect with others in her field.
"This year was really fun and we got to enjoy it together," she said.
For women engineers unsure of what they want to do, Merill advises them to take advantage of resources offered. Attending conferences and job fairs can help someone meet new people and see what companies are looking for, respectively. She describes the process of meeting people in the professional world is like trying to make friends.
"There is so much out there in the world full of people ready to help you, you just have to be brave enough to take the first step and find it," she said.