The Shared History Program in the College of Liberal Arts has created an exhibit on the Latino and Latinx presence in early Nevada history and in Virginia City. The exhibit is featured on the front porch of Lincoln Hall until Sunday, Oct. 11 during business hours. It will then be moved inside to be on display through November. The exhibit is part of Hispanic Heritage month and the University District Museum's Fiesta Week. It also parallels a new exhibit on mining to be unveiled in November at the Mathewson-IGT Knowledge Center.
Latino Miners of the Comstock examines the contribution of Latino miners during the California Gold Rush and the Comstock Silver Rush. The exhibit explores their presence in Nevada, the history of how they got here and their roles as owners of profitable mining ventures and pioneers of mining technology.
This exhibit is the result of an offer given to the Shared History Program from University Libraries last fall to participate in their IGT-funded exhibit on mining in Nevada. Christopher von Nagy, director of the Shared History Program, wanted to explore the under-documented history of Latino and Latinx population in Nevada and enlisted in his students and staff to help with the project.
"At the time, I happened to be teaching a public history course for graduate students and thought that some sort of project related to the theme might be a good option for some of the students in the class," von Nagy said. "One of my students, Mariah Mena, suggested looking at the Latino population in the Comstock, an historical group still essentially invisible. Thus, a project was born that involved a range of Shared History students and interns."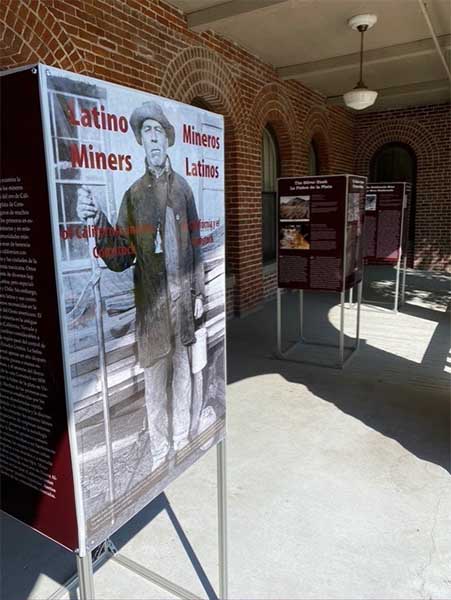 This is their first-ever bilingual exhibit, as von Nagy and Mena ensured each panel was fully translated into Spanish. Other students on the project included two Shared History graduate students Sara Gary-Sage and Ivy Anderson, who participated in the research and development of the exhibit, undergraduate Museum Studies and Geography student Daniel Burns, who brought his expertise on mining and Virginia City to the project, and undergraduate student Ethan Hiller. Mena and Burns also lived in Virginia City as children, providing some personal experience to the project.

"The participating students have worked very hard in helping to correct the perception that Latino miners player little role in the development of northern Nevada during the initial decades following Mexican Alta California's division into multiple U.S. territories and states," von Nagy said.
Staff on the project included Nancy O'Connell, lead researcher on Shared History's Sierra Ski Heritage Oral History Project. She helped share suggestions in discussions during summer Monday Morning Coffees, a weekly informal get together for students interested in public history.
The exhibit will be outside until Sunday in hopes to make it more accessible for participants of the University District Museum's Fiesta Week, as most museums are closed to visitors or have COVID-19 guidelines in place for indoor displays.