Hungry University of Nevada, Reno students, faculty and guests have an exciting new dining option on campus. The Habit Burger Grill opened its new restaurant location in the Joe Crowley Student Union on Wednesday, Feb. 26. If the first few hours of operation are any indication, the grill promises to be a popular spot.
"I've been to Habit Burger at Legends [in Sparks] a couple times," freshman Cameron Anderson said. "I liked it enough to come try it here. I'm glad for the variety on this end of campus."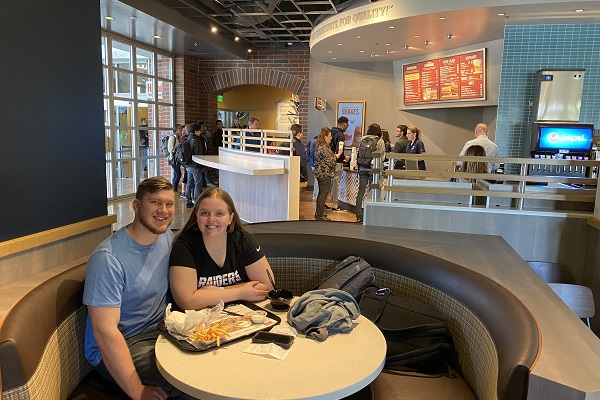 Married seniors Justin and Melissa Estep enjoyed the Habit Burger Grill for many years when they lived in northern California. "We're pretty excited to have it on campus," Melissa said. "And it's great because if you're going to a game or something, it's right across the street." Justin added, "It's a good spot before a basketball game or even after the gym."

The Habit Burger Grill is a burger-centric, fast casual restaurant concept that specializes in preparing fresh, made-to-order chargrilled burgers and handcrafted sandwiches featuring USDA choice tri-tip, grilled chicken and sushi-grade ahi tuna, all cooked over an open flame. It also features fresh made-to-order salads and an appealing selection of sides, shakes and malts.
"The Habit Burger Grill is thrilled to bring our award-winning Charburger, sandwiches and salads to the University of Nevada, Reno," John Phillips, Chief Global Business Partnership Officer with Habit Burger, said. "It's something in demand in the northern area of campus, and it nicely complements existing campus dining options."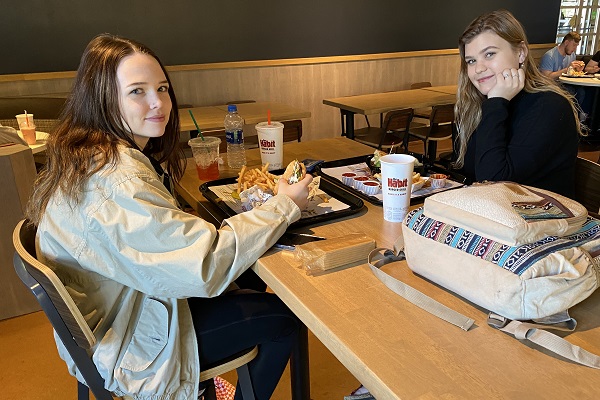 Following a mid-morning ribbon-cutting on Wednesday, a few dozen students and staff were quickly in line and ready to go, including freshmen Kaitlin Shepard and Cheyenne McCourt. "We were excited to come here today and try it," Shepard said. "My favorite is the grilled chicken sandwich with red peppers. I definitely can see myself here even on an evening. And my dad and sister are vegetarians, so the veggie burger makes this one of their favorite places to eat." McCourt agreed: "I feel like it's going to be really popular, especially with the meal trade option. That will be very helpful to students."
In addition to its menu with a range of popular options, the Habit Burger Grill makes it convenient for students on prepaid dining plans, according to Heidi Rich, marketing director of the University's Dining Services. "The Habit will honor University food bucks and meal plans," she said. "And with evening and Saturday hours, it's a great new meeting and eating spot for students and staff – and Wolf Pack fans attending campus events and Saturday games."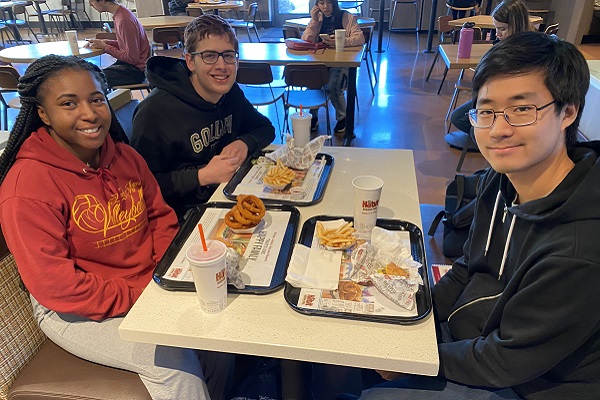 Three students at another table were the first customers in line. Sophomores David Kim and Asia Williamson, along with junior Spencer Williamson – all of whom hail from Las Vegas – found the location to be convenient. "People like hamburgers, and this is the only place nearby to get them, so demand matches supply, and this is the main hub," Williamson said. Ervin said she plans to stop by again later for a salad since her class is in the next building and that she expects the new food option to be popular. "It will be packed later. Once people find out it's open, it's going to be busy."
The Habit Burger Grill's campus location employs 10 full-time staff and 20 students. Hours: Monday - Thursday 10:30 a.m. - 9 p.m.; Friday 10:30 a.m. - 8 p.m.; Saturday 10:30 a.m. - 7 p.m.
For Nicole Allen, a Mathewson-IGT Knowledge Center staff member, it's all about the fries. "Working at the library, there are not a lot of places for French fries on the north end of campus," she said. "It's good to have a place for comfort food, with an area to sit down."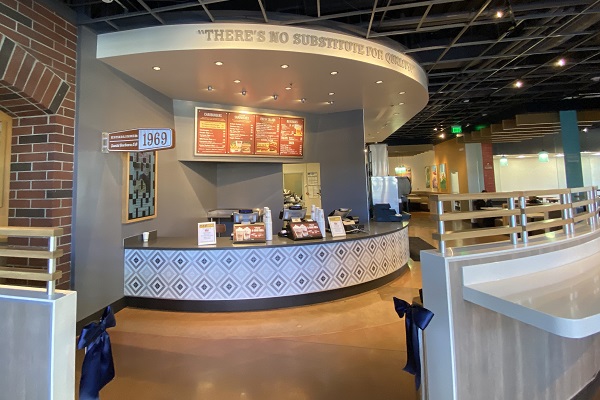 The University location is the Habit Burger Grill's third in northern Nevada, with an existing restaurant in the Circus Circus Reno Hotel Casino and one in The Outlets at Legends in Sparks. The first Habit opened in Santa Barbara, California in 1969 and was recently named the 2019 winner of USA Today's 10 Best in Regional Fast Food. Since that first location opened in southern California, the Habit has grown to over 265 restaurants in 13 states – Arizona, California, Florida, Idaho, Maryland, Nevada, New Jersey, North Carolina, Pennsylvania, South Carolina, Utah, Virginia and Washington – as well as seven international locations.
Learn more about the Habit Burger Grill