Washoe County School District school counselor Diondra Mieras was looking for an experience that would help motivate her Wooster High School freshmen to start thinking about their futures.
"It is important to expose our students early to what options are available after high school, and we thought that having current college students talk to our students would really resonate with them," Mieras said.
Mieras contacted the Dean's Future Scholars (DFS) program at the University of Nevada, Reno. DFS is an academic outreach program in the College of Education that serves low-income, first-generation college students. Program director Mariluz Garcia agreed to send a group of college student mentors to talk with the Wooster High School students about post-secondary school options.
"As a grant-funded program, we have a limited amount of resources, but we love to give back and volunteer our time in the community whenever we can," Garcia said.
Members of the DFS team spent an entire Friday at Wooster High School's career center talking with about 360 students. During each 50-minute class period, the high school freshman rotated through four different poster presentations delivered by current university students from diverse backgrounds. The mentors talked about various options after high school, paying for college, fun aspects about college life and overcoming barriers.
"It was great to go back to the school that I graduated from to give information about college that I wish more high school freshmen knew about," mentor Eduardo Gomez, a University of Nevada, Reno business major, said.
The poster presentations were designed to be short and concise and include real-life experiences. For example, when introducing themselves, the mentors shared a personal story about when they failed or hit an obstacle, and how they overcame that challenge. Those stories resonated with the high school freshman as illustrated from exit survey data and comments.
"What I learned from the University of Nevada, Reno is that everyone makes mistakes in life, but there's always a way to get better after you make that mistake. I felt really good about the visit because I got to learn new things that I didn't know before," was just one of many of the positive comments received.
DFS Mentoring Program
DFS and Wooster High School have a partnership dating back to 2002 when the first cohort of DFS students entered high school. Since then, DFS has increased the number of students served by 60% and its mentoring program now serves 423 low-income, first-generation college students in 30 different schools throughout Washoe County School District. Program participants are recommended to DFS from Title 1 schools when they are in the sixth grade. The DFS program participants receive mentoring during the academic school year and summer programming opportunities at the university at no cost to the students each year.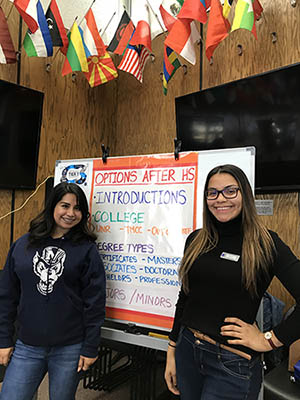 "We love seeing former students come back to give their personal insight into what it takes to be successful in college," Wooster High School Lead School Counselor Erin Danielsen said."Sometimes kids needs to hear the information from someone a little closer in age so it all makes sense. Wooster has several DFS students and we love watching them mature and grow throughout the years. It is such a treat to see them as college students and hear about what they are doing."

DFS adopted a grow-your-own approach to recruiting and hiring college student mentors. More than 80% of the current DFS mentoring team members were recommended to the program when they were in the sixth grade. This long-term approach creates a family-feel and allows DFS students the opportunity to pay it forward by becoming mentors. The program uses the near-peer mentoring approach to help students explore options early, visualize what they want for themselves, feel empowered to set goals, and develop the tools needed to make their dreams a reality.
Community Outreach
Throughout its 20 years, DFS has gone above its normal operations to fulfill a variety of requests from school counselors, parent involvement facilitators and community members. For example, outreach has been provided to students and parents at Natchez Elementary School, Rita Cannan Elementary School and Lemelson STEM Academy. The DFS program has also supported a variety of annual community events, including the Run for Education, the Washoe County School District Middle School Expo and Spanish Springs High School freshman student orientation.
DFS is especially proud of the long-term partnership with members of the Pyramid Lake Paiute Tribe. Each spring, Natchez Elementary School provides sixth-grade student recommendations for new students to participate in DFS. In addition, Pyramid Lake High School provides a school bus to transport students to the University of Nevada, Reno each day for six weeks, while the DFS program covers the cost of tuition, instructors, food, and field-trips for any students who want to attend.
"DFS has provided a great opportunity for our students to expand their educational horizons and earn credit over the summer, which helps them prepare for the rigors of Dual Credit classes in the upcoming school year," Pyramid Lake High School Principal Jake Chapin said, "We are proud to collaborate with DFS in providing this opportunity for our students."
In 20 years, the program has served a total of 1,357 students, but that does not include the additional outreach that the program provides to the community. DFS is primarily funded by local foundations and private donors and all the monies donated to the program go through the University of Nevada, Reno Foundation. People interested in learning more about supporting low-income, first-generation students in our community may contact Stefanie Givens at the College of Education at (775) 784-6914.
The total in-kind contribution for DFS to provide outreach to Wooster High School freshman was approximately $2,000, which factored in the costs for materials and the wages and fringe for 11 DFS mentors. Despite the cost, outreach like this is essential because the decisions that high school freshmen make on a day-to-day basis carry a lot of weight on their future endeavors. DFS believes that college students from diverse backgrounds are powerful agents of change who are capable of delivering positive educational effects through engagement with K-12 students.