University of Nevada, Reno alumnus Capt. Ken Collins and the United States Navy Band, which he directs, were recently in the national spotlight, thanks to a CBS news segment. The piece profiled the band as it prepared for its annual holiday concert, generating an outpouring of positive feedback.
"I've received dozens of responses from friends and colleagues in the Navy that I have known over the past 30 years," Collins said. "Additionally, family and friends from across the country, some of whom I haven't heard from in years, reached out to say how much they enjoyed the segment."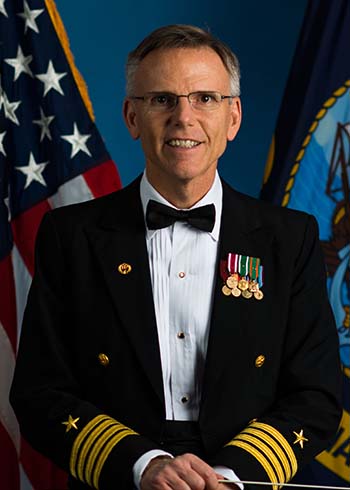 Collins joined the Navy in 1989, a week after receiving his Bachelor of Music Education from the University. Over the years, he performed as a percussionist in various Navy fleet bands and went on to serve in an array of bandleader and conductor roles before reporting to his current assignment as commanding officer of the U.S. Navy Band in July 2015.
"People don't know what a prominent role the bands play in our nation's military," Collins said. "The U.S. Navy Band serves as musical ambassadors for the Navy, proudly representing the sailors serving around the globe. We help tell their stories and connect the American people to the men and women out there serving our nation every day."
While his parents modeled and supported a love for performing music—percussion, in his case—Collins credits University Music Professor Emeritus A.G. "Mack" McGrannahan with his decision to pursue a career in music. Collins was further inspired by the U.S. Navy Band's 1988 campus appearance at Nightingale Concert Hall. He contacted the local Navy recruiter the next day, auditioned and was accepted.
"It instills such a great sense of Nevada pride when our alumni garner attention for the incredible things they do," School of the Arts director Tamara Scronce said. "The visual and performing arts have been a vital part of the University of Nevada, Reno for well over 130 years. It is always wonderful to hear that a student from the arts was inspired by one of our exceptional professors to go out into the world and accomplish great things."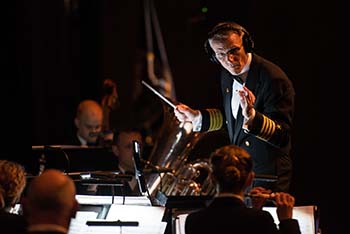 Now stationed in the Washington, D.C., Navy Yard, Collins is a proud Wolf Pack alumnus—speaking to Nevada's Pride of the Sierra Marching Band before the Nevada-Purdue football game last August, at the invitation of professor and director of bands Reed Chamberlin. Collins' pride in leading the U.S. Navy Band is equally evident, reflected in his gratitude for the band's recent national attention.

"It was great to get the recognition for the band, allowing the public with a look behind the scenes at all the work our musicians put in to making a show happen," he said. "Not only was the band gratified by the coverage, but I'm hopeful it offered some inspiration to our fellow sailors and others in uniform."