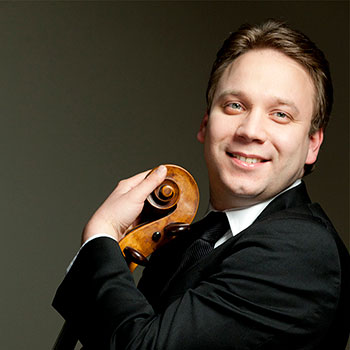 The University does it again by adding to its list of Regent's Award for Creative Activities winners with Dmitri Atapine, chair and professor of music and cello in the College of Liberal Arts, bestowed as this year's winner. There are only a half a dozen winners from the University of Nevada, Reno since the award's inception in 1993. Atapine is humbled to be among those who hold this prestigious honor.

"It was very humbling to be selected, especially knowing how many incredible fellow faculty across our state are doing some amazing creative work," Atapine said.
The Board of Regents established the Regents' Award for Creative Activities and presents the award annually to one faculty member at one of Nevada's four-year institutions. The award recognizes significant accomplishments that bring national and international recognition to the Nevada System of Higher Education. The honoree receives a $5,000 stipend and a medal.
Candidates are nominated for this award for recent accomplishments and recognition of creative activities. Atapine's list of his most recent endeavors is breathtaking, including being part of the national PBS broadcast Live from Lincoln Center last fall. The program was called Odyssey: The Chamber Music Society in Greece. As part of that show, Atapine was featured in a performance of Mendelssohn Octet alongside other artists of the society. He also was selected to close the Chamber Music Society's "Art of the Recital" series alongside Associate Professor of Piano Hyeyeon Park, although the event was rescheduled due to the coronavirus pandemic.
Atapine has appeared on some of the world's foremost stages, including Alice Tully Hall at Lincoln Center, the Zankel and Weill halls at Carnegie Hall, and the National Auditorium of Spain, to cite but a few. His performances have been broadcast on radio and TV in the United States, Spain, Mexico and South Korea.
He has made numerous festival appearances, performed as a soloist multiple times and won a number of prestigious musical prizes and awards. In addition, he has recorded several labels alongside his piano partner Park, and is the founder and has been the artistic director for Apex Concerts for the last decade.
"It is an incredible honor to be part of the select group of faculty who are honored every year with this special award," Atapine said. "It is a very nice recognition, which only motivates me more to continue working hard, especially during these challenging times."
He already has plans to use his award stipend for future projects. He is currently working on a new CD for clarinet, cello and piano and has another exciting project up his sleeve, which includes commissions by several composers.