The University Libraries at the University of Nevada, Reno has emerged as an academic leader in virtual reality and augmented reality (VR/AR) development and innovation. With many successful projects like " Walking with Reality," and the " Reno Street Art Project" under its belt, the Libraries @One Digital Media Technology team hopes to increase interest in and use of these technologies in research and University course curriculum through the sharing, networking and interacting that happens at the VR|AR Meet-up. The event is a convening of faculty and students from various University departments presenting on research involving VR and/or AR technology.
The annual meet-up will take place on the first floor of the Mathewson-IGT Knowledge Center, Friday, Nov. 1, from 3 p.m. – 5 p.m. A variety of faculty ranging from computer science and engineering, to mining technology, art and journalism will present research projects that incorporate some form of VR or AR technology. These lightning-style presentations will take place in the Wells Fargo Auditorium (MIKC 124).
Experience VR
Following the lightning presentations, meet-up attendees will be able to experience VR|AR for themselves thanks to several hands-on demonstrations. Hands-on demonstrations will be available in the @One and @Reality VR|AR Studio from 4 p.m. – 5 p.m.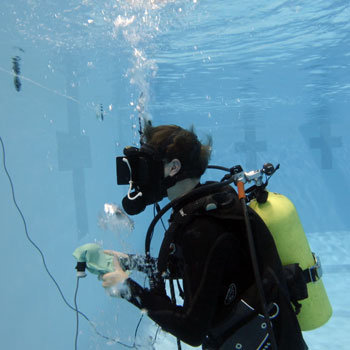 "This year's VR|AR Meet-up is bigger and better than last year," event co-organizer and member of the @One Digital Media Technology team member Luka Starmer said. "The hands-on demos will be very impressive. For example, Assistant Professor of Psychology Paul MacNeilage has come up with a way to use VR to simulate the physics of a jet pack in motion in zero gravity. He's designed a simulation training application to mimic what it feels like to move around in outer space. Typically, Paul's VR application is used underwater where the physics of gravity are altered by buoyancy, however at the VR|AR Meet-up, guests can test the application without getting in a pool."
"Other demos available include a virtual medical training scenario, a VR museum, an AR social media experience, VR photos from the early 20th century and more," Starmer said.
Local VR companies to participate
Three local companies will participate in the VR|AR Meet-up. They will be showcasing their unique entrepreneurial applications of VR|AR technologies.
Reno-based Healing Healthcare Systems will allow guests to try out their trademarked C.A.R.E. VRx technology, designed to give hospital patients immersive experiences. The VR application is intended to calm and distract patients, relieving the sensation of pain, lower blood pressure, combat depression, and support women enduring long labors while giving birth.
Xplorit is a virtual tour company, allowing people to search for vacation spots, check out attractions or scout locations for meetings or events. They are based out of Incline Village, Nev.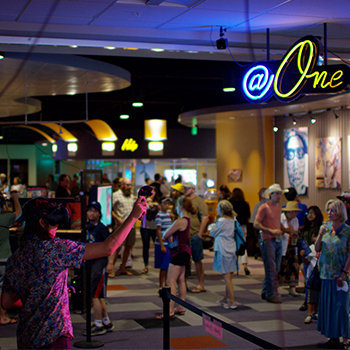 High Sierra 3D specializes in high quality 3D models. They will be demonstrating augmented reality iterations of sculptures created by University of Nevada, Reno art students and other local artists.
University students, faculty and staff, as well as community members with an interest in multimedia technology, VR and AR are invited and encouraged to attend this free University event.
About the University Libraries
The University Libraries embrace intellectual inquiry and innovation, nurture the production of new knowledge, and foster excellence in learning, teaching and research. During each academic year, the Libraries welcomes more than 1.2 million visitors across its network of three branch libraries: the Mathewson-IGT Knowledge Center, the DeLaMare Science and Engineering Library and the Savitt Medical Library. Visitors checked-out more than 90,000 items and completed more than 2 million database searches.