Todd Renwick has been named Assistant Vice President and Chief of University Police Services following a national search.

Renwick, whose career at the University spans more than two decades, had served in an interim capacity since February. University Police Services is responsible for coordinating safety and security activities at all of the Northern NSHE campuses including UNR and its satellite campuses, Truckee Meadows Community College, Western Nevada College, Desert Research Institution – North, and Great Basin College.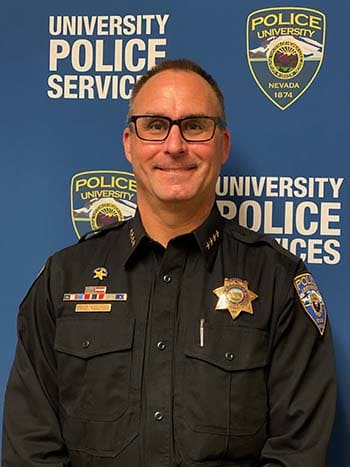 "Throughout his time at the University, Todd has done an outstanding job in understanding the unique role that law enforcement has on a college campus," said Vic Redding, the University's Vice President of Administration and Finance (VPAF). Police Services is a unit within VPAF. "His level of experience, coupled with his deep connection to the campus community and his development of important collaborative agreements with the law enforcement community of northern Nevada, make him the perfect person to advance Police Services' goals of making NSHE Northern institutions a safe and welcoming environment for our students, faculty, staff and visitors."
Renwick joined the University Police Department in 1998, and quickly rose through the ranks. He previously served as interim director (2001-2002), associate director (2002-2008), commander (2008-2016) and associate director (2016-19). Over the past nine months, Renwick helped finalize consolidation of services with Western Nevada College, completed an inter-institutional memorandum of understanding with Great Basin College in Elko to provide additional support services, helped recruit and hire a victim advocate for the campus as part of a $275,000 grant, and took incident command and earned widespread praise from the public safety community of Nevada for his work in the wake of the Argenta residential hall explosion on July 5. This effort included developing a comprehensive safety plan for the more than 1,000 students who were relocated to Wolf Pack Tower in August.
"The University has always held a special place in my heart," Renwick said. "It has been a true honor to be a part of a wonderful team of hard-working, dedicated, and caring professionals who feel the same way about our University. I'm humbled and extremely grateful for the opportunity to continue our work of making our campus as safe as we can, and, at the same time, of interacting and supporting such a wide and diverse group of people on our campus."
In addition to his policing duties, Renwick has also served on numerous campus committees over the years, including Faculty Senate, the Emergency Planning and Advisory Board, and the Hate and Bias Committee. A native of Reno and a graduate of Reno's Wooster High School, Renwick holds a B.S. degree in Business Management from the University of Phoenix.