They will more than likely take their mother, one twin on one side of Jenny Bennett, one twin on the other side, and walk her out onto the Lawlor Events Center basketball floor on Saturday night.
Lawlor, as it has been all season because of the play of the twins and their teammates on the Wolf Pack men's basketball team, will be filled. More than 11,000 fans will rise. It will be Senior Night - a time for the Wolf Pack faithful to say thank you to the seniors playing their final game in Reno, and a time for the Wolf Pack's seniors, accompanied by their parents, to say thank you as well.
It's not going to be easy for Cody and Caleb Martin, to walk out on the court with the woman they consider their hero, in front of fans from a community they've come to love. As much as they will appreciate the cheers, their hope will be that the people in attendance on Saturday night will understand what a remarkable force their mother has been in their lives.
They are who they are because of her. They've won championships, led the Pack on an historic Sweet Sixteen run in 2018 and helped catapult the program into the national college basketball consciousness at a level Nevada has never seen before.
"Man, it's going to be surreal, knowing that it's going to be our last time suiting up and playing in Lawlor," Caleb says. "It's going to be a crazy moment. Knowing that it's my last time playing in Lawlor and that my college career is starting to come to a close, I don't think it's all really going to hit me until that moment, when we walk onto the floor.
"For my mom, I believe there will be some tears. It's going to be a combination of her knowing how fast it's gone, how fast we've grown up and how proud she is of us. I think it's also going to be emotional for her because she's done her job. She's made a ton of sacrifices, and she's put her sons through college.
"It's going to hit all at once. I'm going to do my best to keep it all together. But it's going to be hard."
"I do think it's going to be emotional for her," Cody says. "It will be one of those moments of her ultimately showing her love and how proud she is ... which she does all the time, anyway. It's going to be our last home game, and it will hit pretty hard to think about how quickly all this time has gone. When we have that moment, I'll want people to know how much we really appreciate our mom. She's done everything for us, worked hard, sacrificed, been the greatest mom a son could ever have."
Cody and Caleb Martin are who they are because of a series of actions they've taken throughout their lives, both small and large. They're basketball players, sure, but in conversation with them and in looking at their time in northern Nevada, they are more than that - self-aware, empathetic and thoughtful young men, keenly aware of the struggles of everyday life that can quickly transcend a 94-foot-long court made of wood.
You speak to them and words written more than 50 years ago, by the writer John McPhee, who was writing about Princeton star (and future U.S. Senator) Bill Bradley, in his classic New Yorker profile, "A Sense of Where You Are," come to mind:
"(He) has been such an excellent basketball player that it is necessary to look beyond college basketball to find a standard to put him in perspective."
So it is with Cody and Caleb Martin. It's not just about the basketball. It's about the people they are, and how they will be remembered in our parts long after they've finished playing basketball.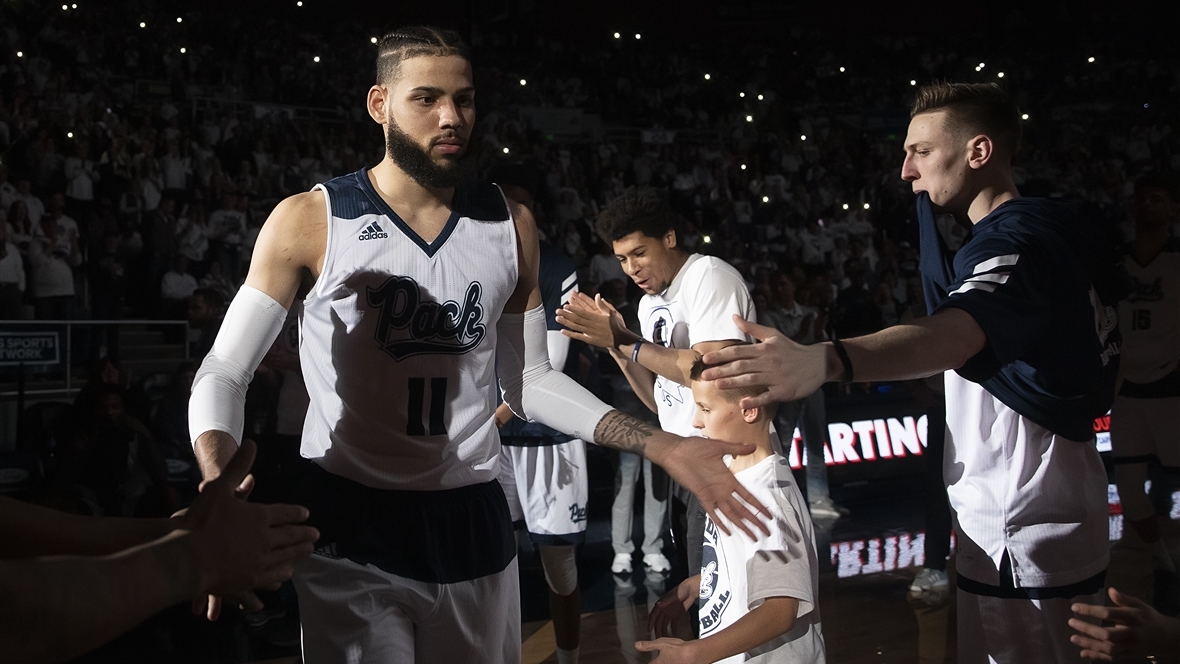 Recruiting Cody and Caleb: 'The biggest moment of Eric Musselman's tenure'
Let's start with the obvious, the basketball. Over the years Wolf Pack basketball has recruited key athletes who have had an indelible impact on the program. Center Edgar Jones, then a couple of years later followed by guards Johnny High and Mike "Fly" Gray, sparked a basketball renaissance in the late 1970s. In the 2000s, Kirk Snyder, Nick Fazekas and Ramon Sessions became the pillars of teams that qualified for the NCAA Tournament four years in a row from 2004-2007.
As Coach Eric Musselman began the seemingly impossible rebuild of Wolf Pack basketball from a nine-win season and a half-empty Lawlor Events Center four years ago, two of the most important pieces he would ever need came when Cody and Caleb, a pair of 6-foot-7 sophomores at North Carolina State, announced on May 31, 2016 they would be transferring to Nevada. At the time, Musselman said that "these are high-character young men" from a "phenomenal" family "that will further augment the Nevada basketball brand nationally."
"The biggest moment of Eric Musselman's tenure from a recruiting standpoint was getting Cody and Caleb Martin to commit to coming to Nevada," says Chris Murray, the longtime and award-winning northern Nevada sportswriter who has covered the Pack for more than a decade, first at the Reno Gazette-Journal and now with Nevada Sports Net. "It turned the team into one that could legitimately dream about reaching an Elite Eight or a Final Four. They've transformed Nevada from a good and rising program to what is now a nationally recognized program."
In almost two full seasons playing for the Wolf Pack, the two products of Mocksville, North Carolina (population: 5,271) have led Nevada to a 56-11 overall record, a 2018 Mountain West regular season championship, two wildly improbable come-from-behind victories over Texas and Cincinnati in the 2018 NCAA Tournament which led to the school's first Sweet Sixteen appearance since 2004, and along with what has been an unprecedented amount of attention this season, including ranking among the nation's top 10 teams for the majority of the regular season. If the Pack wins on Saturday, they will earn another MWC regular season title (shared with Utah State).
Individually, Caleb was the Mountain West's Player of the Year and Newcomer of the Year in 2018, and Cody was chosen the league's Defensive Player of the Year. They both considered entering last year's NBA draft, tested the waters, but pulled their names back so that they could return for their senior season. Musselman helped the community find out about the decision by putting the Martins on speaker phone while he was on stage for an Italian Association event at the Eldorado in downtown Reno in May last year. The entire gathering burst into wild applause.
"When it's all over, we'll definitely look back and be so proud about what the program has become," says Cody, whose voice is a tad bit deeper than Caleb's. While Caleb can sometimes be more outspoken, Cody can be more deliberative. "Obviously, it wasn't just us. All of the guys in this program have played important roles. The biggest thing is we've helped moved the program in the right direction. Coach gave us the opportunity, and the community has supported us every step of the way. People have done so much for us in the community, and have always been so supportive. It's been great. We've appreciated it all so much."
Murray says that since the day the Martins announced they would be returning to Nevada, there has been very little hesitancy in the Martins' desire to have a senior season all will remember.
"It's kind of incredible that they've been able to play as well as they have, given the pressure of expectations," Murray says. "They were ranked in the top 10 of the nation's best teams in the preseason. Sometimes teams crumble under the weight of that kind of hype. It's been incredible to see the team live up to the hype. And the Martins have been driving the bus since the very first preseason workout. They haven't let up. It might be hard for some people to believe, but they're even more vocal in practice sometimes than even Eric Musselman is."
Always about team goals, never individual goals
Before every game, home or away, Cody and Caleb always seek each other out before anyone else. It's the moment when teams wish each other good luck and shake hands before tip-off. The brothers then commence one of the more intricate handshakes in sports, a combination of shakes and slaps followed by a knowing nod to each other that it's time to play basketball. If a handshake could be a game of Jenga, it would be the Martin brothers' handshake. The handshake has its origins from their older brother, Raheem, who also played collegiately and is a college coach.
"It's something we do," Cody says. "It's something we've done since we were playing in high school. Our older brother also knows it, and we do it with him, too. It's one of those things that lets us know that when we cross the line, and we step out onto the court, there is a different kind of Cody and Caleb that people are going to see. It's definitely very special to share with Caleb before every game. It's also something that helps remind us both of what we're trying to do once the game starts."
Which is, above all else, help the Wolf Pack win.
Everything else becomes secondary. Nowhere did this come into focus more clearly than of all things, a loss, last season. The Pack had lost to its pesky nemesis, San Diego State, in the semifinals of the Mountain West Conference Tournament last year in Las Vegas. The loss meant that one of the Pack's preseason goals - goals that Musselman preaches with an evangelical fervor throughout the season - which was to win the Mountain West Tournament, had fallen by the wayside. The Pack's body of work during the regular season had assured they would receive an at-large bid to the NCAA Tournament, even with the early exit in the MWC Tournament. That was small solace for the Martins.
Murray had come into the Pack's locker room to set the scene for his readers. He heard uncontrollable sobbing. The sobbing came from two heads, both covered with towels. It was Cody and Caleb, deeply saddened about the loss. Teammates stood by them and gently rubbed their backs, trying to reassure the stricken twins. It was a moment tender for the humanity of teammates, and equally as important a reminder of what makes Cody and Caleb tick.
"The Martin twins are always so invested in team goals over their own individual goals," Murray says. "They lost a game that was important to them and their teammates. They were inconsolable about the loss. That's who they are. They always want the team to succeed."
More than basketball players: Budding entrepreneurs, dog lovers
Off the court, the Martins are much the same way. Although they can be soft-spoken and exceedingly polite, they still expect much from themselves when they are not playing basketball.
Jeannie Reeth, who teaches the College of Business' "Introduction to Entrepreneurship" course in the fall, has seen this first-hand. Reeth admits she's "newer" to the Reno area, and, like much of northern Nevada, had watched the Pack's thrilling Sweet Sixteen run in the NCAA Tournament with excitement and curiosity. She wasn't sure what to expect when meetings for the "Introduction to Entrepreneurship" began in the fall and she saw both Cody and Caleb were enrolled.
Cody and Caleb expected no special treatment. In fact, Reeth says, "They made extra effort with our in-person meetings. They were very engaged in the process. They're very humble and hard-working. We had sessions where Cody and I were working side-by-side with financial models and Caleb was busy working on competition research. They put in a lot of extra effort to prepare and rehearse their final presentation. Their attitude is just outstanding ... they were just great people to be around. I enjoyed having them in the class."
Reeth's class is one of the foundational experiences and an important stepping-stone for student teams wishing to enter the College of Business' prestigious Sontag Entrepreneurship Competition, which pits the finest student entrepreneurial teams on campus. The vision underlying the competition is to enhance the entrepreneurial capacities of the next generation of business leaders for northern Nevada. In a not entirely unrelated way to the NCAA Men's Basketball Tournament, where there are rounds of competition and you advance only if you win, the Sontag features rounds of presentations where student teams present their ideas and business models to professionals who decide if the projects are good enough to advance on to what could eventually be the championship of the competition.
In Reeth's class, which focuses on finding product market fit, students spend time with potential customers, real-world business concepts and test the validity of their ideas.
"It's really about making sure that before you invest a lot of money, you have a concept that really works for customers," Reeth explains. Just like in the entrepreneurial world, brainstorming sessions in the class form groups and then groups hatch concepts. There is a "Shark Tank"-like simulation at the conclusion of the semester with a panel of local entrepreneurs.
Cody and Caleb were part of a team in the class that included Sherra Williams, Wolf Pack freshman walk-on Jalen Townsell and Armon Johnson, a Wolf Pack graduate assistant and former Pack standout.
"They had one of the best ideas in the class," Reeth says. "Their work over the course of the semester was outstanding and they made a great presentation at the end. It's an idea that really has legs, and it's an idea borne out of real customer problems that these guys have a real understanding of."
Given the proprietary nature of the team's idea, suffice it to say it is an app that would help, among others, intercollegiate athletes in digitally juggling the demands of their academic responsibilities. The team entered the idea in the Sontag, and as of February was still advancing, sort of like the Pack's Sweet Sixten run of a season ago, through the early rounds of the Sontag.
Given the Martins' nature, it's not surprising that they are taking very little credit for the idea and how well their team has done in the Sontag thus far.
"Sherra Williams is amazing, and she's the one who has been orchestrating the stuff," Caleb says. "She's the one who has really worked on moving this forward while we've had to focus more and more on basketball. It's been doing pretty well so far. The judges seem to like our ideas. If we can keep moving forward in the competition, who knows? We've already learned a lot. It's been pretty cool trying to put an idea on paper, and then seeing how viable it is."
Adds Cody: "The biggest thing for all of us on the team has been we've thought about a lot of ideas, and this is one that stuck with us. Jeannie Reeth was really helpful, too. She believed in us, and convinced us that we had a great idea. It's been interesting to see how far it's going to go. You try an idea and if it works great, OK, and if it doesn't, well then you go back and try something new. We like our idea a lot. It could turn out to be something very important for athletes and maybe people in general, how they manage schedules and find more time to do work."
If a budding career in the entrepreneurial space isn't enough, the Martins, who are both Human Development and Family Studies majors, are currently involved in an internship at the SPCA of Northern Nevada. They've embraced the tasks they've been given at the SPCA the same way Cody, the Wolf Pack's top defender, never shies from guarding the opponents' top player, or how Caleb has an extraordinary split-second sense whenever the Pack needs a big basket of taking the ball from the baseline or the wing into heavy terrain, taking flight and scoring on a dunk.
Responsibility is nothing new to them. They tend to the SPCA's numerous roll of cats and dogs, walking, feeding and grooming them. They also have a semi-regular video segment on the SPCA's Facebook page, "Mondays with the Martins," where they've highlighted some of the more needy animals.
"We're pretty big animal lovers," Caleb says. "We don't have one right now, because it wouldn't be fair to a dog or a cat to have them waiting on us since we travel so much with basketball. I'd have one if we could, though. We had a couple when I was growing up. I've always been a big dog person. I like cats, too. We both get a little dose of our love of pets at the SPCA."
Cody regularly checks the newly created Instagram account for "Angel," an older pit bull who has terminal cancer. Just a few days after "Mondays with the Martins" featured Angel, the friendly pup was finally adopted.
"Angel's got terminal cancer, but he's happy now," Cody says. "He's just like a teddy bear, a really loving and gentle dog. He's even got his own Instagram account now. He looks like he's so happy. When things like Angel's adoption happens, it makes you feel great.
"It's hard not to love animals. They're always there for you ... they help you through tough times, difficult times, and it's rewarding when you see them finally get adopted, especially if they've been there at the SPCA for a while. It makes you smile. Our experience at the SPCA has been really beneficial to us. The people at the SPCA have been great to us. Maybe in a small way we've been helping, but really, how much we've learned and all the good we've experienced at the SPCA is something we're always going to carry with us."
A sense of who they need to be
There have been difficult times, tough times in Cody and Caleb's lives, though they always come back to the strength of their mother when explaining why they've been able to persevere and succeed. Their mother essentially raised them as a single mother. She has worked tirelessly to make sure her sons could pursue an education, and their passion for basketball.
Murray remembers writing the story of the twins' relationship with their mother. He interviewed Cody and Caleb, then interviewed Jenny, who, with a modesty that her sons often display, downplayed some of the difficulties the family had faced. Then Murray received a call from Caleb. Caleb was gentle, but firm when the two talked. He wanted to emphasize some important points in the integral and inspiring role his mother had played in their lives.
"Caleb called me and set the record straight. He really drove home the point that his mother had made so many sacrifices for them, how sometimes she wouldn't eat meals at night so the kids could have a second serving, all because she loved them so much," Murray says. "That showed me how much they loved her and wanted her to be the hero. It's obvious she's done a great job with her sons. She's given them the skills necessary to succeed in life. Everything they do is for her.
"They're two of the most authentic and genuine athletes I've ever known. Their mom should be very proud of who they've become."
Both Cody and Caleb say their time at the University has been important for them. They say they've grown as players, and as people, and that they've forged relationships and experiences that they say will help inform their lives years from now. Pro basketball is in both their futures, although in conversation with both brothers, there is a strong sense that they wish to continue to give back, to continue find ways, both large and small, to impact lives.
"With Human Development and Family Studies, I've focused in on work that would make a difference," Caleb says. "I would want to do a little bit of something like social work, helping others, because we can relate with what some families are going through. We know from our own family's experience that you can overcome those kinds of challenges. I'd like to keep working within the boundaries of helping people, relating with people who are going through tough times. I think both my brother and I aren't necessarily about the money. Money isn't something that we care all that much about.
"You always want to do something that can make a difference ... something you enjoy."
Like his brother, Cody says it's all about the people - understanding them, relating to them, learning from them. He says that could be one of the reasons why the time at Nevada has flown by so quickly. They are coached by a man who seemingly never sleeps, and like their coach, they've been consumed by the notion that they are helping to build something larger than themselves.
"There are a lot of things I'll look back on, both basketball and school, and the people I've developed relationships with while I've been here," Cody says. "Probably the biggest and what I'll remember most will be the relationships. The relationships Caleb and I have developed with people here at school and in the community have been great. I think the people in the community have been looking for something to support, to come together for, and maybe it's helped them that they can come out and see our team play so well. I know I've appreciated all that support. We've worked very hard to build something that people will remember. Time's flown by. It's been a time here where you don't take a single day for granted."
On Saturday night, it will be Senior Night. In a rarity for today's college basketball world, there will be at least seven seniors honored at the conclusion of Saturday's game.
"Right," Cody says, with a laugh. "We might have to start honoring people about an hour before the game, we have so many seniors. It's another thing that makes our program so special. We have a lot of guys who have been so unselfish, and have been doing what we need to do to win. Everybody has sacrificed. It's going to be an emotional night."
"We honestly had no idea what to expect when we came here," Caleb says. "We had no idea how people were on this side of the country, how the program would be, how Coach Muss would be. Our time here has been great. It's turned out we've met a lot of good people here, made really good connections and friendships. It's been a time we are always going to remember."
Two young men, with their mother, will walk out onto the court of Lawlor Events Center on Saturday night.
The two young men, when they play, are like elegant notes that have glided right off a sheet of music onto the floor of Lawlor Events Center. They've created more memories and helped their team achieve more national acclaim than any time previous in University history. They've displayed a tremendous sense of where they are on the court, but perhaps more importantly, they've shown northern Nevada, who they are. It's this last part, more than the championships and the Sweet Sixteen runs and the national acclaim, this mature, innate sense that Cody and Caleb Martin both possess, this confident twins' trust of who they are now and the kind of human beings they will always aspire to be, that will be never be forgotten here in northern Nevada.
"What they've done for northern Nevada has been immense and to a large degree, unprecedented," Murray says. "Cody and Caleb have etched their names into the history of Wolf Pack basketball."