The judicial studies and justice management programs in the College of Liberal Arts, in collaboration with the Northern Nevada International Center, was awarded funding from the United States Department of State to host the Study of the U.S. Institutes (SUSIs) for Student Leaders program. The five-week program, runs from June 22-July 21 at the University of Nevada, Reno. There are 19 institutes held all over the country focusing on different themes and topics. The University provided programming around the topic "the rule of law and public service" to 20 international students from Malaysia, Colombia and Poland.
Undergraduate students, mostly from military academies, took classes on campus to improve leadership skills and gain a better understanding of U.S. government and politics. Students also had the opportunity to participate in community service projects and explore the region. Students were paired up with campus ambassadors to learn from American peers and gain an American cultural experience. They also went on excursions to nearby destinations like Lake Tahoe and San Francisco and enjoyed meals cooked by community volunteers who hosted them in their homes for a weekend.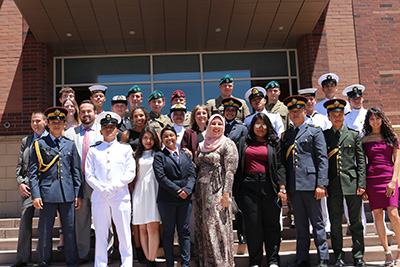 Recent political science and international affairs alumnus, Tylo Ward, served as a student ambassador for three students. He was an in-house ambassador and stays with the participants in the residence halls.
"My job is to represent the United States and to provide the participants with a fun, safe and engaging cultural opportunity that will teach them about the political systems and cultural norms of the U.S.," Ward said.
He said he enjoyed his experience learning from the three participants who are military cadets in their respective countries and training to become commissioned officers.
"Each of our countries has issues that we all hope to fix in the future and I think this program has given all of the students better skills and more confidence to play a more prominent role in their militaries and countries," he said.
Upon graduating from the University in 2017, Ward got a job in Washington, D.C., working in international affairs and diplomacy. He knew he would be returning to Reno soon to begin the master's in public administration degree program in the fall. Ward was excited to learn of an opportunity to represent the United States and his hometown with the SUSI program. He said hosting this type of programming on the University campus and in the Northern Nevada community was an excellent experience for everyone to broaden their cultural backgrounds and learn about people from diverse cultures.
"The experience of interacting with people from so many different places and different backgrounds is incredible and will prepare me for interacting with people in my academic and professional life," Morgan Cartledge said.
Cartledge is a math major at the University and also served as an ambassador to two students from Colombia and Malaysia. She looks forward to the international relationships she has built with the participants and how she will be able to use those in the future.
"This program won't only better these students, but it will help better our community by giving us the opportunity to experience and learn from these students," Ward said.