Each semester, the University of Nevada, Reno and the Alumni Association honor an undergraduate student from each school or college who meets the exceptional Senior Scholar program standards. The seniors were recognized in a reception at the Joe Crowley Student Union Thursday, Dec. 5. The reception began with a welcoming speech from both the President of the Nevada Alumni Council, Scott Walquist and the Vice Provost of Undergraduate Education, David Shintani. The Director of Alumni Engagement, Amy Carothers presented the students with their awards, and Walquist gave closing remarks.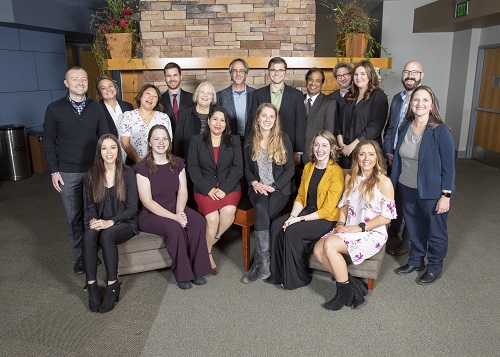 The 2019 Winter Senior Scholar recipients are as follows:
College of Agriculture, Biotechnology and Natural Resources
Natasha Katerina Wesely
GPA: 4.0
Mentor: Peter Weisberg
College of Education
Madison Leigh McGhan
GPA: 4.0
Mentor: Sara Parrish
College of Engineering
William Fredrick Roser
GPA: 3.992
Mentor: Mohamed A. Moustafa
College of Liberal Arts
Cassidy Cristyn Robinson
GPA: 3.990
Mentor: Kate Pollard
College of Science
Jacob Benjamin Kinsley
GPA: 3.989
Mentor: Anna Panorska
Orvis School of Nursing
Jordan Dawn Beck
GPA: 4.0
Mentor: Lisa Thomas
Reynolds School of Journalism
Emily J. MacDiarmid
GPA: 3.946
Mentor: Ezequiel Korin
School of Community Health Sciences
Lindsey Ann Godoy
GPA: 3.978
Mentor: Eric Crosbie
The College of Business
Claudia Cervantes
GPA: 4.0
Mentor: Jannet Vreeland
"The ceremony was very enjoyable," Senior Scholar recipient Emily MacDiarmid said. "It was fulfilling to hear everyone from the different schools and colleges speak about their experiences at the University. The ceremony was also pretty special because I was one of my mentor's first students when he started working at the University, and it felt like we received the achievement together."