Donald Easton-Brooks, Dean of the College of Education, has received the 2019 NAME Phillip C. Chin Multicultural Book Award for his new book "Ethnic Matching: Academic Success of Students of Color."
NAME is a non-profit organization that advances and advocates for equity and social justice through multicultural education.
Easton-Brooks is an educational advocate, leader, scholar and researcher whose aim is to promote, create and engage in educational practices that focus on equitable educational opportunities for all students.
"I am honored to receive the book award from NAME, which is known in the field of education for promoting equality and multicultural education," Easton-Brooks said. "I am beyond pleased to receive an award that's been given to some of the greater multicultural scholars in the field."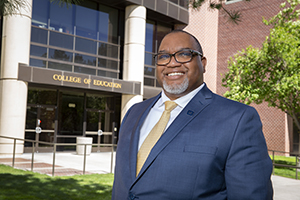 The Phillip C. Chinn Multicultural Book Award is given to an author whose book fosters awareness, acceptance, and affirmation of diversity in society. The book also contributes to the development of multicultural education by adding to the knowledge base, informs policymakers, fosters personal growth and maintains high multicultural standards in its genre.
Easton-Brooks' book is an in-depth exploration on the impact of ethnic matching in education, the paring of students of color with teachers of the same race. Research shows that this method has a positive and long-term impact on the academic experience of students of color. His book explores what makes this phenomenon relevant in today's classrooms.
Topics also explored in this book include the challenges of recruiting and retaining quality teachers of color, as well as the valuable work being done on the local, state and national level to promote diversifying the field of education as a way to provide equitable education for all students.
Heidi Sipe, 2016 Oregon Superintendent of Year, Umatilla School District, said of the book: "The need for greater diversity in the educator workforce as a moral imperative has long been clear. In Dr. Easton-Brooks' work, the educational benefits of ethnic-matching and greater educator diversity are brought to light. Through student perspectives, teacher reflection and application examples, Dr. Easton-Brooks explores the tremendous value of teachers of color in American classrooms. The time for true effort on the part of all educators to recruit and hire representative teachers is now- the proof for why is found through this book."