Brett Van Hoesen, associate professor and area head of art history in the College of Liberal Arts, has won the "Outstanding Teacher of the Humanities Award" from Nevada Humanities. Nevada Humanities awards exceptional Nevadan individuals and organizations every other year for using the tools of the humanities to strengthen and enhance the lives of the people of Nevada. This year, Van Hoesen and 10 other individuals and organizations received their awards at a reception at the Nevada Museum of Art in April. Van Hoesen also received a certificate of recognition from Governor Steve Sisolak and Certificates of Special Congressional Recognitions from Senators Catherine Cortez Masto and Jacky Rosen.
Van Hoesen comes from a long line of teachers, devoted to elementary education, special education and higher education - a heritage central to her passion for teaching.
"It is a great honor to receive this award," Van Hoesen said. "I love to inspire students and strive to help them fulfill career aspirations that fuel their passion for the humanities. As I said at the Nevada Humanities Awards Ceremony, students are a sum of their teachers and we all play a role. I am grateful to the teachers who have inspired me."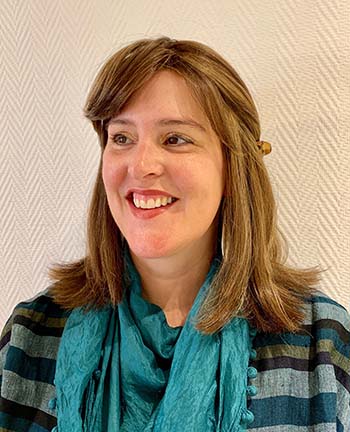 Van Hoesen's expertise is robust in and outside of the classroom. Van Hoesen worked at several art museums where she focused on community outreach, docent training and curatorial research. She has also written for several journals including the New Art Examiner, n.paradoxa, and Nka - Journal of Contemporary African Art. Her writing and research often examine how artists engage in socio-political critique.
"I still remember well my first undergraduate art history course on the arts of Japan, China and India at the University of Iowa," Van Hoesen said. "Each semester, I try to create the kind of inspiration that that course brought to my life."
At the University, Van Hoesen founded the Art History Visual Culture Studies (AHVCS) Forum, which hosted a two-day symposium on art writing last semester. The AHVCS Forum hosts lectures, film screenings and events throughout the academic year that promote current research in and related to art history and visual culture studies.
"I have been very fortunate to teach undergraduate and graduate-level art history, theory and criticism - and to do so through a wide variety of formats," she said. "Including lecture and discussion courses, seminars, exhibitions, collaborations with invited guest lecturers, field trips, study abroad semesters with USAC in Torino, Italy and Lyon, France, teaching collaborations with Knowledge Center librarians, AHVCS Forum programming and serving as the faculty mentor for the new Art History Club."