University Galleries is in the business of collecting human visual history and sharing it. And its collection keeps growing to serve the community.
In 2017, the Galleries received more than $1 million in donations to further grow the collection ahead of the opening of the new University Arts Building in late 2018. Hundreds and hundreds of pieces are making their way through the cataloging process and into the permanent collection.
With about 5,000 objects covering more than 5,500 years of art history, University Galleries is in the enviable position of being the only museum of art in Nevada with such an expansive historical collection. Complementing recent gifts of prints and drawings from Old Masters, ancient art from Asia and Europe, contemporary sculptures and paintings gifted by Dr. Loren Lipson, and a collection of Modernist works, a recent promised gift from University alumni Kenneth Buhrmann and Hardy McNew. The couple will add their collection of more than 2,000 works of art by Indigenous Americans to the museum.
"The Dr. Hardy McNew and Ken Buhrmann collection will really put us on the map because it's an incredibly important collection of work made by Indigenous Americans, which for a long time was a major blind spot in our collection," Paul Baker Prindle, University Galleries director, said. "This gift puts us much closer to our goal of growing a collection of Indigenous art from the entire eastern edge of the Pacific. Our goal is to have representative work from Indigenous artists from the tip of South America to the Arctic Circle."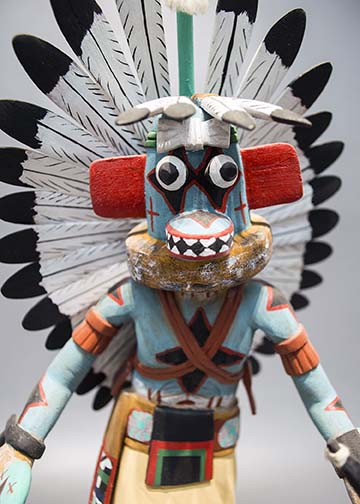 Other philanthropy items this year include gifts from the Kohler Foundation, as well as several anonymous patrons. The museum is starting to attract significant donors because of its mission and growing collection. Baker Prindle has worked to build relationships to bring support and gifts to the University.
"It is not only their gifts of art, it's their gifts of time, conversation and enthusiasm that have really affected me and our staff, and by extension, our students and regional community," he said. "For many of these patrons, collecting is their life's work. Many have been collecting their whole life, and they trust us enough to gift their work."

This past year, a crew of 10 staff members studied each piece in the collection ahead of the move. The work included photographing the objects, creating a new barcode for each item, updating the collection database, and carefully packing each piece so that it can be moved safely without damage.
Objects in the collection include works by notable artists like Rembrandt, Renoir, Pablo Picasso, Lenor Fini, and Joel Meyerowitz, Neolithic-era Chinese pottery, woven baskets from Western Native American artists, Japanese woodcuts, and contemporary pieces from Nevada artists.
"Museums exhibit; they collect and they educate," Baker Prindle said. "We have done all three of these things for more than 70 years."
With those principles in mind, the museum is extending its mission with the new University Arts Building that will provide an additional 5,000 square feet of space devoted to exhibitions, as well as a visible storage collection space and works-on-paper study room.
The move to a new facility will help advance the mission of University Galleries to be an educational resource for the more than 22,000 students on campus. A searchable database provides easier access to the collection for students to conduct primary research. Another feature of the new space includes a large picture window into the museum's visible storage space, which allows visitors to see more works than would otherwise be on view in the galleries. Professors from across campus will be able to request art to be put on view in the window so students can view artwork related to coursework, Baker Prindle said. The works-on-paper study room will be open by appointment for close-up study of collection objects.
The museum's second floor will include a permanent collection exhibition space. For the first two years, four rooms will be organized by specific periods in history. Each gallery will consist of what an art collector would have owned in their own historic moment.
"It gives us the opportunity to both share a really broad selection of objects from our collections and at the same time, it allows us to learn a little bit about what people in the past thought was important to collect," Baker Prindle said. "In turn, it pushes us to think about why we collect what we collect."
Meanwhile, the first-floor of the museum will host traveling exhibitions, many of which couldn't be offered in the previous space in Sheppard Contemporary. University Galleries will be able to bring a wider variety of temporary exhibitions ranging from contemporary art to art of the ancient world.
University Arts Building
The University Art Building project is under construction and expected to feature a 287-seat recital hall, a new art museum, fabrication lab, electroacoustic lab, soundproof rehearsal spaces, music practice rooms, faculty office spaces and a recording studio.
The new three-story facility will be about 42,500 square feet and will be located just east of Church Fine Arts off North Virginia Street, in the west-central part of campus.
"It makes it possible for us to care for work in a responsible, science-based way," Baker Prindle said. "It allows us to open up more opportunities to access our collection. Our collection is something we hold in stewardship for everyone who lives in and visits Nevada."