Your commute to work, to school or to the store may seem like standard everyday events, but for Zong Tian, a professor in the University of Nevada, Reno's civil and environmental engineering department, it is anything but standard. His work can help drivers have a better commute.
Working jointly with the Beijing Institute of Technology, China, Tian oversaw the architectural design for the University's Physical Arterial Signal Simulation, or PASS system: a state-of-the-art traffic simulator specific to the Reno area. It is the only system of its kind in a North American university.
"The College of Engineering is focused on making a major impact on the improvement of the quality of life of Nevadans," Manos Maragakis, dean of the College of Engineering, said. "The PASS System exemplifies the College's efforts on improving the operation and efficiency of the infrastructure of Nevada, and the nation, and demonstrates our commitment and success in this important aspect of our mission."
With the PASS system allowing Tian and University students to create traffic simulations quickly and effectively, Reno commuters have a real chance to benefit from the outcome of the research.
"Signal re-timing is considered one of the most cost-effective traffic management strategies," Tian said. "For both personal vehicles and public transportation, well-timed signals means reduced stops, which reduces travel delays and back-ups, and lowers fuel consumption and emission. One of the first intersections we studied on was North McCarran Boulevard along Clearacre Lane and US 395, and we've found that the general benefit-cost ratio ranges between 30:1 to 300:1. So this system can help us create a very real and very tangible difference."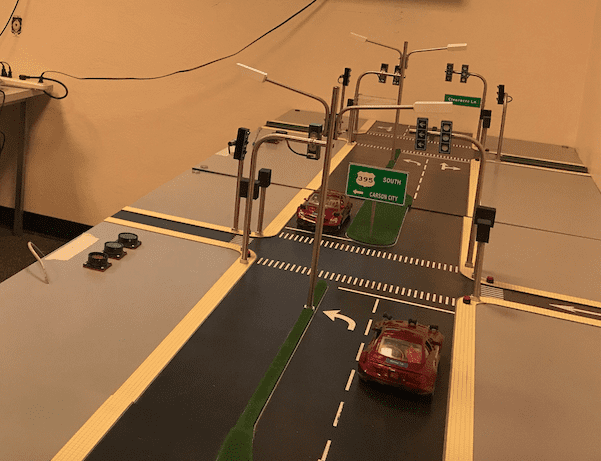 The PASS system allows University students to develop optimized coordination timing plans for traffic signals around the Reno area. They can then program the timing plans into standard National Electronic Manufacturers Association, or NEMA controllers and transfer that information to the National Transportation Communications for Intelligent Transportation System Protocol, or NTCIP, which is part of a wider national government effort to develop intelligent transportation system standards.
"PASS is a lab facility for teaching traffic signal control and timing development," said Tian, who is also the director of the Center for Advanced Transportation Education and Research and the SOLARIS University Transportation Center. "The system is able to display traffic progression either through computer simulation or through the physical arterial model, providing near real signal operations and visualizations. It essentially helps us learn how to make the streets and highways of Reno more cost-effective and manageable."
Two other systems of this kind have been built and implemented at Tianjin Chengjian University and Lanzhou Jiaotong University, with the University of Nevada, Reno's being a first of its kind for a North American university.
"The system eliminates the need for hardware controller interface devices, meaning it's easier and quicker for us to see how the information from the NEMA controllers effects NTCIP standards with our simulations, both computerized and physical," Tian said.
A different kind of driving school
Beyond its effect on the way commuters experience traffic and signaling, the PASS system is also helping to build the future of transportation engineering and research at the University.
"Because the system uses simulated traffic, but real NEMA signal controllers, students can learn how signal control is implemented in the real world," Tian said. "The animation and scale model provide very real traffic signal operations and visualization, which makes it much easier to explain the basic concepts by visualizing the connections between timing design and actual signal operations."
The University's civil and environmental engineering department offers programs in infrastructure engineering that includes transportation engineering, pavement engineering and science and bridge engineering. The PASS system provides students with the ultimate virtual learning environment, allowing for various forms of experimentation in traffic signal timing and re-timing.
"The research that we conduct in our department has a significant impact on our community," Ahmad Itani, chair of the civil and environmental engineering department, said. "Our faculty and students are in the forefront of improving traffic, establishing the standards of clean and waste water, and having resilient roads and bridges. Our department research fulfills the social contract with our society in bringing solution to enhance the quality of life. This is one of the pillars of a Land Grant Institution and we are proud that our department contributes to this role."
"As effective as the PASS system is at creating traffic simulations, it is just as effective at teaching University students," Tian said. "Traffic engineering provides a lot of research and career opportunities, and a system like this only helps when it comes to how students think about problem solving and further advancements in the field."