While she was an undergraduate student at Inha University in South Korea, Mihye Ahn spent as much time involved in clubs and activities as she did with her studying.
Make no mistake about it, Ahn, an assistant professor in the Department of Mathematics and Statistics in the College of Science, was an excellent student. She graduated from Inha with highest honors with a degree in Statistics.
But the social aspect of being involved with others outside of the classroom was too great to resist.
"When I was an undergraduate, I joined so many clubs," she remembered. "Mountain climbing, music, bowling. There were so many different clubs, and I was excited to join them. I spent all of my extra time for activities. In high school I felt I studied too hard, so I felt I needed to take a break and try different things, and meet more people."
In a way, Ahn's enjoyment of trying different things, and meeting new people, has been a key ingredient to her success as a rising young faculty member in the College of Science.
In 2017 she received a $450,000 NIH COBRE (Centers for Biomedical Research Excellence) Phase II grant for her ongoing work with the Center for Integrative Neuroscience. Ahn's research into statistical models for functional MRI data is considered a critical piece in developing new statistical and interpretative methodologies for the field. To effectively manage and better interpret such a massive increase in data and information, statistics professors such as Ahn are playing pivotal roles in neuroscience.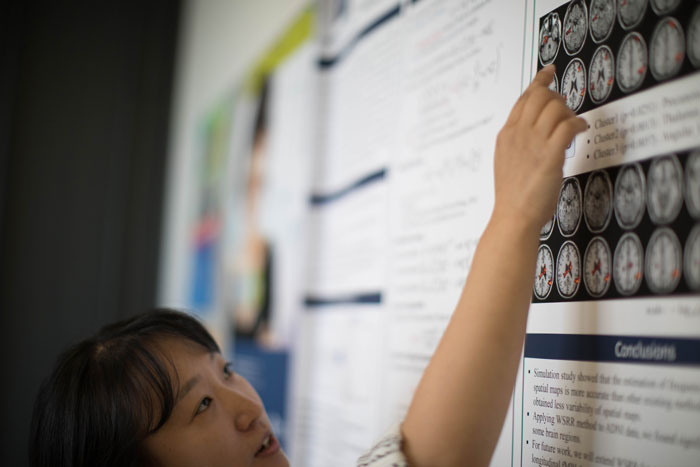 "There is so much data in neuroscience, and the question often becomes, 'What do you do with all of this data?" she said, noting that she is collaborating with Fang Jiang, an assistant professor in the Department of Psychology, on her COBRE grant, and as well, received encouragement and support from Mike Webster, who has led the creation of a number of neuroscience programs at the University. "We develop new methods to apply this data. Our methodology is related to collaboration, and through working with others. I enjoy the work more when I collaborate with other scientists."
Ahn said she tries to instill a similar feeling into her teaching, using a mix of real situations, statistical theorems, statistical software and projects. She is well on her way to becoming one of the college's finest teachers. In 2017, Erika Frost, Mathematics and Statistics' Westfall Scholar, named Ahn her faculty mentor. Ahn has also been a finalist for the college's LeMay Excellence in Teaching Award.
"It was always a really good experience," she said of her climb through academia, which included earning her Ph.D. from North Carolina State 2010, and holding a post-doctoral research associate position in the Department of Biostatistics at the University of North Carolina. "I learned how to communicate with others by watching my professors. They had so many students, yet they knew how to manage their time, how to always find time for their students, and how to make classroom work meaningful."