Three masters of fine arts graduates students from the University of Nevada, Reno are participating in a California gallery exhibition featuring emerging artists from the northern Nevada and California region.
Mahedi Anjuman, Mark L. Combs and Teal Francis joined five other recent or current M.F.A. or M.A. students in "Master Class: New Talent from Northern California & Nevada" at the JayJay Gallery in Sacramento, California, from July 12-Aug. 11.
"Being a part of any exhibition, group or solo, is a very big deal to any artist because it means exposure," Combs said. "Showing in a new city means a new market, a new group of art enthusiasts and collectors are going to see your work for the first time ever. It's exciting, nerve-wracking and incredibly fulfilling to see your work mounted in a gallery."
Combs' artwork is inspired by his career serving in the military as a medic.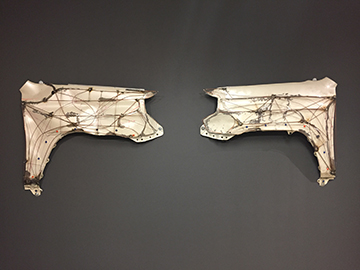 "Post-surgical and post-trauma patients have a mental attachment to their injuries, and I believe this never goes away and so with this work I am striving to illustrate the multiple layers of healing humans experience using damaged car parts as stand-ins for the human body," he said.
JayJay is a contemporary art gallery. "This exhibition promises to offer a glimpse into future 'trends' through the scholarly exploration of these emerging artists," according to the gallery website.
Exhibiting at the JayJay has encouraged Anjuman to continue her investigations into conceptual art.
"I'm researching contemporary conceptual art that explores existential philosophy," she said. "Therefore, our current social, political, religious and economic situation has strongly influenced me to develop these artworks."
Anjuman and Combs are beginning their third and final year of the M.F.A. program within the Department of Art, while Francis is headed into the first semester of her second year.
"For me, the M.F.A. program has been a push toward an alternate way of creating that has been (and continues to be) difficult, introspective and very worthwhile," Francis said.
The five other artists featured in the exhibition are Bailey Anderson: University of California, Davis; Tavarus Blackmon: University of California, Davis; Brett Melliar: California State University, Sacramento; Ryan Meyer: University of California, Davis; and Mustafa Shaheen: California State University, Sacramento. Works will vary from sculpture, painting, photography and printmaking.