The InNEVator, Reno's fully-funded eight-week pre-accelerator program is accepting applications from early-stage founders in the Internet of Things (IoT) space. The program begins September 24, 2018, and takes place at the University of Nevada, Reno Innevation Center-Powered By Switch, in the heart of Reno's emerging high-energy, entrepreneurial scene. The deadline to apply is August 8, 2018. Finalists will be announced August 31, 2018.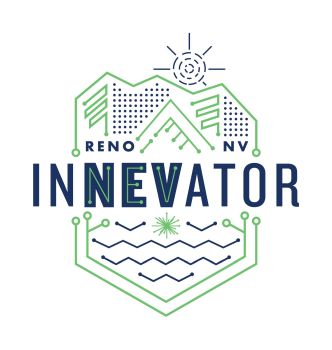 The program's mission is to empower a diverse set of talented entrepreneurs to bring new IoT technologies to market from ideation to scale in Northern Nevada. This Fall's program marks the second cohort and, beginning in 2019, the program will expand to a twice-yearly event with programs in the Spring. Organizers came together with a common vision to fuel the creation of successful IoT hardware startups and a thriving ecosystem in Northern Nevada.
"The investment into these companies, this space, and our region is unparalleled," said InNEVator Co-Founder and Co-Director Scott Levy. "The promise our mentors and program makes to ensure the success of each selected applicant is unlike any other accelerator or incubator I know of. We are invested in every sense of the word and the success of our past companies proves it."
Previous participants include SimpleSense and Think BioSolution, which is now named a winner of both Dehli Startup Weekend and Techstars and was selected to participate in the $10 Million Luminate NY Initiative after its InNEVator participation.
Program administrators are currently accepting investors, sponsors, mentors and strategic partnerships to support the program and its participants. Joining the Innevation Center as program hosts are Watershed Growth Ventures and Breadware. The Innevation Center offers a collaborative environment where university students, faculty members and researchers engage with entrepreneurs, investors, commercialization experts and community leaders. Watershed Growth Ventures is a specialized investor and consultancy organization focused on effectively managing, funding and building early-stage companies in Northern Nevada. Breadware is a unique hardware and software service that helps entrepreneurs and businesses seeking to develop products in the IoT space. Based in the Innevation Center, Breadware moved its headquarters and operations to Reno in March 2017.
For more information visit www.renoinnevator.com or contact Rosanne Catron at 775-682-8612 or rcatron@unr.edu.
Note: This story was written for Nevada Today by Brooke Brumfield.