Ten middle and high school teachers from Washoe County School District have wrapped up six weeks on the University of Nevada, Reno campus conducting cybersecurity research. The teachers, who took part in a National Science Foundation-funded project titled Cyber Security Initiative for Nevada Teachers, were the third cohort to go through the intensive summer program, designed to help teachers develop classroom materials and modules to introduce cybersecurity into their classrooms.
"Being here and getting all this information has truly renewed a lot of our interest in what we do in our labs," said Tammie Nissen, a STEM lab teacher at Swope Middle School. "The first two weeks we learned a lot about cybersecurity and cryptography. We'll be taking a lot of that back to the classroom."
The program focuses on four key areas of cybersecurity: communications, digital forensics, biometrics and robotics. Teachers chose one of the four areas to focus their research on, and the program culminated on July 27 in poster presentations and demonstrations that showcased ways teachers can make complex concepts such as networking or image processing accessible to their students.
"One of the things that's been stressed is bringing cybersecurity into the classroom and being able to do it in an engaging way," said Toni McDonough, a teacher at Hug High School.
The teachers found a number of creative ways to demonstrate cybersecurity topics, including solving a mock-cybercrime, programming a robot to dab, trying to trick a facial recognition system with a photograph and hacking into a drone to stop its flight mid-air.
Privacy, online security key topics for students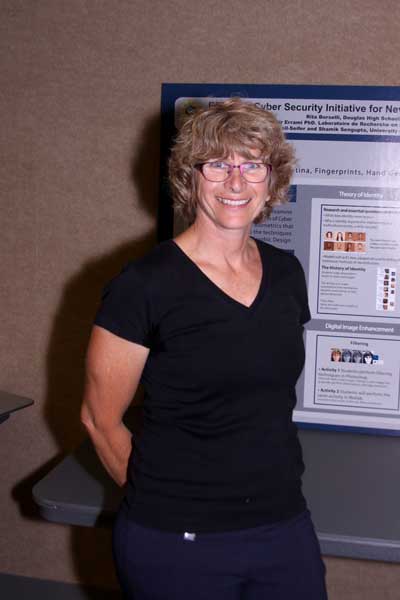 Teacher Rita Borselli was part of a team that demonstrated biometric techniques such as facial recognition or fingerprint scanning, including a failed attempt to use a piece of tape to trick a fingerprint recognition system.
"The kids ask us that question all the time. 'Can you take tape?' Because they're always worried about their phone. Now we can say it's not as easy as it looks," she said.
Topics such as privacy and online security are especially important for middle and high school students, said Nissen, who plans to incorporate lessons from digital forensics into her classroom to help students understand how much information they may be inadvertently sharing on social media platforms such as Snapchat.
The program is wrapping up its initial three-year cycle, but project PI Shamik Sengupta, associate professor of computer science & engineering, says the University plans to apply for another round of funding from the National Science Foundation.
"We hope that this RET site project would help to transform the education landscape in Nevada and would help Nevada grow in STEM education," Sengupta said. "The project will continue to build the technical capacity of teachers so they are capable of developing and implementing new, exciting inquiry-based learning activities at their schools."
The program is designed to build a community of teachers with expertise in cybersecurity and develop long-term partnerships between those teachers and researchers at the University of Nevada, Reno.
"We're really interested in understanding how these things go down in the classroom," said project Co-PI David Feil-Seifer, assistant professor of computer science and engineering. "The teachers that have come back multiple times, sometimes they're making connections on behalf of the kids. It helps them out and helps us out."