The Environmental Health & Safety department, part of Research & Innovation at the University of Nevada, Reno, is one of the first in the nation to provide a campus lab space dedicated solely to safety training. In the past, safety training has been conducted online and through lecture, but the addition of the new Safety Training for Academic Research Lab or STAR Lab adds a more interactive and hands-on format.
"The lectures we have been doing for the past years have been good training, but I always thought we could do better," Ben Owens, assistant director of laboratory safety, said. "Some people do a lot better with hands-on kinds of training. Lab safety is applied knowledge. It's not enough to know it, you have to do it."
"This is base-line safety training that applies to all laboratory settings, and what's really important after this is that training continues in the lab in which they work for the actual sort of tasks they are going to be doing," Brock Young, manager of environmental health and safety training, said.
The STAR Lab concept
Located in room 301 in the Applied Research Facility, the STAR Lab is aimed at training anyone who be doing academic research in University labs. This includes faculty, staff, students, volunteers and others, such as business people and entrepreneurs who contract to use the University labs. Before completing STAR Lab training, participants must first attend the in-person safety-training lecture.
"During my time as a chemist for the federal government, laboratory safety training consisted of the classic in-person or required-reading. In reality, there never was an opportunity to participate in cleaning up a chemical spill, until it was an emergency," said Stephanie Woolf, director of Environmental Health & Safety. "As Benjamin Franklin said, 'Tell me and I forget. Teach me and I remember. Involve me and I learn.'"
The option for hands-on training in the STAR Lab supports emergency preparedness and the reporting of safety concerns, incidents and near misses.
"We want the institution's greatest resources – the faculty, staff and students – to be involved in their own safety," Woolf said. "By engaging with EH&S staff in the STAR Lab, training attendees may feel more at ease to call the EH&S staff with questions and concerns. The overall goal is to work together to improve the safety culture of the institution, as a whole."
"We all share in the responsibility for safety, and training is key," Marc Johnson, University president, said. "The dedication of laboratory space to training is an indication of our firm commitment to safety, to the quality of our work and to one another."
The hands-on training is very group oriented and classes often mix students and faculty. For students, the lab safety training also contributes to workforce development and preparedness since many who work in the labs on campus will go on to work in other labs in their careers.
The stations:
The STAR Lab can host a maximum of 20 students. There are five different stations, each with hands-on activities on a specific topic:
Hazard Information, where participants look up and apply information from the University chemical hygiene plan and safety data sheets.
Laboratory Ventilation, where air flow and proper technique in the fume hood is demonstrated and practiced.
Laboratory Operations, where participants assess the laboratory's safety using a check list.
Incident Response, where clean-up of a mock chemical spill takes place.
Biosafety, where participants learn proper technique for working in a biosafety cabinet and respond to a mock biological agent spill.
No hazardous materials are stored or used in the STAR Lab. Instead, water or table salt are used to mimic chemicals and biological agents; however, class participants treat these substances as though they are a hazardous material. Lab coats, gloves and safety glasses are worn by participants in the classes, and a complimentary pair of University-branded safety glasses is given to each participant.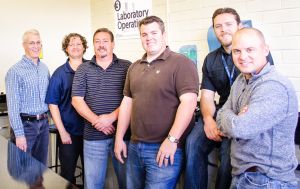 The training curriculum was developed by a team that included Owens; Young; Cheston Carpenter, senior laboratory safety specialist; Chad Stephens, manager of regulated waste programs; Marty Schwender, program officer; and Luis Barthel-Rosa, manager of chemical management services.
Environmental Health & Safety invites the campus community to see the STAR Lab during an open house on Tuesday, Feb. 7, 11 a.m. to 1 p.m. in room 301 in the Applied Research Facility.