Secondhand items - are they are sign of creativity and expression or are they stigmatized as dirty and disreputable? University of Nevada, Reno History Lecturer within the College of Liberal Arts, Jennifer Le Zotte explains how secondhand goods have slowly evolved from being a signifier of poverty to a declaration of rebellion in her new book, "From Goodwill to Grunge, A History of Secondhand Styles and Alternative Economies," scheduled to publish March 20.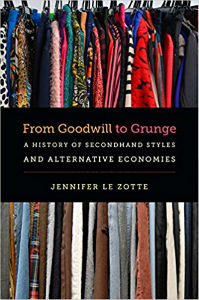 "From Goodwill to Grunge" portrays the evolution of secondhand style over time by tracing the origins and meanings of the style. Le Zotte researched how clothing, style and commerce came together to change American culture, specifically by examining how secondhand goods, sold at thrift stores, garage sales and flea markets, came to be profitable and culturally influential. She was able to research Salvation Army archives and several city archives and changes in legislation and regulations to sort out the development of flea markets and garage sales, and examine literature, movies, art, performances, songs, music videos, photographs and more to understand the cultural uses of secondhand clothing.

"It took both buyers and sellers of used goods, from a broad spectrum of humanity, to make what was once a symbol of destitution now a marker of creativity and dissidence, and a potentially very profitable one," Le Zotte said.

According to Le Zotte, large secondhand retailers like Goodwill worked to make secondhand goods more acceptable in the early 20th century by associating the trade with Christian philanthropy and good work ethics, but their efforts were only partly successful. However, the still stigmatized goods became a useful social tool for both conservative and progressive social activists.
"Others looked to advertise their disapproval of the dominant political and social opinions, or to show sartorial alliance with the oppressed and impoverished," Le Zotte said. "The meaning of secondhand style slowly changed and diversified over the decades."

Le Zotte explained that once commercial thrift stores opened, individuals used these venues as a way to enhance their shopping options, not just out of immediate need. Beginning around World War I, artists, musicians and writers began to promote the cultural prestige of secondhand goods. Artists such as Surrealists and Dadas incorporated used materials into their art, and sometimes their attire, as a way of opposing standard artistic models and disrupting gender expectations. After World War II, hippies, environmentalists, feminists, gay rights advocates and others began wearing secondhand clothing as a way to circumvent the capitalist system. It was not long until rock stars like Janis Joplin and Jimi Hendrix, disco performers and punks dressed in secondhand clothing as a way to stand out, and by the 1980s, the stage was already set for the emerging grunge subculture.

Le Zotte's interest in consumerism began when she was young and evolves around what she does today, a lecturer of history with specializations in topics such as gender and sexuality, material culture, dress and personal appearance, social movements, capitalism and more at the University.

"Since high school, I have been fascinated by consumer culture and its ties to the environment, individual identities, and mass culture," Le Zotte said. "Capitalism is an intrinsic component to every aspect of American history, from politics to music; to ignore its historical process is to court national disaster."

Le Zotte is currently working on a second book project about cross-class, cross-race and cross-gender dressing in industrializing America, around 1875-1930. She plans to focus on the relationship between unusual public appearance and changes in definitions of criminality. One aim of Le Zotte's second book is to historicize elements of successful appearance in order to reveal the degree to which dress and public behavior became stigmatized in direct relation to marginalized identities based on race, gender and sexuality.

To learn more about Le Zotte and her work, visit her website. "From Goodwill to Grunge, A History of Secondhand Styles and Alternative Economies" is available for purchase through Amazon and the UNC Press.