The Discover Science Lecture Series slithers to a close at 7 p.m., Tuesday, May 9, with a lecture from renowned herpetologist Harry W. Greene. He is widely regarded as the world's leading expert on the biology of snakes, with his 1997 book "Snakes: The Evolution of Mystery in Nature" being named a New York Times Notable Book and winning a PEN Literary Award. Greene has also championed an exciting and controversial idea about putting big-game back onto the North American continent, called Pleistocene rewilding.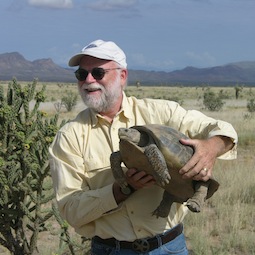 Greene is an Ecologist and Evolutionary Biologist who currently serves as a professor at Cornell University where he is also the Faculty Curator of Herpetology. Prior to that he taught at University of California, Berkeley for 20 years, and also served on the faculties of the University of Pennsylvania and the California Academy of Sciences.
Over the course of a storied career he has won several awards, including the Edward O. Wilson Naturalist Award, the Henry S. Fitch Award for Excellence in Herpetology, and teaching awards at both Berkeley and Cornell. He has also been named as a Stephen H. Weiss Presidential Fellow and as a fellow for the American Association for the Advancement of Science and the California Academy of Sciences. He formerly served as the president of the American Society of Ichthyologists and Herpetologists.
His work has taken him to more than a dozen countries around the world.
He will bring his formidable expertise to the University campus as the final speaker in the College of Science's 2016-2017 Discover Science Lecture Series. This is the sixth year of the series, which was founded with the goal of bringing top scientists from around the United States to northern Nevada to share their knowledge with the community.
As a speaker in the series, Greene joins some of science's most celebrated personalities who have lectured in the series, including renowned astrophysicists Michio Kaku and Neil deGrasse Tyson, Robert Ballard, who discovered the wreck of the Titanic, and Bill Nye the Science Guy.
Greene's lecture is free to the public. It will be held in the Redfield Auditorium in the Davidson Mathematics and Science Center on the University campus. Free parking for the event can be found at the top level of the Brian J. Whalen Parking Complex on North Virginia Street, next to the E.L. Wiegand Fitness Center. Admission is free. For more information, call 775-784-4591 or visit the Discover Science Lecture Series website at www.unr.edu/dsls.