For the past 17 years, Dean's Future Scholars, a program of the University of Nevada, Reno's College of Education, has focused on increasing the number of low-income, first-generation students graduating from high school, gaining access to higher education, graduating college and entering in the field of education.
Each year 18 Title 1 schools in the Washoe County School District recommend a total of 80 sixth-grade students for participation in the Dean's Future Scholars program. Once students are identified, DFS mentors work with students at their respective schools throughout middle school, high school and college.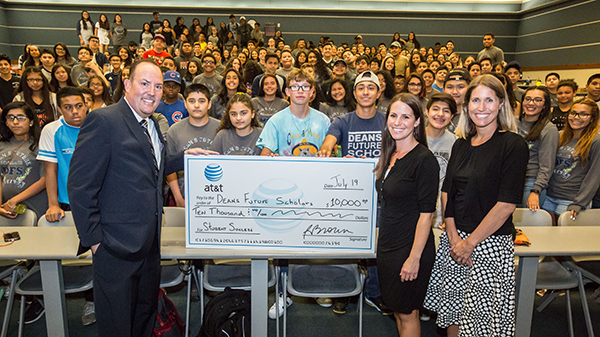 As part of AT&T Aspire, a program committed to supporting organizations that work to improve high school retention rates and preparing students, especially those most at risk, for college or a career, AT&T donated $10,000 to Dean's Future Scholars.
To celebrate AT&T's support for the program and its mentors, DFS invited Randy Brown, Director for External & Regulatory Affairs, to speak with nearly 200 students and present them with the donation. Each summer sixth through 12th-grade students come to the University for fully-funded, six-week-long camp each summer.
"The Dean's Future Scholars program exemplifies the type of homegrown program that truly impacts our student's educational journey. It's a program we are thrilled to continue to support," Stephanie Tyler, president AT&T Nevada, said. "Since 2008 our funding has directly benefitted the mentor/mentee relationship portion of the program. The response from current students learning from past students is powerful. They are living breathing testaments to what one can accomplish through a strong support network that begins in middle school and continues through their post high school career. We are proud to continue to our involvement and support the difference this organization makes in our community."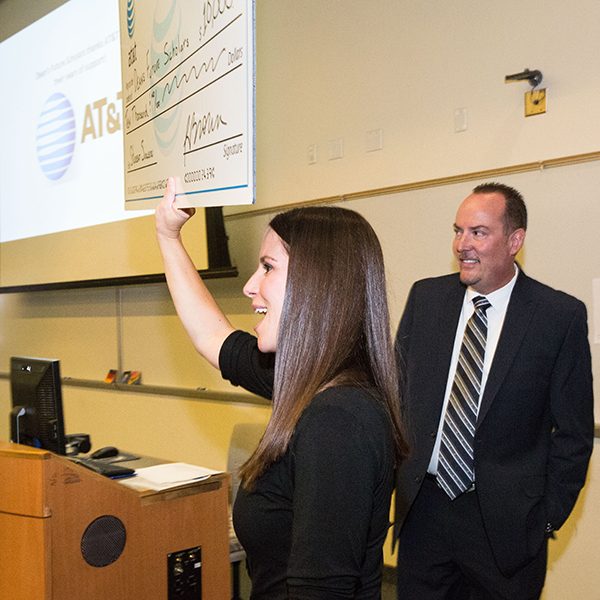 Dean's Future Scholars is a completely grant and donor-funded program. Donations like this one have allowed DFS to grow the program alongside growing University enrollment. The program has set an ambitious goal of reaching 480 K-12 students per year by 2021. Currently DFS serves 387 K-12 students, 131 University students, and 44 students at Truckee Meadows Community College.
DFS has served a total of 1,116 students, with 95 percent of the DFS program participants considered "first generation" (neither parent has earned a bachelor's degree) and over 75 percent qualifying for free or reduced lunch. Despite coming from underrepresented populations, 17 years of longitudinal program data show an overall college enrollment rate of 65 percent and an overall University college retention rate of 82 percent for DFS program participants.