Just before the rubber match of the Nevada softball team's three-game series with San Diego State on March 30, the skies opened up and rain came pouring down, causing a three-hour and 25 minute delay.
The Wolf Pack retreated to the Aztec's clubhouse to wait out the rain where the players napped, watched movies and even got a little homework done. The latter group included sophomore catcher Amanda Nicholas. She used the delay to communicate with group members in her Principles of Biological Investigation class and skim through Tau-Mediated Neurodegeneration, a case study that describes how the brain loses mass during the progression of Alzheimer's disease.
Nicholas is not only a neuroscience major at Nevada who holds a 3.7 grade-point average, she has started all 36 games behind the plate for the Wolf Pack this season and has hit three home runs with 13 RBI. She is the glue for a Wolf Pack softball team that, at 28-8, owns the best overall record in the Mountain West.
"Regardless of the struggles, being a student-athlete is enticing," said Nicholas. "The soreness, competition and time-consuming practices are worth the experience of playing for the Wolf Pack and playing for this University."
After appearing in only 11 games as a freshman, Nicholas has stepped up in 2016 in a myriad of areas. Her seven sacrifice bunts and six runners thrown out are each tied for fourth in the Mountain West. She handles the top pitching staff in the conference and has delivered some timely hits this season. Two of her three home runs have tied a game, including one in extra innings against Boise State on March 24, while the other was a go-ahead grand slam against UConn on Feb. 26. All three jacks have come in the fifth inning or later and the Pack is 3-0 this season in games where she has gone deep.
"She has hit three of the most important home runs for us all season," Head Coach Matt Meuchel said. "When she hit them they were a huge shot in the arm for our team."
"I can't describe the emotions that went through me on those home runs," Nicholas said. "I am a very competitive person, and when you hit home runs like that you know the second it happens that you just changed the entire demeanor of the game. It's an awesome feeling."
Nicholas admits that she has never really had a problem balancing athletics and academics. She graduated from Sahuaro High School in Tucson with a 4.27 GPA and was the valedictorian of her class. After her sophomore year of high school, she chose Nevada over New Mexico State and Grand Canyon because it wasn't too far from home and it offered a neuroscience program, a demanding major that Meuchel wanted and allowed her to pursue.
Since moving to Reno, she hasn't missed a beat academically. Nicholas is taking five classes this semester: Introduction to Organismal Biology, Principles of Biological Investigation, Organic Chemistry, Mild to Moderate Disabilities and Lifespan Human Development. Last season, she was named a Mountain West Scholar-Athlete, the conference's highest academic honor. Despite having already one of the heaviest bags on the team, packed tightly with catcher's equipment, Nicholas will cram all of her text books in her bag if she's missing a lecture or preparing for a test the following week.
Nicholas doesn't keep a planner. She studies and gets her homework done in sectioned off blocks of time over the course of a day. Nicholas explains it like this: "Homework during all hours of the night, classes in the late morning and evening, practice when coach schedules it, work on days off and during breaks, sleep when I can."
"Somehow, I get it done," she said.
On the field, her impact goes beyond the numbers. She's the loudest player in the Nevada dugout. She's the one shouting "it's a great day to play ball!" at the beginning of every game. "She's riiiiggghhhtt on it!" after every foul ball. "What'd that ball say?!" after every Wolf Pack home run. She'll even wear a chicken mask in the dugout to keep the team loose when Nevada is in search of a big hit. Anything to help her team win.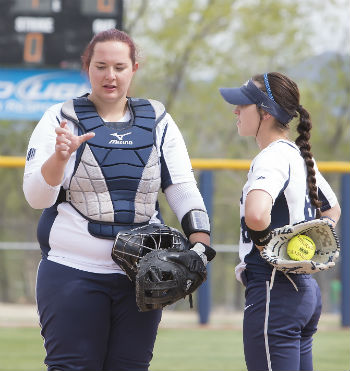 Nicholas' intangibles have worn off on the vaunted Wolf Pack pitching staff. Freshman Brooke Bolinger uses only word when describing her: "passionate." Junior McKenna Isenberg: "vital."
"I don't think there is just one word to describe her," sophomore Chase Redington said. "She's ferociously energetic and we all feed off on that."
"We are all playing together to achieve one goal this season," Nicholas said when discussing the Wolf Pack's success. "Our senior leadership is incredible and it's just a group of girls directing their effort towards winning and getting a ring."
When she's finished with her work on the field and in the classroom, Nicholas still finds time to work at Chrysalis, a group home for the mentally disabled. Her interest in how the brain works, why people have mental disorders and what sparks certain behaviors led her to Chrysalis, where she works as a caregiver and a direct support staff member.
"The most important part of my life outside of softball and school is my work at Chrysalis," Nicholas said. "It's the first step I have taken in my career path and it's also the first real job I've had. I absolutely love my work."
Nicholas is aware that she is part of the 1.6 percent of high school softball players that go on to compete at the Division I level. She is part of a solid few. With her degree, Nicholas hopes to be an established neurosurgeon with published research on Alzheimer's disease. On the diamond, in her first season as a full-time starter, she is playing a critical role for a Nevada squad that is in contention for a Mountain West championship. In the classroom and on the field, needless to say, she is taking full advantage of her opportunities at Nevada.