The University of Nevada, Reno Arboretum Board presents a variety of events this month leading up to Arbor Day April 29. A tree-themed student art show, tree plantings and a Tree Campus USA recertification event are planned to honor the University's sustained commitment to environmental stewardship.
"The Arboretum Board's diligence in improving the environment and quality of life at University of Nevada, Reno contributes to a healthier, more sustainable world for us all," Mary Sweeney, program manager for the Arbor Day Foundation, said.
To obtain the distinction of Tree Campus USA by the Arbor Day Foundation, the University met the five core standards for sustainable campus forestry required by the foundation, including establishment of a tree advisory committee, evidence of a campus tree-care plan, dedicated annual expenditures for its campus tree program, an Arbor Day observance and the sponsorship of student service-learning projects.
A recertification ceremony, marking the University's second consecutive year, will take place during an Arbor Day tree planting event at 1 p.m., Friday, April 29 on the north side of the new William N. Pennington Student Achievement Center. Tree Campus USA is national program launched in 2008, which honors colleges, universities and leaders who engage students and staff at their respective campus by promoting healthy trees in the spirit of conservation.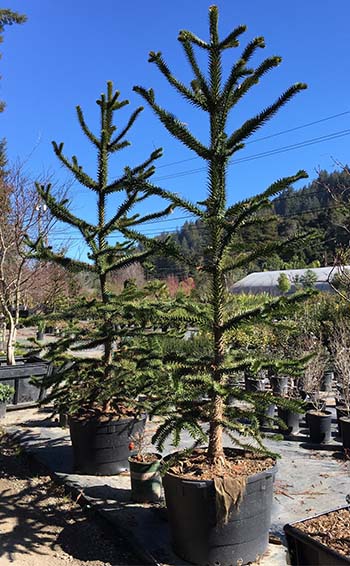 "Since the establishment of the Arboretum Board in 1970, this University has set out to become a living museum full of trees from all over the world," Cheryll Glotfelty, English professor and Arboretum board chair, said. "It has been my main goal to educate the public and involve students in Arboretum activities,"
The Arboretum Board and the Associated Students of the University of Nevada's Center for Student Engagement partnered to purchase a Monkey Puzzle Tree for planting at the Tree Campus USA recertification ceremony on Arbor Day. The Monkey Puzzle Tree, also known as Araucaria araucana, is an evergreen tree native to southern Chile and western Argentina. The tree has thick, scale-like, sharp-edged leaves.
"The story goes that a British collector who obtained one of these trees showed the new specimen to a group of friends when one made a remark, 'It would puzzle a monkey to climb that,' hence its distinctive and unusual name," Glotfelty said.
"The students chose the Monkey Puzzle Tree because it had a unique look and would add to the diversity of trees that we already have on campus," ASUN President Caden Fabbi said.
The tree will be added to the existing 200-plus unique species of trees, shrubs, flowers, ornamentals and native flora, with many designated areas on campus open to the public. Since 1985, the University has been a designated state arboretum campus awarded by the Nevada State Legislature.
While planting the newest tree addition to campus, the University will celebrate its Tree Campus USA recertification designation.

Events in April and May
"Out on a Limb": Tree-Themed Student Art Show - through April
Mathewson-IGT Knowledge Center
Student artwork will be displayed in the breezeway of the Mathewson-IGT Knowledge Center for the month.
Tree Marker Installation - Friday, April 15
8 a.m.-1:30 p.m., University of Nevada, Reno campus,
Arboretum Board volunteers, with support from the University Grounds Services crew, will install 30 new tree markers. The first areas designated for the project include Hilliard Plaza and Clark Administration Building. More signs will be installed each year until the campus arboretum is adequately signed.
Earth Day - Friday, April 22
10 a.m.-3 p.m., Joe Crowley Student Union, Gateway Plaza
The Arboretum Board will give away saplings and other Earth Day-related items.
Ceremonial Tree Planting with Nevada Association of Student Council
4 p.m., South side of Lombardi Recreation Center
Nearly 1,000 high school students will be on campus for the Nevada Leadership Conference and invited to participate in an Earth Day tree planting.
Arbor Day - Friday, April 29
Nevada Big Tree Tour
10 a.m., Tour to begin at John Mackay statue, north end of historic Quad on campus
The tour, led by Arboretum Board Member Rod Haulenbeek, will showcase the more than 25 Nevada Big Trees, the largest specimens of their species in the state.
Thank You Lunch and Recognition
11:30 a.m., University of Nevada, Reno campus, TBD
The University's Arboretum Board hosts the University Grounds Crew for an appreciation lunch for their hard work in keeping the campus green and clean.
Tree Campus USA Recertification and Ceremonial Tree Planting
1 p.m., North side of William N. Pennington Student Achievement Center
The University's Arboretum Board and Associated Students of the University will plant the campus' first Monkey Puzzle Tree, an evergreen tree native to southern Chile and western Argentina. The University will also be recognized with its second consecutive Tree Campus USA designation.
Day at the Museum - Saturday, May 7
10 a.m.-4 p.m., Hilliard Plaza
The University welcomes the public to a free, campus-wide showcase of the University Museum District, with 12 museums, galleries and attractions. The Arboretum Board will host kid-friendly activities.