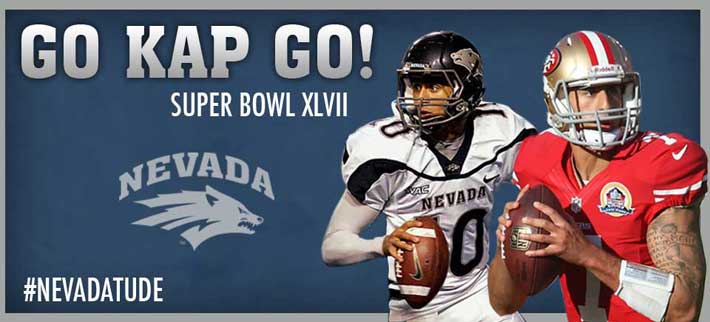 "To the program, to the University, and to the community, Colin is the poster child for Wolf Pack football. He's as competitive a football player as I've ever had. He's probably the greatest player to ever play here."
- Nevada football coach Chris Ault in the Nevada Sagebrush, Jan. 17, 2011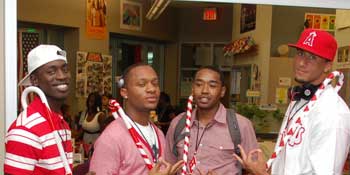 When 24 student-athletes signed National Letters-of-Intent to play football at the University Feb. 1, 2006, it was hard to imagine that Colin Kaepernick five years later would rise to the level of Chris Ault's lofty words.
Today, some of the 24 names contained in the Nevada athletics news release announcing the signings fail to register even the slightest hint of recognition.
It takes a while to sift through the names, all cluttered with sizes and heights and high school and junior college honors and the heavy weight of expectations of unproven potential.
Some made it into the Nevada lineup. Some didn't.

Kap Super Bowl viewing party at JCSU on Sunday
There's no better time to be a football fan than now! Former Nevada Wolf Pack quarterback Colin Kaepernick will lead the San Francisco 49ers against the Baltimore Ravens in Super Bowl XLVII this Sunday.
Come cheer for Kap with fellow supporters at the University's family-friendly Super Bowl viewing party held at Cantina del Lobo on the third floor of the Joe Crowley Student Union starting at 2:30 p.m.
This is an alcohol-free, family-friendly event
Doors to the restaurant open at 2:30 p.m., the Joe Crowley Student Union doors open at 10 a.m.
Free parking in West Stadium Parking Complex, Brian J. Whalen Parking Complex or in the metered spots south of Lawlor Events Center.
Students with student I.D. offered free, all-you-can-eat buffet (soft drinks included). New food items will be provided at the beginning of each quarter.
Non-student or community members can pay $8.99 for the all-you-can-eat-buffet or purchase from a limited food menu, and alumni members receive a 20 percent discount.
Children younger than 12 years old are $5.
A poster-making section will be available to those who wish to decorate a poster for and during the game.
Great merchandise and prizes will be raffled throughout the game. Attendees will receive a raffle ticket when they arrive-no purchase necessary.
The event is sponsored by the Multicultural Greek Council and the Joe Crowley Student Union.
Another way to show your support is to update your Facebook timeline and profile photos to a banner created by Nevada Athletics.
Then, you reach the eighth name listed in the release: Colin Kaepernick.
Compared to some of the names and accomplishments listed before, Colin Kaepernick's athletic portfolio to this point seems rather bare-bones. It's a thumbnail sketch so unassuming and modest it could fit into a vest pocket, like a couple of helpful words of scripture jotted on the back of a crumpled half-sheet of paper.
When you read the words, you think immediately of Ault's first impression of Kaepernick when the freshman quarterback arrived at Wolf Pack camp in August 2006, that Kaepernick was "built like a fork."
The release says: "Kaepernick (6-5, 190, QB) from Turlock, Calif., and Pittman High School, was a first-team All-District, All-Conference, and All-Academic selection. He was named the Central Cal Conference MVP and participated in the Berkeley and Las Vegas "Elite 11" camps. He was 112-188 and 1,954 yards with just six interceptions and 25 touchdowns as a senior."
The human fork, as it turned out, would be tuned superbly soon enough. A modest initial description would become so fleshed out, so filled with one amazing accomplishment after another, so enlarged with the hopes and dreams of so many, that today Colin Kaepernick has morphed into a couple of Colins.
There is the 25-year-old, second-year quarterback drafted in the second round of the NFL Draft following a record-shattering career at Nevada who has led the San Francisco 49ers back to the Super Bowl, rekindling the championship echoes of a proud NFL franchise.
When Kaepernick takes his first snap in New Orleans at the Mercedes Benz Superdome on Sunday, Feb. 3, a little after the 3:30 p.m. kickoff, he will become the first 49ers quarterback in a Super Bowl to do so since Hall of Famer Steve Young started for the 49ers in 1995.
At 25 years and nearly three months old, he'll become the youngest 49er quarterback to ever start in a Super Bowl, nudging aside 25-year-old, seven-month-old, future NFL Hall of Famer Joe Montana from 1982.
This is the Colin Kaepernick who was on the cover of Sports Illustrated earlier this month, who, along with the "Pistol" offense that was created by his college coach, Ault, has been the focus of the NFL's unrelenting national spotlight over the past two weeks.
Ault has been anointed an offensive visionary by sports' intelligentsia. Ault's college quarterback has been called a "savant" by 49ers coach Jim Harbaugh. In a little less than three months, Colin Kaepernick has become an aspirational vision of what the NFL quarterback of the future should be.
And then there is the other, more private, more closely guarded Colin Kaepernick. The quiet Nevada star with a ready grin who was right at home interacting with kids from local Pop Warner teams, who regularly attended Second Baptist Church in Reno, whose tattoos revolve around scripture such as Psalms 27:3, "Though an army encamp against me, my heart shall not fear," and Psalms 18:39, "You armed me with strength for battle."
This is the regular person who has, even during the whirlwind of the past few weeks, remained amazingly grounded and unaffected by his budding stardom. This is the good-hearted person who responds warmly and good-naturedly to texts from his fraternity brothers at the University. The kind of person with a small ego and a memory still sharply attuned to the feelings of his old friends.
This is the Colin Kaepernick who is still more like the eighth name listed on National Letter of Intent Day in 2006. In personality, if not affect, he's still kid who was built like a fork and has never minded, through hard work and an innate, burning competitiveness, to work his way up the ladder and to credit others for their help and support as he's climbed the rungs of his sport.
This is the Colin Kaepernick you hear about as you make a visit the Center for Student Cultural Diversity on the third floor of the Joe Crowley Student Union.
You begin by visiting with Jody Lykes, who is the coordinator of student development at the Center. Lykes greets you with a warm handshake and a smile. The day is a typical day at the Center, which is one of the University's success stories. The Center offers students of all backgrounds an inclusive environment, and stresses opportunities for students to broaden their cultural and historical awareness as well as ways to become more involved in "community" - both on the campus and off.
More to the point, the Center is a place of constant energy and activity. Desks and computers are always crowded. Yet the students move about the third-floor space in a relaxed fashion, one minute tackling a project on a computer, the next flowing into Lykes' office with a financial aid form in hand, seeking guidance.
It's a place to not only get work done, but to make friends. And Lykes, with his gentle manner and the patient eyes of a parent, seems to embody the Center's purpose about as well as anyone.
He sits at his computer searching for a photo of Colin when Kaepernick used to hang out at the Center.
"Oh, Colin used to be here quite a bit," Lykes says. He's soft-spoken and in sifting mode as files of photos of smiling Center students flash on and off his computer screen. "Sometimes I think Colin used to come here just to get away from everything."
The Colin that Lykes and others got to know was a lot like the other students at the Center. He didn't seek any special attention, never demanded special consideration. He'd sit and visit and help and be helped and move about like all the rest of the students at the Center, who one moment seem to be revving with the energy of Indy 500 race cars, the next moment possessing the quiet concentration you'd find inside a church.
"Where is that photo of Colin and the Kappas?" Lykes good-naturedly asks his computer before another student steps into his office, wondering about a deadline.
Not long after, you sit in Lykes' office with a couple of Colin's fraternity brothers from Kappa Alpha Psi.
Gregory Elliott is a 19-year-old sophomore from San Diego. He's majoring in neuroscience and minoring in psychology and hopes one day to be a pediatric neurosurgeon. Elliott wears a red Kappa Alpha Psi sweatshirt. Slung carefully across his narrow shoulders is a trim backpack that looks like it has been filled about as efficiently and effectively as a full load of difficult classes could ever allow. Elliott smiles warmly, and often. He has a genuine, confident, attentive way about him.
Elliott says he really got to know Kaepernick well after Kapernick's first season in the NFL, a season in which Colin rode the bench as a backup to starter Alex Smith.
"Colin did a lot of training at the school," Elliott says. "That was also when I started my process to become a Kappa, so I spent a lot of time with him and got to know him. I got to know his personality really well."
Elliott was struck by Colin's duality. How on the one hand the former Wolf Pack quarterback was such a hard and focused worker, all business when he was training. And yet on the other hand, there was the Colin who cared deeply about his fraternity and his fraternity brothers, and was all about friendship and personal support.
"I saw how hard he worked on the field, and I also got to see him outside of the field learning information about Kappa Alpha Psi," Elliott says. "I got to see two sides of Colin. And I've continued to see that side of him where he still talks to us, where he's still our friend. We still visit him, even when he has a bye week.
"We'll go out to his house and hang out with him ... just like we used to do here in Reno."
Colin's success over the past three months hasn't surprised Elliott at all.
"We always knew he would do great things," Elliott says. Then he pauses, reflecting on the times in November and December and January when the success and the resulting pressures on Kapernick's time could've changed everything, could've changed the times when texts and good wishes could've been met with silence and no reply. Yet that has never been the case, Elliott says. Every text, every congratulatory wish, has been answered with genuine appreciation. "What has really surprised me about Colin ... well, I wouldn't say surprised me ... but what has stood out even more about Colin is I always knew he was a humble guy, a hard-working guy. But now with all the fame, all the publicity, all the notoriety, he's still the same guy as he was before any of this even happened."
He's still Colin the fraternity brother, Elliott says.
"I brought that to his attention last week after he beat the Falcons," Elliott says. "I was just telling him, 'I'm glad that success hasn't changed you.' That's when you know you're really successful ... when you can have all the publicity, all the money, all the fame, and it doesn't change who you were before it all happened.
"That's why Colin has been so successful."
Elliott says he's the better for knowing Kaepernick.
"I think Colin would be uncomfortable if we were to call him a role model," Elliott says. "But I do seem him as a positive figure to young black men and young men in general, just to show what hard work can do, and how a person can persevere through life.
"I know he wouldn't like me to call him a role model, but I've learned from Colin to always be prepared and always plant your garden and wait for the rain to pour ... and something great will usually grow."
Andre City is a senior from Reno who is majoring in community health science. He hopes one day to have a career in sports medicine.
City, who grew up in a single-parent household, says he's always been independent and a little wary of growing too close to people he doesn't know well. He says his involvement in Kappa Alpha Psi has helped him "expand my boundaries to find people you can trust and depend on."
He says in Kaepernick's success he sees parallels to his fraternity's fundamental purpose, which is to find achievement in every human endeavor.
"We push each other to be better than one another," City says.
He says Kaepernick has a unique kind of competitiveness. Much has been written about Kapernick's abilities as a competitor, how he burns to succeed. Yet City says it's a very controlled and measured burn.
"Yes, he's a competitor, an extremely strong competitor," City says. He recalls the times when Colin and his fraternity brothers have played endless hours of Madden and Black Ops together. Even with video games, Kaepernick, just like on the football field, yearns to win. "It's hard to find people who are that competitive, but yet, at the same time, Colin, when he loses, isn't the type to throw a temper tantrum. He's more like, 'Well, you got me this time. Let's see what happens next time.'
"He's always positive, positive at all times. That's what I really like about Kap."
City joined the fraternity about the same time as Kaepernick.
"He was my line brother, and we crossed together," City says of formally joining the fraternity. "That was April 17, 2010. Before the fraternity, I didn't know who he was. I didn't even know he was a football player when we first met. That's just the kind of person he is. It's been a blessing to get to know him. It's not every day you meet someone like Colin, who's a college star, and doesn't act like a college star, and goes to the NFL, and who still treats you the same way he did before he went to the NFL.
"He's still completely humble. He's never forgotten his friends."
There is a moment that City remembers well. Not long ago a few Kappas and Kaepernick got together to eat. People were asking for Kaepernick's autograph.
"Colin said, 'Not right now, please, because I'm eating ... I'm hanging out ... with my brothers,'" City says. His voice, which has been steady, shifts thoughtfully, seeming to mark a moment when friendship isn't simply a concept but becomes real to a person. The memory still warms City. "It just felt good to know somebody like Colin, who remembers who he was before he got big. He still treats you the same way ... and that's truly a blessing.
As you walk out, a television crew from Sacramento has arrived in the Center. They are putting together Reno-centric stories on "Kap-Mania."
They've sat down with Elliott, and the young man, composed as ever, sits patiently at a round table as the lights of the camera fill his face with an intense light that would blind most people.
Nearby, students fill out their financial aid forms and share thoughts on homework. If they're aware of the lights and the cameraman and the friendly, athletic-looking reporter from Sacramento, they don't show it.
The television reporter from Sacramento asks Elliott what it was like to know Colin Kaepernick.
At one point, the reporter queries, his voice rising good-naturedly, as if he's surprised the University hasn't taken greater note of Colin Kaepernick and marked his time here in a more meaningful way, "How come there isn't a 'Kaepernick Way' in Reno yet?"
Elliott, his hands relaxed and crossed in front of him, smiles. He takes a moment to answer. He knows his fraternity brother. He knows how his friend would react. How truly embarrassed Colin Kaepernick would be, if someone were to suggest that a street in Reno be re-named in his honor.
He knows that his friend Colin, even with his remarkable rise from Nevada to the starting quarterback for the San Francisco 49ers in the Super Bowl in February 2013, has always had a firmer grasp than most on a simple fact: You can't understand the big picture if you're constantly seeking to push your friends away in order to stand alone in the middle of it.
This is why, for those who know Colin Kaepernick well, it's never been a problem for him to share the spotlight with others.
There has always been plenty of room for everybody - particularly when your own career started in the fine print, eighth on a list of 24 names.