NevadaToday
Going virtual Small @One team helps create connection for the Wolf Pack Family through virtual University events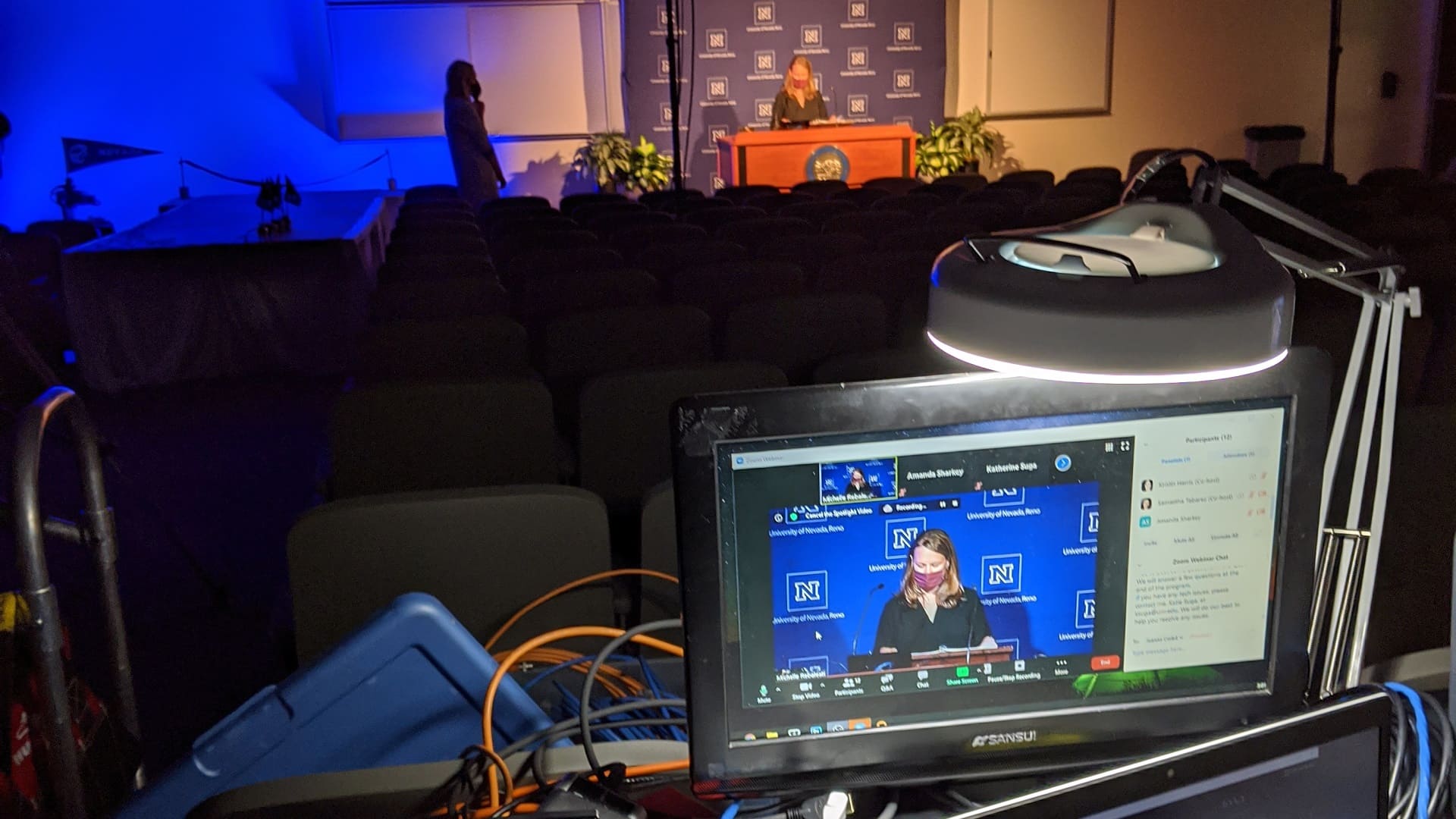 Going virtual
Small @One team helps create connection for the Wolf Pack Family through virtual University events
Who would have thought nine months ago virtual events would be standard, and in-person gatherings would be limited? The year 2020 has made it clear… change is constant, plans evolve and adaptability is key.
This new challenge of creating and executing virtual events is the job of the University Libraries' @One Events and Production team.
Often times, attendees of virtual University events may assume it's the University's Office of Information Technology (OIT), or the University Libraries Teaching & Learning Technologies (TLT) Department that are responsible for executing this new style of event. While both units have been instrumental in supporting the University's transition to remote learning and more this year, they are not the only units taking on the new challenge of creating and executing virtual events.
Over the past several months a small seven-member team housed, within the University Libraries @One Media & Technology Center, along with numerous campus partners, have been working extremely hard figuring out how to reinvent the University event experience while maintaining and reinforcing connection and community safely amidst the pandemic.
"Collaborative teams of talented University faculty and staff, as well as several student assistants, have come together bringing their energy, creativity, and a sense of deep commitment to staying in touch during these unprecedented times," Dean of University Libraries and Teaching & Learning Technologies Kathy Ray said. "Virtual events are a safe, engaging, and often even fun way to gather and connect online."
Like other campus units, the University Libraries organization has pivoted to identify new ways to continue to serve its community of users both in-person and remotely throughout the different modes of operation over the course of this year. The libraries remain committed to serving users and providing the professional assistance, technology and resources vital for all aspects of academic success.
"I am so very proud of the work the @One Events and Production team is doing to bring the campus and community together during these difficult times," Ray said.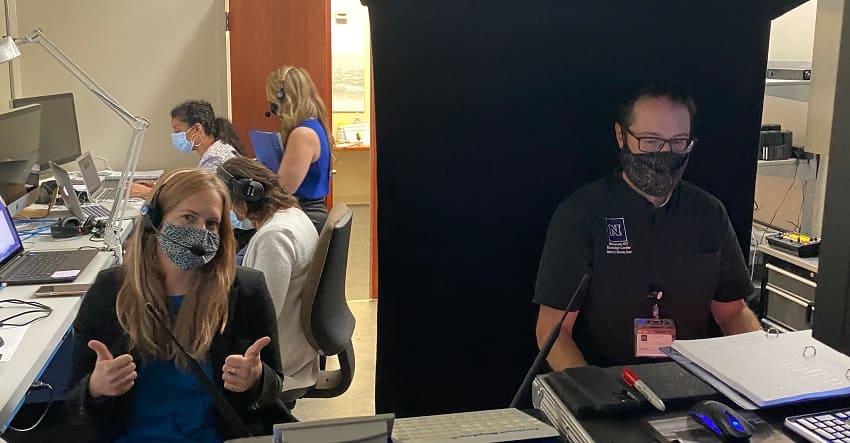 Then and Now: From in-person to virtual
University special events had to change drastically in 2020. From commemorating the opening of the William N. Pennington Engineering building, to celebrating the University's 2020 graduates, the @One team has assisted departments and colleges from all pockets of campus. These professionals have been working behind-the-scenes, and are committed to delivering high-quality video products to those tuning-in from home, no matter where they reside.
"Figuring out how to pull off a new kind of University event was difficult, but we are learning, adapting, troubleshooting and rising to the challenge," said Michelle Rebaleati, @One Events and Production manager. "I feel we still have things to look forward to regarding what the virtual event experience can do for those wanting to engage with the University and all it has to offer."
The shift from in-person to virtual events requires a much longer lead time, and an additional layer of pre-production event planning. Accounting for technical set-up, multiple camera operators, lighting, graphics, audio, music, teleprompters, scripting remarks and speakers – producing these events is a massive undertaking. A learning curve was also in place for both University event producers and first-time, at home, virtual event attendees.
"Michelle and I watched many virtual events together to determine best practices and research what works well," Director of University Events Jeanne Corbit said. "Michelle and her team are excellent at identifying solutions and making things better, so we collaborated to adapt the June 2020 opening of the William N. Pennington Engineering building from in-person, on campus, to a smaller, scaled-down on-campus event, to a completely virtual building opening."
Opening the William N. Pennington Engineering building
The opening of the new William N. Pennington Engineering building saw many iterations. Planning for the opening of the building began in September of 2019. Tours of the space took place in January 2020, and then the pandemic hit in March. The original plan was to open the building in-person, on campus with a small group of 50-to-100 donors and friends in June. The challenge at the time was the uncertainty connected to when campus may reopen. At that point, the planning team agreed hosting the opening virtually, and moving it back to August, was the way to go.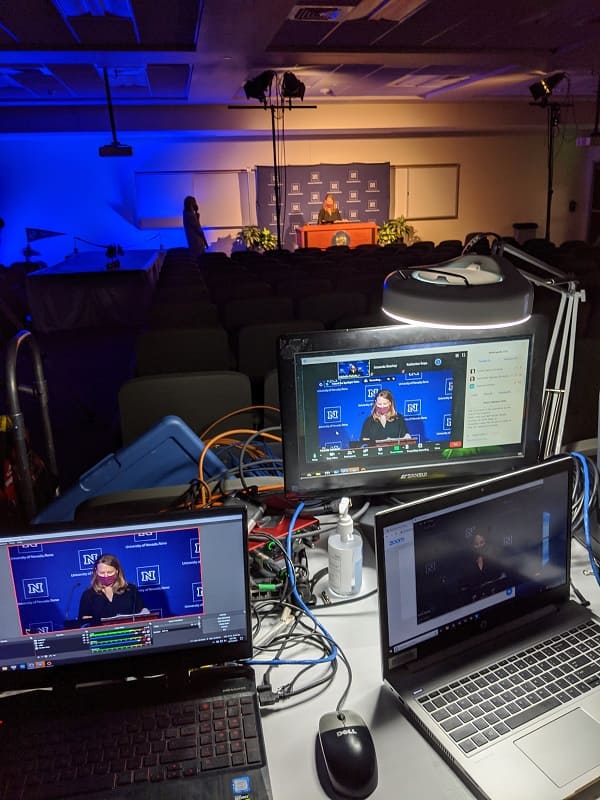 The virtual opening took place on August 24th and included several pre-recorded and live elements, all of which were produced by the @One team. The live event was hosted via Zoom for virtual participants and took place inside of the new building. Former University President Marc Johnson welcomed guests to the building opening's virtual event, live from the Nevada Gold Mines classroom. Governor Steve Sisolak participated in the event giving his remarks via Zoom from Las Vegas, and the official ribbon-cutting was done by former University President Marc Johnson and Regent Carol Del Carlo with two robots that had been programmed by Engineering faculty and students.
"In order to execute this event, the team and I set up a remote broadcast studio inside the Engineering building's Nevada Gold Mines classroom," Rebaleati said. "We produced live and pre-recorded video of the new space and made sure the content shared in the event truly catered to what viewers at home wanted to see.
"We were able to take guests from floor-to-floor highlighting and showing off areas of importance," she added. "In addition to the building tour video, a time-lapse video was created using footage of each of the different phases of the construction process. A thank you reel for donors was also created allowing University supporters to see their name in the physical space, even though they are unable to visit the space at this time. They can visit now, virtually, thanks to these videos we produced."
Knowing how to make the audience at home truly feel like they want to be a part of the virtual event is something the @One team does very well.
"Virtual events matter now more than ever because people need and want to be able to connect," Corbit said. "Maintaining our connection to the University community – campus colleagues, students and donors - is vital. We believe in service, outreach and keeping our audiences informed and are working tirelessly to stay in touch. We want all of our constituents to know they matter deeply to us. The Libraries @One team helps Development and Alumni Relations do this."
First-ever virtual Commencement
In order to reimagine the Commencement experience for May 2020 and December 2020 graduates, the @One team along with the University's Division of Student Services' Department of Enrollment Services explored how best to adapt the traditional commencement ceremony to a virtual commencement experience for graduates and their families. In a normal year the @One team assists with all major, on-campus, live events such as this.
"We have worked with Michelle and her team for years," Sariah Tillotson, graduation services coordinator, said. "Since the beginning of the pandemic, the Libraries team has been willing and eager to offer and share their expertise with us. The two virtual commencement ceremonies we are working on now would not be possible without this team."
In order to develop these virtual commencement ceremonies, a lot of advance planning and researching had to take place. The team felt it was critical to celebrate the extraordinary achievement of earning a degree from the University.
"The University hasn't forgotten about its 2020 graduates," Rebaleati said. "There are so many of us from across campus working together to develop fair, but appropriate ways to celebrate these remarkable accomplishments."
In order to prepare for the two December 5th ceremonies, the @One team worked to record a variety of speakers, University Administrators, student leaders, and more. In all they worked to create more than 25 videos featuring 21 different speakers, a student choir, quintet performances, and solo vocalist.
A set was built inside the @One broadcast studio where University Administrators could go to record their commencement speeches. Those not on campus were given instructions and recorded their segments at home. The student choir and quintet were recorded in Church Fine Arts' Nightingale Concert Hall and the solo vocalist was recorded in University Arts' Hall Recital Hall, all with the help of Ray Silva and Rich Norris.
Prospective Student Events and Programming Manager, Lexi Erwin, said watching the @One team work to record commencement speakers was really fun.
"Recording the Deans was especially fun," Erwin said. "President Sandoval's speech is very moving and I think it will be well received."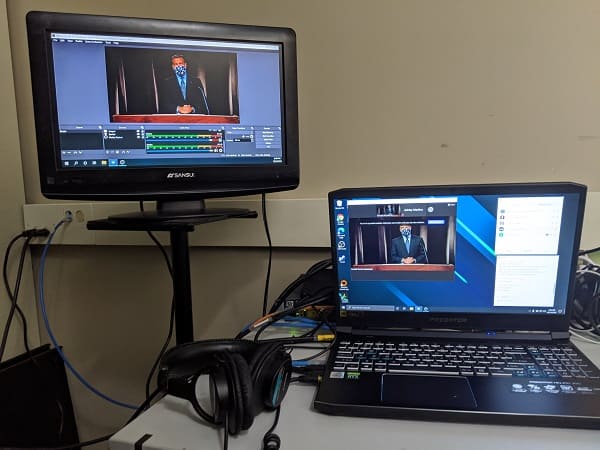 The scheduling of the on-campus recordings was quite tricky.

"Buffers were created to allow for proper sanitization between shoots for each speaker and/or performer," Tillotson said. "It was a massive undertaking assembling all of these speeches, music performances and slides of each graduating student. It is our hope that all of this hard work translates to a smooth, harmonious and joyful commencement event.

"What greater way could we celebrate a momentous and monumental event for graduating students, than having the entire University community come together to pull it off during this time," she said.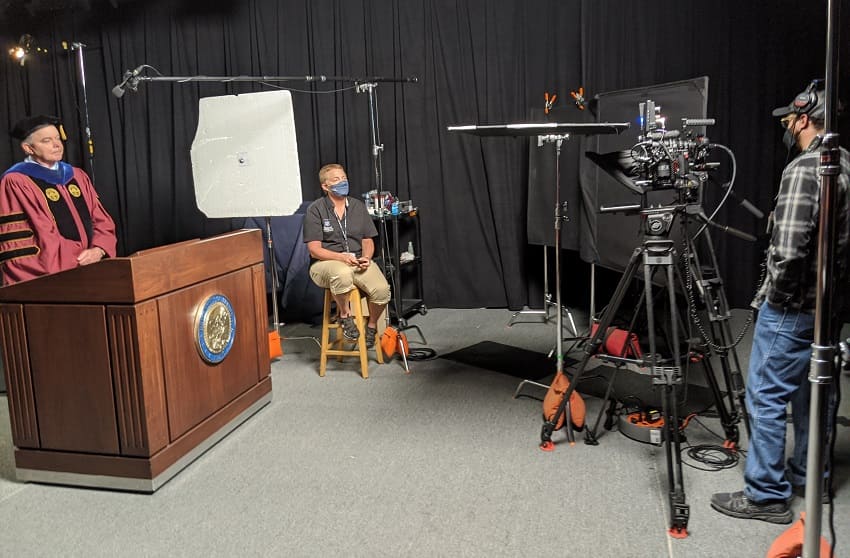 The @One team
Michelle Rebaleati is the Libraries manager overseeing the small @One team of students and multimedia production specialists helping to produce these signature University events. If you recognize her name, maybe it's because you are familiar with her
2019 TEDxUniversityofNevadaReno talk looking at how the Libraries is using virtual reality technology to preserve the past?
"My team and I are very proud to be part of the Libraries organization, but we aren't librarians!" Rebaleati said. "We exist 'backstage' to support the University's vast array of colleges and departments to help elevate those areas in the best way possible using the technology available."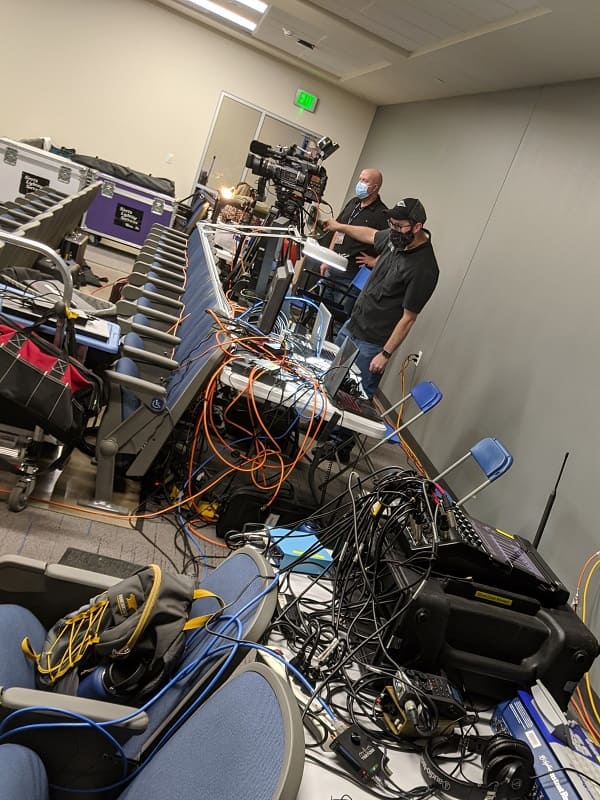 Rebaleati is the technological mastermind behind designing the audio and visual components of these new virtual University events. She also oversees the production itself. She, along with her team, work to assist the University's Development and Alumni Relations' University Events Department with major University events such as, Honor the Best, all new building openings, and donor events. She and her team have also supported the College of Science's Discover Science Series, the President's State of the University Address, the Harry Reid Public Engagement Lecture Series, the University Libraries Nevada Writers Hall of Fame event and more.

"Without seeing what this team is capable of… you almost have to see it to believe it," Corbit said. "When setting up for new, virtual events, there are usually no fewer than 15 million cords. I am exaggerating slightly, but there are so many cords! When technical issues arise, this team can identify the problem and fix complex hiccups in order to allow the show to go on. It's remarkable."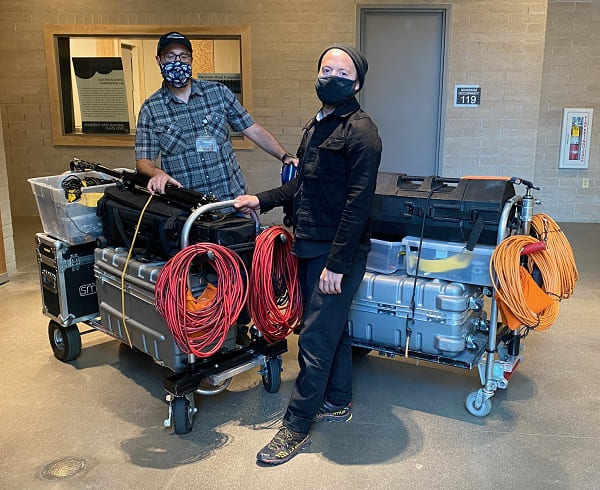 In addition to Rebaleati, the current @One team includes six highly collaborative and skilled professionals: Kyle Weerheim, Multimedia Production Specialist; Maryan Tooker, Multimedia Production Specialist; Shawn Sariti, Multimedia Production Specialist; and student workers Drew Willis, Landon Renwick and Reed Barrus.

"While my team is by my side, assisting at all times, I would be remiss if I failed to mention all of the different campus collaborators that assist us in what we do," Rebaleati said. "There are so many different people to thank. From the staff at The Joe Crowley Student Union and University's Office of Marketing and Communications, to TLT and University Events, and beyond. So many different people make these events happen and I am so grateful for their confidence in us, as well as their support."
Rebaleati and her team provide all of the technological support needed for campus events. They also work to fill in the technology gaps that bubble-up across campus to help assist the Libraries Teaching & Learning Technologies Department. They produce high-quality multimedia products for different University departments and serve as mentors to others on campus interested in multimedia content creation. The goal of the @One Department is to marry traditional literacies with digital technologies to enhance teaching, learning and understanding.
The @One is the Libraries' Digital Media & Technology Center. It is located on the first floor of the Mathewson-IGT Knowledge Center, and is home to a variety of faculty and staff experts available to assist students, faculty and staff in their academic endeavors. The @One also provides lendable technology, poster printing and a variety of specialty rooms like the @Reality virtual and augmented reality studio to Libraries users with a valid University NetID.
About the University Libraries
The University Libraries embrace intellectual inquiry and innovation, nurture the production of new knowledge, and foster excellence in learning, teaching and research. During each academic year, the Libraries welcomes more than 1.2 million visitors across its network of three branch libraries: the Mathewson-IGT Knowledge Center, the DeLaMare Science and Engineering Library and the Savitt Medical Library. Visitors checked-out more than 80,000 items and completed more than 2 million database searches.
Creating the 2020 University Foundation Video, a behind-the-scenes look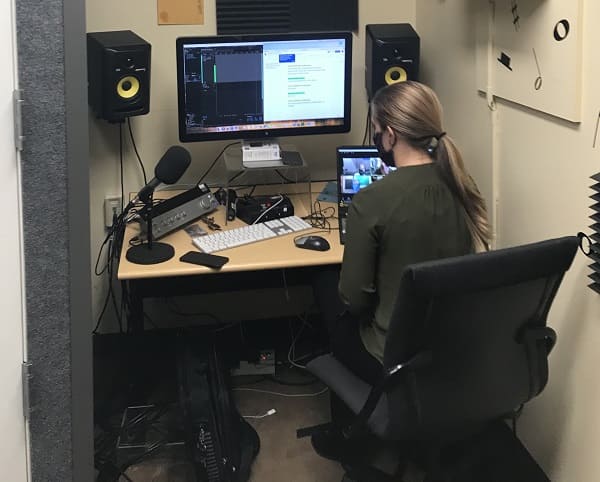 How were University Events and the Libraries able to create this year's Development and Alumni Relations Foundation Video? With a lot of out-of-the-box-thinking. The challenge in creating this video was identifying a way to record the audio so that the speakers, Associated Students of the University of Nevada (ASUN) President Dominique Hall, and Graduate Student Association (GSA) President Will Carrasco, could play off of one another's enthusiasm and energy. Michelle Rebaleati and Jeanne Corbit joined forces to identify the best recording solution.

"Due to social distancing we were unable to record both speakers, in the same location, at the same time," Rebaleati said. "We needed them together due to the nature of the script."
Rebaleati, after doing some serious thinking, identified a solution that could be tested.
"I started thinking, 'how can we do this?'" she said. "Knowing of the sound-recording booths available in the Mathewson-IGT Knowledge Center and the DeLaMare Science and Engineering Library I thought we could set up each speaker in each location, share the script via Google Docs so both speakers could follow the same document in real time and all be connected via Zoom. By throwing Zoom into the mix, both speakers could see and hear one another as we worked to record the script."
"We were able to achieve the conversational nature of the shoot we desired, and it worked," Corbit said. "If this isn't another example of having to rework and rethink a plan, I don't know what is! It's very 2020!"
The footage was provided by many different departments across campus and the final video was edited together by student worker, Drew Willis.