Earth Week recognized at University April 22, 23 & 25
Earth Week recognized at University April 22, 23 & 25
Themed days filled with educational displays, interactive exhibits and tree-planting ceremony celebrate the Earth all week; activities kick-off Summer of Sustainability Program on campus
4/17/2014 - By: Natalie Savidge
The northern Nevada community can celebrate the Earth and learn about sustainable living at the University of Nevada, Reno campus Tuesday, April 22 and Wednesday, April 23. Educational programs and demonstrations will focus on environmentally friendly efforts and examples of green campus and community resources. Additionally, an Arbor Day event, Friday, April 25, moves the University closer to becoming a designated Tree Campus USA location, a designation granted through the Arbor Day Foundation.

"I have a vision for a healthier, more sustainable world," geography student Jean-Paul Torres, president of the Campus Cycling Coalition, a bicycle advocacy club, said. "We want to make this campus a more bicycle friendly university, which is key to making us stand apart from the rest, from the status quo. There is something about being able to easily traverse the campus within seconds by bicycle, and the more we can show people how great it is, the more I believe we'll start garnering support."

The University's Summer of Sustainability is a series of activities on campus that will explore the environment and the sustainability movement. One of its signature events is a curated and juried art exhibit, "Reused + Recycled = Art," which is also an official Reno Artown event. Organizers are currently inviting artists to submit their work and ideas to the project.

"We are hoping to use the exhibition to continue the conversation and awareness about sustainability," Maureen McCarthy, executive director for the University's Academy for the Environment, said. "We want materials to be up-cycled into a new and productive life, as well as a beautiful piece of art."

The University's Earth Week events will be from 11 a.m. to 2 p.m. at the Gateway Plaza in front of the Joe Crowley Student Union, with the Arbor Day planting event taking place just north of Lawlor Events Center.

Tuesday, April 22: Waste, Recycling and Local Foods
11 a.m.-2 p.m.: Joe Crowley Student Union Plaza
Highlighted activities:
· The Return of the Bag Monster, offering free reusable grocery bags
· Dumpster Dive with trash collected from a University dumpster
· Plastic-bottle recycling display
· Plant giveaway sponsored by the University's Arboretum Board
· Recycled art made by Children of the Child and Family Research Center
· Local food and farming information from Urban Roots and River School

Wednesday, April 23: Alternative Transportation, Energy and Water
Campus Cycling Coalition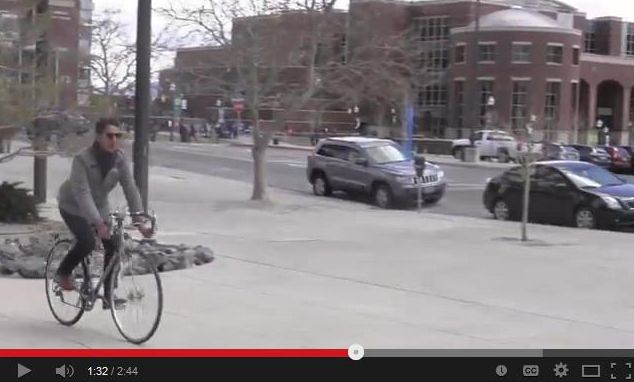 Watch an interview with University student Jean-Paul Torres, president of the coalition.
11 a.m.-2 p.m.: Joe Crowley Student Union Plaza
Highlighted activities:
· Eco-Friendly Vehicles: All-electric Nissan Leaf, University's Parking and Transportation Service's Hertz on Demand and a new RTC zero-emissions electric bus
· Campus Cycling Coalition Bike Repair Clinic with the Reno Bike Project
1-4:30 p.m.: Nevada Undergraduate Research Symposium
1-1:30 p.m.: Joe Crowley Student Union Theatre, third floor
Welcome and Keynote Speaker, University Vice President for Research and Innovation Mridul Gautam
1:30-3 p.m.: Joe Crowley Student Union Theatre, third floor
Student Oral Presentations
3-4:30 p.m.: Joe Crowley Student Union Glick Ballrooms, fourth floor
Student Poster Session and Reception
Friday, April 25: Arbor Day
11 a.m.: Southwest entrance of the West Stadium Parking Complex, just north of Lawlor Events Center
· The University is taking steps to become a designated Tree Campus USA. The public is welcome to join University officials and students as they plant a new Paw Paw tree.

University partners and organizers of the weeks' activities include the Joe Crowley Student Union, the University's Natural Resources and Environmental Sciences Department, Environmental Health and Safety, Academy for the Environment, University Arboretum Board and many Associated Students of the University of Nevada student organizations. Additional campus and community groups will be present at the Student Union Plaza.

For more information and a complete list of events, click here. Self-paid parking is available in the metered lot south of Lawlor Event Center or on the top floor of the Brian J. Whalen Parking Complex.

The University's Earth Week will help kick-off additional community Earth Day celebrations such as the Earth Day 2014 at Idlewild Park on Sunday, April 27.
---