We had the opportunity to chat with Daniel Scruggs, academic advisor for the College of Business at the University, to give us insight on what academic advising looks like in college.
Opportunity U: Hi Daniel! It's great to have you here today and thank you for taking the time out of your busy schedule. Can you tell us a little bit about yourself and tell us a little about what is academic advising?
Daniel: Sure! My name is Daniel Scruggs and I work with the College of Business. I received both my bachelor's and master's degrees from the University of Nevada, Reno.
Academic advisors can help with things like signing up new first-year students for classes through Advanced Registration. We can make edits to your schedule and connect you to resources on campus. We also set-up classes for transfer students and help with transferring credits for transfer students, dual-enrolled high school students, or students that have taken AP and IB exams.
We really partner with students to help them be successful.
Which advisor should you meet with?
Opportunity U: The University has general advisors in the Advising Center and then advisors for the different departments and colleges on campus, what the difference?
Daniel: The advisors at the Academic Center are great for students that are interested in interdisciplinary studies or for undeclared majors. If you have already declared a major, you would go to the academic advisors in your specific department.
The college/department academic advisors, like the College of Business advisors, will make sure your University core requirements are being completed in addition to the department core and department major requirements.
Opportunity U: So, if I'm an undeclared student, but I'm thinking about business, where should I go for advising questions?
Daniel: At that point, as an undeclared student, I would be working with the general Advising Center, but discussing with the College of Business about possibly transitioning over. As a College of Business advisor, I cannot change schedules for students that are declared as something other than business. But, I can meet with them and give them information about a business major or what classes business students take.
How often should you meet with your advisor?
Opportunity U: Ok, so let's say I am business major. When should I be meeting with a business academic advisor? It is mandatory? And maybe just as a rule of thumb, how often should I be going in?
Daniel: As an incoming first-year student, as soon as you have been admitted and have decided to attend the University of Nevada, Reno, you should complete the steps for Advanced Registration. Doing this will get you in the queue to receive a class schedule. You can even get a class schedule before you graduate from high school.
A part of the Advanced Registration process is the advanced registration questionnaire. The advanced registration questionnaire is where we ask for your preferences, like whether you prefer morning classes or night classes. From there, we create your schedule. Most students have their schedule before summer orientation.
After we create that first schedule, academic advisors can make changes to your schedule. Some examples of why your class schedule may change include higher SAT or ACT scores, or maybe new AP scores or transfer credits.
You'll also attend academic advising during summer orientation so you have an idea of the courses you'll take over the next four years. Once you attend summer orientation and meet that advisor, your advising hold will be removed from your MyNEVADA account and you'll have the ability to edit your own schedule in MyNEVADA.
For your first year at the University of Nevada, Reno. you must meet with an academic advisor for both the fall and spring semesters.
What to expect at an advising appointment
Opportunity U: What does a typical College of Business advising appointment look like?
Daniel: It depends if you schedule an appointment, come in for drop-in hours, or if you're coming in really quickly for a question. We have both in-person and virtual appointments available. Typically for advising appointments, we have documents prepared ahead of time if you've asked about something specific like, what classes do you need in order to graduate.
I'll also check in with you to see how your classes are going and find out if you need any additional resources. For example, if you seem upset or struggling with test anxiety, I might connect you with the University's Counseling Services, which provides free counseling for students. Or if you are struggling with math, I might suggest the University's Math Center that provides free tutoring.
Opportunity U: So as an advisor, you are not just looking at whether students are completing the courses, you are checking in with them to make sure that their personal life and mental health and social relationships are also… that they are successful in those areas as well.
Daniel: Yes. The academic advisors are a real community helping students and making sure they are successful at the University. Even if you decide to switch your major, we want you to be successful. Of course we want you to be a part of the College of Business, but we're focusing on you being successful in whatever degree you decide on.
Opportunity U: That's awesome! So, after that first and second semester, when should students see an advisor?
Daniel: Every student is different, but for me, when I was a student, I went to advising every single semester because I was worried that I would get to my last semester and find out I was missing a class.
After the first year, it's good to know about other advising options like our online advising queue. The advising queue is a place you can ask a quick question, such as running a graduation check to make sure you're on track to graduate. You can write in and say, "Hey, I just want to find out what courses I need to graduate," and we can send you back a list of what classes you are missing. We also have drop-in hours where you don't need an appointment and can come in to see us.
So, personally, I would recommend meeting with an academic advisor every semester, but it's not required. It may get redundant at some point, but at least you have peace of mind knowing you're on track.
Read part two of our interview with Daniel on how to declare a business major.
---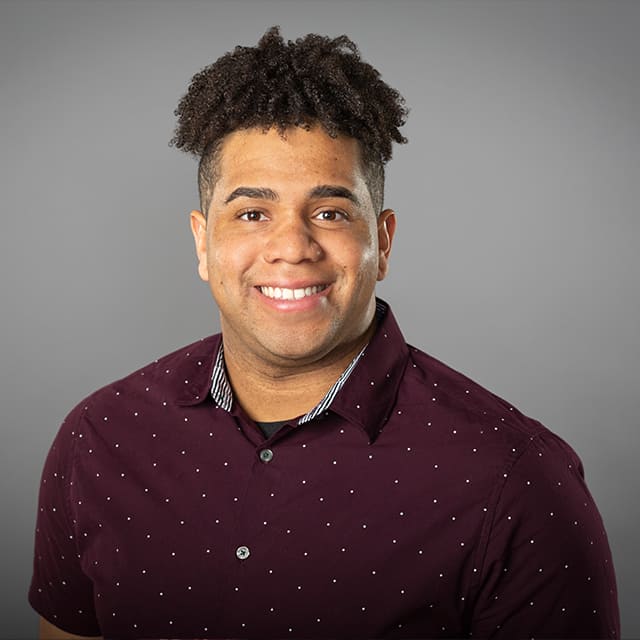 Daniel Scruggs is an academic advisor in the College of Business at the University of Nevada, Reno. He holds a bachelor's degree in communication studies with a minor in human development and family studies and a master's degree is in communication studies with an emphasis in education.
Request more info
Do you have more questions we can answer? Are you interested in receiving additional information about the University of Nevada, Reno?