In June of 2020, the University of Nevada, Reno offered my sister a position as a researcher in the Department of Physiology and Cell Biology.
This was an incredible opportunity for her to broaden her research experience. However, it would be another year before vaccines became available in Brazil, allowing her to secure a visa and travel to the United States. During this yearlong wait period, I was working in sales and was frankly tired of it. I needed a change.
I began looking for academic specializations but didn't like the options that were available in Brazil. So, I turned my search to the school that my sister would soon be joining, the University of Nevada, Reno. As I perused the master's programs online, I came across one that piqued my interest, the master's degree in journalism emphasizing media innovation. I realized the journalism program focused on something I really wanted to do as a career. And, the more I read, the more I fell in love with it. Equally exciting was the fact that the program could be completed in only three semesters.
I also began learning more about the town of Reno, the campus environment, and wondered if I could picture myself there. After seeing all the beautiful pictures of Reno, Tahoe and campus I was sure it was the right place for me.
On February 19, 2021 I received my acceptance letter to the journalism program and cried. I was not only going to start an amazing journey, but my sister would be there too.
I rushed to complete all the tasks in time: submit required documents, buy new Havaianas (typical flip flops from Brazil that are more expensive in the U.S.), find a nice cheap place to live in Reno that also allowed dogs and, more importantly, find out how to travel to the U.S. with dogs.
During this time, the consulates were finally open again in Brazil but were still canceling all visa appointments. Our only option was to travel to another country, like Ecuador or Belize, in order to complete the visa interview in time. This was frustrating. I worked so hard to be admitted to the University, but the additional travel for the visa interview would be expensive and time consuming. The visa was especially hard to obtain due to the COVID-19 pandemic. Plus, the U.S. government restrictions for traveling and entering the United States were changing often.
Fortunately, on April 8 things began to change when the U.S. government updated the criteria for the "national interest exceptions" (NIEs). This new proclamation allowed students from Brazil to go to the USA without an extra 14-day quarantine in another country. On June 15, one week before my birthday, I received my I-20, the most important document needed to receive the F-1 student visa.
On June 30, I interviewed for a visa in Porto Alegre (which translates to Happy Harbor) a beautiful city in Brazil, although it was still 800 miles from my hometown. My sister completed her interview on the same day. Both of our visas were approved. Our whole family celebrated. We all were so happy and also so relieved.
It took three flights and 15 hours of flying time to travel from Brazil to Portland. In Portland we picked up our dogs, who were sent earlier, and then drove to Reno. As we drove from Portland to Reno we passed the devastating fires in California before finally arriving to Reno on July 19, one month before classes would begin.
The journey was a bit overwhelming. Not only was it my first time traveling to the U.S. or out of Brazil, but I can say for certain it's the trip where I to overcome the most obstacles.
Now that I'm here, I'm sure it was the best decision I could have made. The University of Nevada, Reno is really amazing. The people that I get to work with and the friends that I've already made are super nice and welcoming. And "The Biggest Little City in the World" has so many fun things to do! Soon I will be able to see snow again (I saw my first snow in October), and I am excited to make a snow angel.
So far, I've loved the challenges given by teachers in class and the opportunity to study in such a beautiful environment, with great laboratories and equipment. It's been a truly unique experience and extremely enriching.
---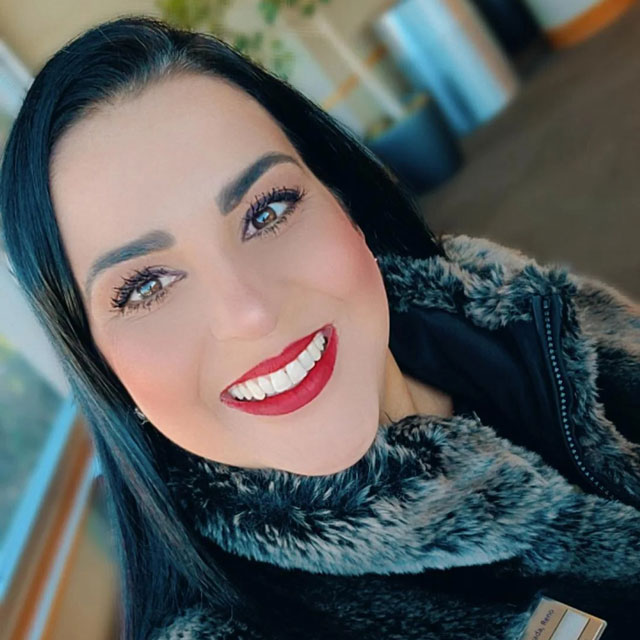 Andrea was born and raised in a small town in the state of São Paulo, Brazil, where she graduated in social communication - journalism and specialized in strategic people management. She then came to the University of Nevada, Reno, in July 2021 to pursue a master's in journalism -media innovation. She currently serves as an admission and transfer student scheduling assistant for the University.
Request more info
Do you have more questions we can answer? Are you interested in receiving additional information about the University, the admissions process, applying, financial aid or more?