As a kid growing up, my mother ensured I stayed busy with extracurricular activities. Some of them I excelled in, while others I failed at miserably. I played basketball, football and baseball; ran track; joined a tap dance club and even participated in the band at one point. After being in front of people my entire life, you would think public speaking would come naturally. However, that was not the case. In fact, being a part of group sports and extracurricular activities allowed me to hide my fear of public speaking for a long time.
Public speaking was a challenge for me since my youth. I wasn't shy by any means. I was just insecure. I thought about whether I was making sense to the crowd, how my clothes looked and whether people would laugh at me during a presentation. With these thoughts going through my head, I was bound to mess up, right? These uncertainties continued throughout high school and the start of college.
It wasn't until my second year at the University of Nevada, Reno, that I decided to step out of my comfort zone and try something new. That something new was exposing my insecurities in front of people I wasn't comfortable around. I decided to first meet with an academic advisor to talk about what courses could help with building confidence in public speaking. We decided on two classes, "Communication 113: The Fundamentals of Speech Communication" and "Music 105: Vocal Techniques." These classes would force me to get up and speak and sing in front of people without the opportunity to hide in a group.
In Communication 113, I learned how to prepare for presentations and how to read a room. The start of the semester felt comfortable because the projects were group projects. They allowed me to build confidence in these new skills without being the center of attention.
It wouldn't be until the middle of the semester before I would have a solo class presentation. I was extremely nervous. So, I figured if I could make the group laugh, then what I said or did wouldn't matter as much. The topic of my project was how music could affect one's mood. During the presentation I referenced a clip from a comedic film where actor Terry Crews sang " A Thousand Miles" by Vanessa Carlton. The clip brought me a lot joy and I was confident I could perform it well. And, it worked like a charm! I got the exact reaction I wanted. I demonstrated that music, lyrics and the performer's interpretation of them can change an audience's reaction and therefore the audience's mood.
I found myself slowly building confidence in Communications 113, but Music 105 would take more effort. I really enjoy singing. Like many people, I believed I sounded amazing (like the recording artist Seal), but was worried that to others I sounded more like a wounded seal. Was this all in my head? For my first solo performance I chose a gospel song because I like gospel music and I was confident no one would laugh at someone singing about the man upstairs.
Unfortunately, things didn't go according to plan. Just 20 seconds into the performance I froze! Suddenly forgetting the lyrics, I found myself with nothing else to do but hum the rest of the 2 minutes and 30 seconds of the song. But I must have done something right because I got an A on the assignment (or the instructor felt terrible and gave me an A for effort).
Before I knew it, the semester was coming to an end and the Music 105 final performance was fast approaching. To prepare, I began practicing weeks in advance hoping that muscle memory would kick in if I lost the lyrics again. I even connected with another student who was a music major to provide piano accompaniment.
I walked into the final performance feeling comfortable and prepared. What I learned over the past three months was that most students were terrified of the exact same things that I was: the fear of messing up, the fear of their clothes or appearance being ridiculed, or being laughed at when they started to sing. What we all found was that we were there to support each other, that messing up was normal, and that everyone didn't sound as bad as they believed in their mind. Equally important, we also found that we sounded amazing together.
I stood there on the stage that last day knowing it took blood, sweat, tears (and many lozenges) to get to this place. Not only did I sing well that day, but I no longer had the insecurities I had at the start of semester.
Since then, I also learned that the universe works in mysterious ways.
Little did I know that taking these two courses would help prepare me for a future as an admissions coordinator for the University of Nevada, Reno. A large part of my job is hosting presentations in front of hundreds of students and families, something that would have been a struggle without the confidence I gained through those two classes.
---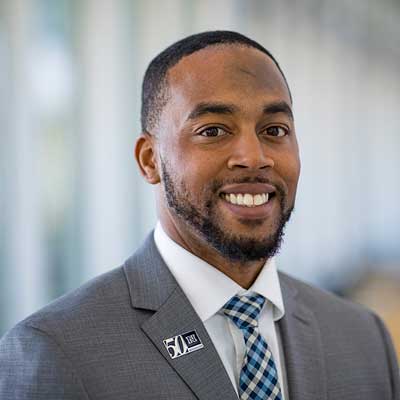 Andre Lawson is a member of the UNR Med admissions team and serves as the Outreach and Recruitment Coordinator. Andre is housed in the University's Las Vegas Office for Prospective Students. Andre has over eight years of experience in undergraduate recruitment and admissions with the University's Las Vegas Office for Prospective Students. Andre established himself as a leading recruiter and admissions professional responsible for several of the largest feeder high schools in Las Vegas. Andre has been with UNR Med for two years. He has made it a focal point to be a valuable resource to both high school and current undergraduate students who wish to further their education by pursuing undergraduate, professional and graduate education.
Request more info
Do you have more questions we can answer? Are you interested in receiving additional information about the University of Nevada, Reno?