Every year I work with eager (and anxious) high school and college students preparing for a career in medicine. What I want students to know is that medical schools admissions is not a mystery. In fact, when students attend my live and virtual information sessions, I try to make the process of getting into medical school as clear as possible because the United States is in desperate need of more doctors. Below are some things you should know as you prepare for a medical career.
#1. You do not have to be a science major
College students believe they have to major in pre-medicine or a science to get into medical school and that is FALSE! You don't get extra points for choosing a STEM major. We have doctors that majored in journalism, engineering, business and French. Choose an undergraduate major based on your passions.
With that said, there are a couple of things you'll still need. One, make sure you're on track to receive an accredited undergraduate degree. Two, take your medical school pre-requisites. The undergraduate pre-requisites (below) are required for admission to most medical schools.
15 credits of biology, including two lab credits and six upper division credits
8 credits of organic chemistry, including two lab credits
3 credits of biochemistry
8 credits of physics
3 credits in psychology
The reason most undergraduate students choose STEM majors like biology, chemistry, biochemistry and physics is because those majors usually have the medical school pre-requisite courses built into them. If you choose a major in music, you'll have to take extra classes in order to complete the medical school pre-requisites.
#2. There are many pathways to medical school
The traditional route to getting into medical school is four years for an undergraduate degree before starting medical school. But that's not the only option. Here are a few other paths to becoming a doctor.
4-6 years to complete a bachelor's degree. If you don't finish your bachelor's degree in four years, that's okay, especially if you're adding a second major or minors.
Community college credits. Some students start at a community college for one reason or another. Beginning at a community college does not hinder your chances of getting into medical school at most institutions.
Post-baccalaureate programs. The University of Nevada, Reno School of Medicine offers post-bac programs for students that already have a bachelor's degree but require additional education in sciences to fulfill the medical school pre-requisites. Students that are accepted to the post-bac program and complete all program requirements receive a guaranteed seat as a medical student at UNR Med.
BS-MD program. This highly selective program allows incoming college freshman to receive a guaranteed seat in medical school upon completion of their bachelor's degree. BS-MD programs differ across the county, so be sure to see what the requirements are at each school.
#3. BCPM, MCAT and AMCAS
Every student interested in medical school should know these acronyms.
BCPM stands for biology, chemistry, physics and mathematics. When applying to medical school, we look at your grade point average in these subject areas.
MCAT is the Medical College Admission Test. Think of it as the SAT for medical school. Students usually take the MCAT their junior and/or senior year of college.
AMCAS is the American Medical College Application Service. Students will apply to medical school through AMCAS.
#4. You need experience
To get into medical school you need both hard and soft skills. We look at applications based on experiences, attributes and metrics.
Experiences include volunteering, clinical work and shadowing. We want to know what experience you've accumulated that relate to health and medicine.
Attributes asks how you are applying (or will apply) your experiences to other areas, including medical school and your career. What are you learning from those experiences that you are going to take take and use in your everyday life?
Metrics include grades and exam scores.
Experience can help you build soft skills like confidence, collaboration, communication and critical thinking. Do you have the ability to question yourself and others? Do you understand that not everything is as it looks or seems? Can you make room for "I may not know"? How have you become a better decision maker, leader and listener? These traits are important in the field of medicine.
#5. Doctors are needed!
The medical field across the country (and especially in the state of Nevada) is short of physicians. We need more students to help fill that need.
If you had any doubt that you could be physician, get that out of your mind. We have so many resources at the University of Nevada, Reno that helps create pathways for you to become a physician, such as the tutoring center, pre-med advisors and career services. Don't be afraid to seek out those resources.
You can also email me directly at andrel@med.unr.edu. Remember, you have a clean slate when you get to college. If you didn't do well in high school, college is a chance to reinvent yourself.
Attend an in-person or virtual information session to learn more about applying to UNR Med.
Not in college yet? Opportunity U sat down with Andre Lawson, Coordinator for Outreach and Recruitment at the University of Nevada, Reno School of Medicine, to talk about what high school students need to know about how to become a doctor.
---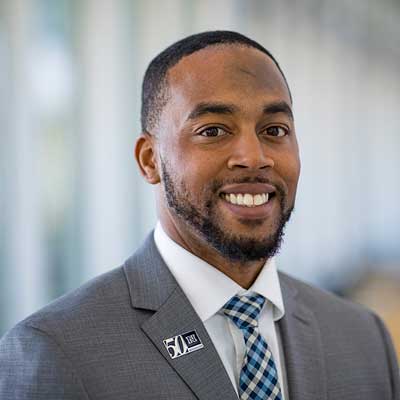 Andre Lawson is a member of the UNR Med admissions team and serves as the Outreach and Recruitment Coordinator. Andre is housed in the University's Las Vegas Office for Prospective Students. Andre has over eight years of experience in undergraduate recruitment and admissions with the University's Las Vegas Office for Prospective Students. Andre established himself as a leading recruiter and admissions professional responsible for several of the largest feeder high schools in Las Vegas. Andre has been with UNR Med for two years. He has made it a focal point to be a valuable resource to both high school and current undergraduate students who wish to further their education by pursuing undergraduate, professional and graduate education.
Request more info
Do you have more questions we can answer? Are you interested in receiving additional information about the University, the admissions process, applying, financial aid or more?