Ignacio Montoya: The Pyramid Lake dialect of Northern Paiute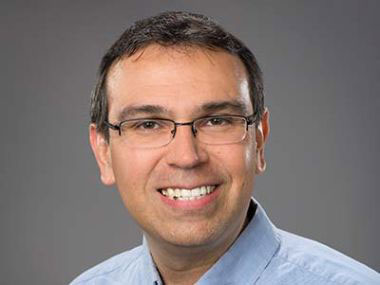 Title
Building a digital dictionary of the Pyramid Lake dialect of Northern Paiute
Mentor
Ignacio Montoya
Department
English
Biosketch
Ignacio Montoya, Ph.D. earned his doctorate in Linguistics from The Graduate Center at the City University of New York (CUNY). His academic specializations include morphology, cognitive approaches to grammar, and language revitalization. Upon arriving at the University of Nevada, Reno as an assistant professor, he began focusing on the Indigenous languages of the area: Northern Paiute, Washo, and Shoshone.
Montoya was born in Southern New Mexico and was raised in a small town on the border of the United States and Mexico until the age of 13, when his family moved to the Phoenix, Arizona area. He was raised by his grandmother and his mother, who was the first person in the family to earn a college degree, an accomplishment she achieved while raising three teenage boys. For many years prior to entering his doctoral program, Montoya was an elementary and middle school teacher. As a graduate student, he was first a mentor and instructor and then a coordinator for the CUNY Pipeline Program, whose goal is to support undergraduate students from underrepresented groups who are interested in graduate school. Throughout the many facets of his career as an educator, Montoya has been strongly committed to education as a means of empowering marginalized communities.
Project overview
Northern Paiute is one of the local Indigenous languages of the Reno-Sparks area. It is spoken in the Northwestern part of the Great Basin, including Northwestern Nevada and parts of Oregon, Idaho, and California. Like other languages, Northern Paiute exhibits different varieties (or dialects), depending on where it is spoken. This project focuses on the variety of Northern Paiute spoken in the Pyramid Lake area.
Northern Paiute is considered an endangered language, which means that it is at risk of having no native speakers in the near future as a result of a decline in the number of speakers over the last century. In order to help maintain and strengthen the language, a number of efforts are underway to revitalize Northern Paiute. In addition to being endangered, Northern Paiute is also under-documented, which means that there is as much information about its vocabulary and grammar compared to other languages. Since this project involves compiling information on Northern Paiute, it thereby contributes to both the documentation and the revitalization of the language.
The overall goal of this project is to collect and organize words and affixes from Northern Paiute, with a focus on the Pyramid Lake dialect. The primary sources for those words and affixes will be materials used for teaching the language in local community classes and at the university level. These consist primarily of loosely organized handouts. The student researcher will be responsible for organizing these handouts and inputting data from the handouts into a file using language documentation software. This project also involves the student reflecting on insights about the language itself and about language revitalization gained through this process. These insights can serve as recommendations for others working on language revitalization of Northern Paiute.
Though there is flexibility in the skills needed for working on this project, it will be important for the student to possess an interest in (though not necessarily a great deal of experience with) language learning, a willingness to learn new skills (with guidance from the mentor or others), an ability to work independently, and attention to detail.