Jump to important dates, proposal examples and application.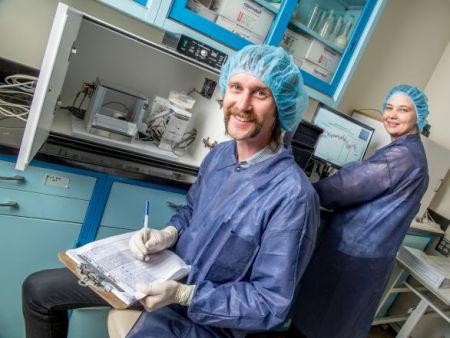 Eligibility
Undergraduate Research, in collaboration with the Honors College, is pleased to accept applications from eligible honors students. Honors students in all disciplines are eligible for the Honors Undergraduate Research Award (HURA). Students with a current Nevada Undergraduate Research Award are not eligible. Students who have received prior undergraduate research funding "EPSCoR, INBRE, NASA, etc." are eligible for the award but the HURA proposal must differ substantially from prior funded research.
Research must be conducted under the supervision of a University faculty member and must be completed during the academic year for which they are granted. The project should be planned in close collaboration with a faculty mentor; however, the proposal must be written by the student.
---
Funding
Students may request up to $1,500 in their application. Students are allowed to put in hourly student work at $12 per hour for an amount not exceeding a maximum of 125 hours. Students are allowed to request funding for materials and supplies, or travel to obtain data. The total budget request including any salary, travel and materials is not to exceed $1,500. Students requesting money for salary must provide an expected work schedule in their budget justification and a brief explanation of how the salary will help them in conducting their research
Mentors will receive $500 (funded separately by the Honors College).
---
Travel requirements
This section contains links to 3rd party online content; if you experience any issues accessing this content, please contact Undergraduate Research.
Funded students are allowed to travel to conduct research. All the expenses regarding travel will need to be reflected on the Budget & Budget Justification covered in the Proposal Requirements below. Travel to present at conferences is not allowed under this award.
Students must work with their departments to complete the paperwork necessary for travel. Undergraduate Research will not be responsible for filing travel paperwork.
All students planning to travel in-state, out-of-state or internationally as part of their research must submit the following:
Before travel: Travel Request/Spend Authorization
For Workday instructions, please email undergradresearch@unr.edu.
After travel: Expense Report
For Workday instructions and to obtain form, please email undergradresearch@unr.edu. Expense reports must include all final receipts and the Student Business Travel Certification Form.
Undergraduate Research cannot guarantee reimbursement if students do not follow the University of Nevada, Reno's travel policies.
---
Class presentation requirement
Students are required to present a brief synopsis of their research to a class they attend during the spring semester and share information about Undergraduate Research programming. Students will submit a signed form by their professor to Undergraduate Research.
---
Undergraduate Research Spring Symposium requirement
Students will present their research findings in a poster format at the Undergraduate Research Spring Symposium. This annual symposium is attended by students, community partner organization representatives, university leadership, and members of the public.
---
Post-award survey requirement
Awardees and their mentors are also required to provide feedback on the program by completing a questionnaire provided by Undergraduate Research.
---
Proposal requirements
You should prepare all of the following documents prior to beginning the online application—you will not be able to save your progress and return later. Proposals that do not conform to the format requirements, are late or are incomplete will not be accepted for review.
Summary of components (see detailed descriptions below)
Proposal sections to be uploaded as PDFs
Project description (two-page limit)
Budget and budget justification (one-page limit)
Literature cited/bibliography (if applicable)
Current transcripts
Mentor's letter of support
Project description:
Two-page limit; 11-pt. Times New Roman font, single-spaced, 1" margins.
Applicants must include the following sections and headings:
Abstract (50-100 words)
Introduction
Objectives
Plans for research, scholarship or creative work
Timetable
Plans for dissemination of results
The project description must be written in a way that is understandable to reviewers whose backgrounds may be outside the applicant's field.
Budget & budget justification:
One-page limit; the total student budget is limited to $1,500. The $500 stipend for the mentor must not be included in the student's budget. Please itemize budget needs and provide a specific justification for each item. Allowable expenses include:
Materials
Supplies
Postage
Specialized software (if not already available at the University)
Copying costs
etc.
Include a justification for each of the proposed budget items.
Purchase of professional memberships, hosting (food or drink) or payment of salaries, to anyone other than the student awarded, are not allowed. Purchase of equipment available through departments or for loan at @One is not allowed without justification. Travel expenditures must follow the University rules for travel; a travel request must be submitted well before the actual trip (consult with your faculty mentor for guidance). Travel to a conference will not be granted, it must be travel to conduct the proposed research or creative activity.
All expenses must be spent by May 31. Please request funding only for items that you will use for your project.
Literature cited/bibliography:
List of all the sources you have cited in the proposal.
Transcripts:
Include a scanned copy of your courses completed at the University of Nevada, Reno, including a list of courses taken during the fall semester. Unofficial transcripts are acceptable.
Mentor's letter of support:
The proposal must include a letter from your supervising faculty mentor indicating his/her approval of the proposal and describing the mentor's level of involvement in the project. Note that this is not merely a reference letter. It is a letter that should describe the mentor's endorsement of both the proposal and the student, include the qualifications of the student, and indicate the mentor's commitment to oversee the project.
The letter should indicate whether the faculty member has directed any projects funded by HURA in the past five years and include the name(s) of the student awardee(s), if any.
It is your responsibility to request a support letter from your mentor.
---
Projects involving human subjects or vertebrate animals:
Prior approval by the Institutional Review Board (IRB) for human subjects and/or the Institutional Animal Care and Use Committee (IACUC) for animal subjects is not required for proposal submission. However, students chosen to receive a scholarship under this program who anticipate the use of human or animal subjects in their research must receive approval of their research protocols by the appropriate review board prior to the beginning of their research and the release of funds.
Human subjects: If this proposed project involves the collection of information from human beings through interaction or observation, include an attachment (not included in the two-page limit) that provides sufficient information to enable reviewers to evaluate potential risks to subjects. Include information concerning the subject population, type(s) of information to be gathered and measures to be taken to protect privacy and reduce risks.
Visit Research Integrity for more information.
Vertebrate subjects: If this proposed project involves living vertebrate animals in any way, include an attachment (not included in the two page limit) that provides sufficient information to enable reviewers to evaluate the choice of species, number of animals to be used and any exposure of animals to discomfort, pain or injury.
Visit Animal Resources for more information.
---
Application submission confirmation
You will receive a confirmation email within 24 hours that your proposal has been received. If you do not receive an email, please contact undergradresearch@unr.edu.
Dates
Spring 2022 awards
Application opens: Thursday, Sept. 30, 2021
Applications are due by 8 p.m., Monday, Nov. 1, 2021
Award disbursement period: Spring 2022
Present results:
Undergraduate Research Spring Symposium: May 2022
Funds spent by: May 31, 2022
Informational downloads
Sample application sections
Ready to apply?
Questions
For questions regarding the proposal format and contents please email undergradresearch@unr.edu.