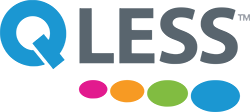 Save time and don't wait in a physical line. QLess allows you to join a line remotely while receiving updates via text message or the QLess app. These status updates let you know your current wait time and when to arrive for your appointment.
Get appointment flexibility
Communicate when you're running late
Reschedule appointments
Schedule appointment
You can schedule an appointment or join a virtual queue via texting, mobile app or online.

Receive status updates
Communicate by text or voice message, receiving updates and sharing any delays you may anticipate.

Now serving
QLess system notifies you when your turn is approaching.